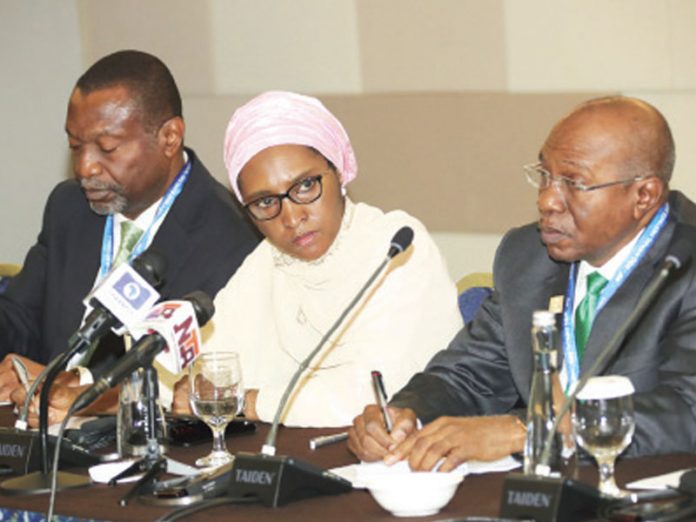 Business/Economy
As reported by Bloomberg, Nigeria is now the biggest economy in Africa. The claims by Bloomberg were backed by statistics released by the International Monetary Fund Economic Outlook in February, which ranked countries in Africa by gross domestic product. According to the IMF, Nigeria ranks number one in Africa, 28th in the World, recording a growth of 48 per cent between 2018 and 2019, and experts say there are high prospects that the leading economy in Africa will maintain its leadership position in 2020. Bamidele Famoofo reports
Besides being the most populous nation in Africa, with a population of about 200 million people, Nigeria is also the number economy in Africa and 28th in the World, according a report published by the International Monetary Fund (IMF), in February, 2020.
The IMF Economic Outlook report, which ranked the performance of economies by nominal GDP, Nigeria's GDP increased by about 48 percent from $398billion in 2018 to about $467billion in 2019, accounting for about 19 per cent share of Africa's GDP and 0.52 per cent of World's GDP in the review period.
South Africa economy, however, slumped by -9.2 percent in 2019 as nominal GDP dropped from $368billion in 2018 to $359billion in 2019, ranking 2nd in Africa and 37th in the world by economic size. At its current status, South Africa accounts for about 15 per cent of Africa's economy and 0.4 per cent in the world.
North African countries including Egypt, Algeria and Morocco occupied the 3rd, 4th and 5th positions in the ranking of IMF with $302billion, $172billion and $119billion respectively.
Nigeria's economic growth strengthened in Q4-2019, driven by sharper than expected growth in non-oil GDP. According to a report published by the National Bureau of Statistics in February, "GDP grew by 2.55 percent year on year ( y/y) as against 2.28 percent y/y in Q3-19, the highest quarterly figure since Q3-2015."
The growth exceeds the expectations of analysts especially that of Cordros Securities and Bloomberg consensus estimates of 2.36 percent and 2.20 percent, respectively. Nigeria's GDP growth surpassed the estimate of 2.1 percent announced by IMF in the beginning of the year as the economy expanded by 2.27 percent y/y in 2019 as against 1.19 percent y/y achieved in the 2018 financial year.
According to the breakdown given by NBS, the non-oil sector continued to show resilience, expanding by 2.26 percent y/y as opposed to 1.85 percent y/y in Q3-19, with faster growth recorded across all sub-components, save for trade which remained in recession. The Services sector contributed 4.01 percent to GDP, leading the pack in the non-oil sector, followed by the Agriculture which accounted for 2.31 percent y/y, and Manufacturing, 1.24 percent y/y.
The oil sector also expanded, albeit at a slower pace of 6.36 percent y/y as against 6.49 percent y/y in Q3-19, on lower crude production (+4.71% y/y vs Q3-19: 5.15% y/y), with the NBS estimating production during the three-month period to be 2.00mb/d (vs. 2.03 mb/d in Q3-19).
On the other hand, for South Africa, its full-year expansion was 0.2 per cent, the least since the global financial crisis and even less than the central bank and government estimated. According to Bloomberg, South Africa recorded a GDP of $352 billion, based on an average rand-dollar exchange rate of 14.43 for the year.
According to Bloomberg, "South Africa's weak growth adds to pressure on the central bank to lower the benchmark interest rate at its Monetary Policy Committee meeting March 19, especially after the U.S. Federal Reserve's emergency rate cut Tuesday amid risks from the spread of the Coronavirus."
"Projections show Nigeria's economy will continue to grow faster than South Africa's. While the International Monetary Fund cut its forecast for Nigeria's 2020 growth to two per cent, from 2.5 per cent last month, due to lower oil prices, South Africa's GDP is forecast to expand only 0.8 per cent," the report said.
Meanwhile, APC, the ruling political party in Nigeria, has taken the glory for the repositioning of Nigeria's economy in the comity of nations. APC said the economic prosperity was due to economic policies of the Buhari-led administration.
The National Publicity Secretary of the party, Mallam Lanre Issa-Onilu, in a statement , said since the Nigerian economy exited recession in 2017, the country's economic growth has not been a fluke, but a result of deliberate practices and policies of the Buhari administration.
This, he said, has increased transparency in governance, diversification of the economy away from oil, improved fiscal management and a healthy protectionist approach which has aided the growth and increased the capacity of domestic producers and in turn, created jobs.
"This is not a small feat and should be celebrated by all. The All Progressives Congress (APC) congratulates the president, the APC family and indeed all Nigerians. Those expecting the worst and wishing the country ill-fortune should now give up. The task of developing a nation is a collective one. Politics should not drive Nigeria apart; it should unite us when the interest of our nation is involved.
"Of course, there are still a lot of challenges on the way. The journey is not going to be a walk in the park. That is not unusual, considering the level of decay our nation has sunk into under the watch of the Peoples Democratic Party (PDP) and the current efforts of the PDP leaders to slow down our progress as a nation. However, this government, under the capable hand of President Buhari, is single-minded and courageous enough to lead our country to the promised land," the party added.
According to APC, the hugely successful anti-corruption efforts such as the implementation of a Treasury Single Account (TSA) that allows the government to better track and manage its resources and a more transparent government payroll and personnel system that eliminated duplication and "ghost workers" have alleviated poverty and made more cash available for critical infrastructure projects.
But while economic experts and analysts were impressed by the growth rate delivered by the drivers of the economy in financial year 2019, they were unanimous in their opinion that Africa's largest economy has not been recoding real growth in recent times as population growth at about 2.6 per cent still surpasses GDP growth, even at 2.27 per cent achieved in FY 2019.
According to experts at United Capital Plc, "updating our GDP model with the latest numbers as well as factoring the recent CBN's pro-growth policy drive, we expect the momentum in the Nigerian economy to improve relative to FY-2019, but remain at a sub-optimal level of 2.36 per cent y/y in FY-2020 – below population growth of 2.6 per cent."
"These sectoral growth figures also suggest that holistically, the country is not really experiencing growth given the fact that its population growth is estimated to be around 2.7% (annualized)," GTI research affirmed.
Researchers at United Capital Plc said "a faster GDP growth is unlikely in the near term, given the ongoing necessary but conflicting fiscal policy actions (e.g. the recent move to increase VAT, possible hike in electricity tariffs) may hurt consumption." Another reason they gave to support their position is the continued closure of the land borders, which they said may hurt aggregate demand as a result of increased prices but has a positive effect on local production. "In addition, subsisting concerns around policy unpredictability which has been one of the biggest impediments to FDI flows and investment generally, as well as the reluctance to implement reforms that will spur private sector growth is worrisome. A tepid outlook for crude oil prices amid demand shortages and the likelihood of a deeper supply cut in Mar-2020 suggest a negative impact on the broader growth number."
The analysts also argued that the time span required to fix power and other critical infrastructure that will ease the cost of doing business and other structural impediments is a factor that may subdue growth in the interim.
Analysts at GTI in a recent report predicted a growth in the range of 2.1 and 2.4 percent in 2020. "Going forward, we maintain our modest GDP growth expectation of 2.10 per cent – 2.40 per cent in 2020 amidst multiple downside risks such as global uncertainties, oil price volatility, insecurity, climate change impact, and lack of clear policy direction on the fiscal side."