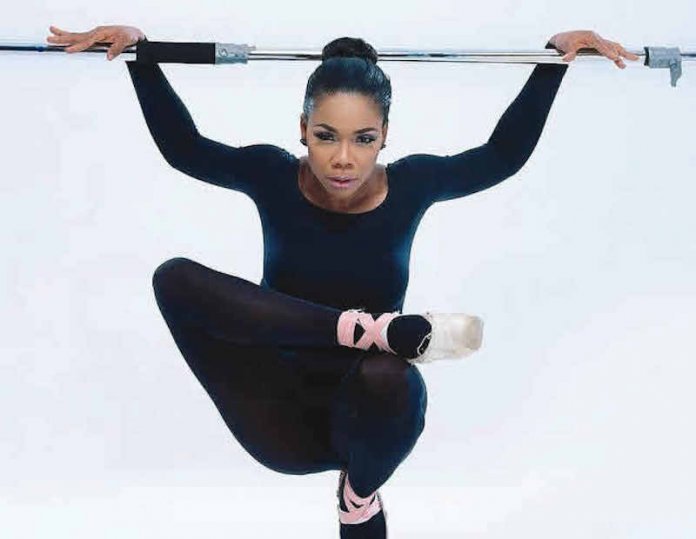 KAFAYAT 'KAFFY' SHAFAU
The twists. The turns. The contours. The rapture. The gravity-defying, split-second, air-splitting footwork. The gyration of the body and soul. The joy in the moment of ecstatic body movement. The fire in the eye and the storm in the spirit. All this is summed up in one word: Kaffy! Yes. Born Kafayat Shafau, Kaffy has become instrumental in transforming lives via dancing. Her philosophy of dance is a fusion of fulfillment and focus. Little wonder, the celebrity dancer, Kaffy, is on a mission as she marks her 40th birthday and 20 years on stage with a drive to change lives through dance, writes Vanessa Obioha
Several pairs of eyes followed the direction of Kaffy's call to the back of the makeshift conference room where a group of her dancers stood. The eyes rested on a young handsome man clad in a yellow vest, black shorts and sneakers. A baseball cap partially hid his facial features. There was nothing odd about the dancer as he gravitated towards Kaffy. He was good looking.
"David cannot speak. He can hardly hear. But he dances," Kaffy announces to her audience, mainly journalists.
Nobody realized that the young man whom they had encountered at Kaffy's corporate headquarters on the Ajah axis of Lagos State had such challenges. He looked perfectly fit.
Kaffy signalled to David to explain why he loves dancing.
The young man opened his mouth to speak but the words were incoherent. His younger sister who serves as a chaperone and interpreter was called to assist him.
"Dance is always something he has always liked to do," says the sister, pausing to allow him to express himself fully before interpreting his words and gestures.
"People usually call him to dance for them, particularly schools," she continues. "Back then, nobody was really enjoying the trap dance (a style of dance associated with trap music). People felt his dance style was out of place but he didn't pay attention to them. He would just set his camera in his room and start dancing. He did not know what he was dancing to but he keeps dancing."
"He dances to nothing," Kaffy cuts in. "But guided by his own feeling. That ability that he could find something to do even when the world tags him disabled is inspiring."
David is one of the few physically-challenged people working with the dancer. There is also an autistic child that exudes creativity through dance. Their testimonies give Kaffy, born Kafayat Oluwatoyin Shafau, the strength to move on and a sense of fulfillment.
Dance is more than just a rhythmical movement of the body to her who was shot to fame after breaking the Guinness Book of Record for 'Longest Dance Party' in 2006. To her, it is a process of mental liberation and empowering the youths.
"Dance to me is not about competing or showing off my dance moves. It is more of having an impact on people, empowering young people. It is a tool for me to tell the young people that they can be anybody in life," she says.
This spirit of mentorship was ignited at a young age.
Kaffy recalled that as a child she wanted to study a course that was uncommon and influential. After going through a long list of courses, she finally settled for aeronautical engineering. But providence had a higher calling for her. It all started in 1997 when she went to the National Stadium in Surulere to train people for fitness through dance. She noticed a particular woman who used to join her class.
"I noticed the transformation in her each time she attended our class," she recalls. "From wearing oversized outfits, she began to wear clothes that were more fitting. One day, she walked up to me that the dance class boosted her self-confidence. Right there, I knew I wanted to use dance to impact lives."
Indeed, she has been riding on the crest of a wave since she took that decision. From winning the competition, Kaffy has built an empire from an art that was once overlooked. She is the highest-paid dancer in the country and last year, she opened a dance and fitness studio, Kaffy Inc in Ajah, giving her art a corporate identity. She also introduced The Dance Workshop and Conference that serves as a meeting hub to trade ideas on how to move her industry forward. Through that initiative, Kaffy found a way to educate the public on the economical value of dance.
"I don't see any profession that you can use to celebrate success than the least profession in places like Africa. 20 years ago, dance was not seen as a viable pursuit. But today we are in a country where the creative industry has become the second-largest employer of labour in a country that has 70% youth population. I believe the government is sleeping on the idea that being creative is a waste of time.
"I have been doing this project for five years, trying to consistently nag the idea that if we do not do something about the youths, then the country is wasting its time," says Kaffy.
According to her, dance is in service to multiple sectors of the economy, calling it a multibillion industry.
"You see dance in health. People nowadays prefer to use dance in their workout routines. In the music industry, dance is used as a vehicle to propel our music to the world. The reason Afrobeats is popular today is because of dance. It is our azontos and shakiti bobos that got the white man interested in our music. But we are underappreciated. Look at our weddings today, it's like a dance carnival.
"Dance is everywhere! We can't take it away. So if we have a generation who is keen on dancing and want to build a future around it. We have to take care of them else the wrong people are going to influence them," she says making reference to the Marlian culture that has become a way of life to many youths.
When the leader of the movement, Naira Marley, started a viral dance last year called 'Soapy dance', Kaffy was among the people who criticized the artiste for the immoral dance style. Her open condemnation led to a spat between the two entertainers.
Not shy of addressing the controversial issue, Kaffy said she has no problem with Naira Marley but pitied the lifestyle he is promoting because he will reap the consequences one way or the other.
"I'm not going to shy away from things like the Marlian state of mind that is gradually turning into a mania among our youths. It seems like a joke but it should be taken seriously. If we can create a generation that is proud to say they are badly-behaved, then we are in trouble. The virality of the Marlian culture is in the creative industry.
"We should stop looking at it from the idea of Marlian but from the power of influence. If the minds of the youths can be influenced by such a culture — which is a trend that will eventually go away but the effects of it are enormous, both positively and negatively— then I have a bigger power on the mindset of those who can behave properly," Kaffy explains.
She described music artistes as parasites who thrive on what they can get.
"They should be careful of what they are promoting," she warns. "The world is big and the consumption of art varies. There is the consumption for children and for adults. But when you sing about drugs and encourage people to do so, it's wrong. I'm totally against musicians smoking in their music videos or social media platforms."
However, what frustrates the dancer most is the limitations of the minds of the youths.
Kaffy says, "There is a communication gap created by the world that has made young people unable to reach their full potential. They are so blinded by the fact that the world is so beautiful and seductive that it has taken away from their mind what they can achieve and limits it to the microwave approach towards their success. The young mind yearns for success, he wants to be a leader but he has been brainwashed."
It is this kind of frustration that has fired up the celebrity dancer to touch as many lives as possible through her conference.
The eclectic dancer adds, "It is a ministry to me. Seeing young people do better in this country is one of my greatest desires. I have been through the dark stages of my life when I got no kind of mentorship. If not for God, maybe the world may never know of Kaffy. So I perfectly understand when young people feel discouraged. Not so many young people are stabilized. They can easily veer off from their destiny and being that we live in a society where people give excuses, it is easy for them to lose focus.
"There is nothing more dangerous than trapping a man in his mind. It's the most dangerous thing to do to a man. It doesn't matter if he goes to the best school or comes from a wealthy background, once his mind is trapped, he is doomed. There is no amount of campaign our leaders can do to these youths if they keep messing with the minds of the youths, it is going to come after them. They will come and run you down.
"You cannot rule a mind like that and expect good results. It is going to evolve and revolt against you and I doubt if anyone will be saved."
Kaffy is optimistic that dance can change lives. Only David's, she's been able to affect other lives.
"David's story is one of the reasons I can't quit," she notes.
"I have had cases of people who were going to quit on life. I lost someone who was trying to call me and couldn't get through to me. I was the only person he spoke to. I never knew he was that suicidal. I never knew that every time I spoke to him, he was on the verge of killing himself and our conversation had been preserving his life. That phone call I missed ended his life. His parents called me to tell me about his death because my number was the last he called. With that kind of thought, I can't quit."
Working with children with disabilities is in no way a challenge to Kaffy, rather she sees it as an opportunity to learn from them.
"David is not a challenge. He is just an exciting dimension," the Nigerian dancer points out. "It is challenging because I now have to learn how to teach him. I'm actually intrigued by him and he is also a source of inspiration to me because he came to me to teach him. That boy is so brilliant. He is so intelligent. There are things he does that marvels me. I feel that God created us purposefully in different ways to prove his power. David can hardly hear the music but he follows the pulse of our movement and the steps that he has rehearsed with us. There are times when he goes off count but the fact that he is part of the team is what counts."
Revealing that her mind is her greatest asset, Kaffy is brimming with lots of ideas for her brand this year. It is a significant year for her. She will be 40 this year and will be celebrating 20 years on stage. A series of events are already planned to mark these celebrations. One of them is through the TWDC. For the first time, the event will run through a four day period that will climax with a concert themed 'Rise of the Phoenix'. According to the native of Epe in Lagos state, the concert is a celebration of the art of dancing and will feature international celebrity dancers and martial arts experts.
At 40, Kaffy still commands attention wherever she goes. Whether on or off stage, she is given widespread recognition. There's no clear history of dance in Kaffy's family but she attributed her ability to draw attention to her mother. She recalled how her mother used to steal the spotlight at parties.
"She is not the VIP guest in the room but all eyes are drawn to her. She is like a magnet."
As she prepares to mark her 40th birthday, Kaffy disclosed that she feels more empowered.
"I don't see age as a limitation. It is just time. God doesn't work with time. He works with existence and for my existence, I hope to fulfill my time according to God's plans," she philosophizes.
So far, her biggest lesson is investing in humanity. It is the greatest fulfilment for her and there are no plans to discard the mission.