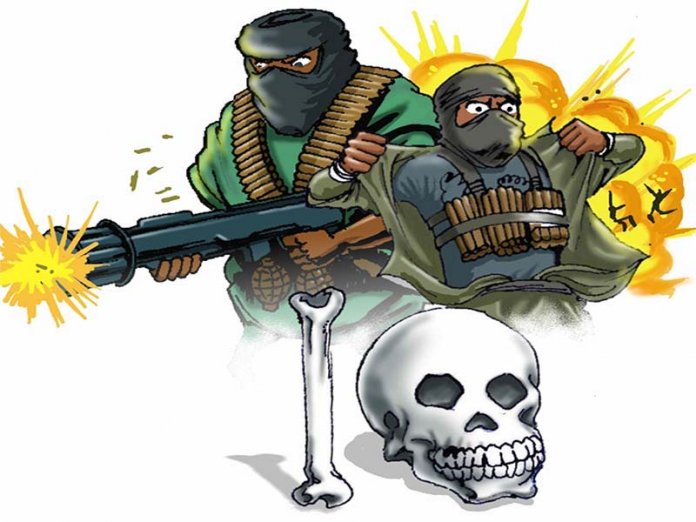 Government has to wake up to its responsibility of protecting lives and property, writes Sonnie Ekwowusi
Impelled by the growing insecurity of lives and property in Nigeria especially the daily murder of innocent citizens by Boko Haram insurgents, the Catholic Bishops of Nigeria last Wednesday invited all people of goodwill to go down in penance and prayer and beseech God for peace and security to reign again in Nigeria. In so doing, the bishops explained that they were not meddling in partisan politics but simply carrying out a moral responsibility to inculcate the permanent principles of the moral order as they affect the human person and the social, economic, political and cultural structures of earthly human life. In plain language, the bishops are urging the Nigerian authorities to protect the lives of the Nigerian citizens because a country that allows its citizens to be killed day by day by barbarians is tottering on the precipice.
This was why the Catholic Bishops invited all for penance and prayers last Wednesday. In honouring the invitation last Wednesday, Nigerians from different walks of life and different social milieu dressed up in black attire or simply wore black band across their arms as a sign of mourning all those who have been slaughtered or maimed by the Boko Haram terrorists or other killer groups operating in Nigeria. I was in one bank last Wednesday and I noticed that practically all the bank staffers on duty clothed themselves in black. Feigning ignorance of why they wore black, I asked the banker in front of me, "Why are you people wearing black today"? She smiled at me and responded, "don't you know what today is?". Today is Black Wednesday, a day in which we are expected to wear black."
We may now ask ourselves in what way has the insecurity in Nigeria worsened since President Buhari returned to power. It has worsened by the fact that the Nigerian territory has become one great killing field. The coronavirus may be deadly but the Boko Haramvirus or Fulani herdsmenvirus is deadlier. The coronavirus may be claiming scores of its victims no doubt. But hardly any day passes in Nigeria without the Boko Haramvirus or Fulani herdsmenvirus claiming at least a whole family or a whole community. In the past the Boko Haram terrorists and Fulani herdsmen terrorists were killing Nigerians only in the North-East. Today they have spread their dragnets to the South-West, South-South and South-East. They are bent on conquering the aforesaid regions and expropriating them as Muslim territories. For example, last week mayhem was let loose along the Benin/Ore expressway in Igbogi village after Okada town in Edo State.
Apparently some Fulani herdsmen had killed some villagers in a nearby village. In protest, the angry villagers carried a corpse of one of the victims and laid it across the expressway. This caused a terrible vehicular traffic jam which further caused a snarl of traffic congestion on both sides of the expressway. A lawyer friend who was coming from Enugu in his car was caught up in the confused traffic. He said that the situation got so worse that some armed soldiers who later came to the scene started engaging the villagers in a gun battle. In order to bypass the gridlock, my lawyer friend and his fellow car occupant embarked on a risky diversion into some of the villages (Thank God the Boko Haram insurgents operating in those villages did not see them) from where they rejoined the major expressway leading to Lagos.
This is our new Nigeria for you. You will recall that it was along the same Benin/Ore Expressway that some Fulani herdsmen killed Mrs. Funke Olakunrin, the daughter of the 93 years old Pa Rueben Fasoranti, leader of the Pan-Yoruba socio-political group, Afenifere. Suddenly human life in Nigeria has become the Hobbesian "solitary, poor, nasty, and short". We now live at the mercy of kidnappers, bandits, Boko Haram insurgents, Fulani herdsmen murderers and ISWAP militants.
The greatest tragedy however is that amid the heightened Boko Haram and Fulani herdsmen killings the Buhari government is more interested in playing to the gallery than in actually having a firm grip of the sad situation. Rather than divert sophisticated strategies to smoke out Boko Haram from Nigeria the Buhari government is offering amnesty to the so-called "repentant" Boko Haram insurgents. Last Friday not less than 25 Boko Haram terrorists from Niger Republic, including their wives and children, who claimed that they had "repented" from their misdeeds were allowed to enter Nigeria to receive amnesty. In fact the Nigerian army went out to receive them and handed over to the Borno state government for rehabilitation.
You will recall that two weeks ago the Borno State Commissioner for Information angrily commented that the so-called "repentant" Boko Haram members have not repented at all because they are still going back to Boko Haram terrorism. If the government is already aware of this, why is it still offering the so-called "repentant" Boko Haram members amnesty? This is why you cannot fault Bishop Matthew Hassan Kukah and others who are insisting that there is no difference anymore between the Buhari government and Boko Haram. Think about it. How can the Buhari government be allowing the so-called "repentant" Boko Haram members, their wives and children from Niger Republic to freely enter Nigeria at a time the insurgents are about sacking Nigeria? Note that till date no single Boko Haram killer or Fulani herdsman killer has been apprehended, prosecuted in the court of law and upon being guilty sentenced to death. Instead of arresting and prosecuting the Boko Haram or Fulani herdsmen culprit the Buhari government is offering them amnesty. Does this make sense to you at all?
Last week the Chief of Army Staff, Lt. General Tukur Buratai openly declared that the Nigerian military cannot win the war against Boko Haram by military might alone. He said that only 25% of the war falls within the ambit of the military while the rest 75% falls within the ambit of the civilian populace. He was also quoted as saying, "We are fighting the mind. So, can the military fight the mind of the people?". Is this not shameful? If the armed soldiers cannot fight Boko Haram what makes Buratai believe that unarmed civilians can fight Boko Haram with their bare hands? If the Nigerian army had successfully led the ECOMOG forces to intervene and end the wars and strife in Liberia, Serra Leone, Sudan and so forth, why can't the same Nigerian military fight and defeat Boko Haram?
If Buratai and his fellow service chiefs have become incompetent and unfit for the job which they are employed to do why can't President Buhari replace them with competent and capable hands? Recall that the House of Representatives had on January 29 2020 passed a resolution calling on President Buhari to fire the current service chiefs. But the President is unwilling to do so. Recently the European Union (EU) Commissioner for Crisis Management urged President Buhari to apply international law and international humanitarian law in dealing with Boko Haram because Nigerian soldiers alone cannot defeat Boko Haram. But Mr. President is unwilling to do so. Those who brought President Buhari back to power despite his disastrous outing from 2015-2019 should actually go down in sackcloth and ashes in penance.
Quote
If Buratai and his fellow service chiefs have become incompetent and unfit for the job they are employed to do why can't President Buhari replace them with capable hands?