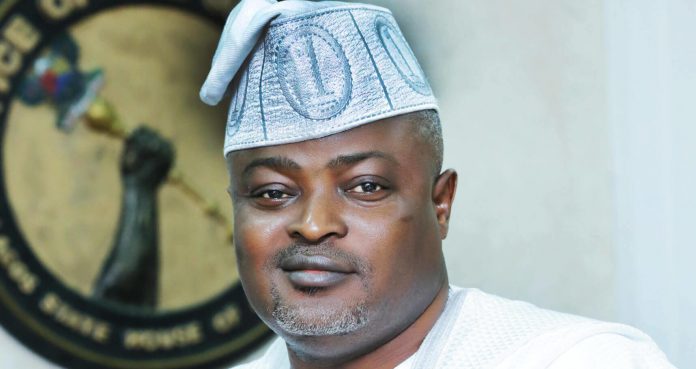 By Eromosele Abiodun
The Speaker of the Lagos State House of Assembly, Mudashiru Obasa, resident of Ijegun Port City and other eminent Nigerians have applauded the management of Westron Properties Limited for its commitment to corporate social responsibility (CSR).
They gave the commendation during the inauguration of a 1-kilometer road, bridge and water channel built by Westron Properties by Obasa over the weekend.
Speaking at the event, Obasa who was represented by a member representing Amuwo Odofin Constituency 11, Rauf Olawale, said the projects were well thought out and in line with the agenda of the Lagos State government.
According to him, "I know this place very well, the entire place was a swamp. To develop this swamp into a modern port city is highly commendable. Nothing can exist in a vacuum, as far back as 1993, nothing was on ground here but today, we are all witness to this massive development. The Lagos State House of Assembly is behind you and will continue to support you. We appreciate your several CSR projects and urge other companies operating across Lagos state to emulate what you are doing.
"As you can all see, this company has done well for this community and we can only wish that they grow from strength to strength. We have a new administration in Lagos state but we understand that government is a continuum so we have to do our best to develop Lagos state. I can assure you that we are ready to take the state to the next level."
On his part, President of the Association of Nigerian Licensed Customs Agents (ANCLA), Iju Tony Nwabunike, applauded the initiative stressing that the company's effort will reduce the over dependence on Apapa ports.
He called on other companies to emulate Westron and invest in maritime facilities, which he said is required as the current facilities are hugely inadequate.
Specifically, he said, "We have all seen what Apapa has become. As customs agents we have done our best to draw attention to the plight of Nigeria Living and doing business in Apapa and we will not stop until the right thing is done.
Earlier in his welcome address, the Founder and Managing Director of Westron Properties Nigeria Limited, George Igboegwu said the emerging port city of Ijegun is a private sector initiative born out of necessity.
Lagos state, he added, has witnessed exponential growth in the last few years hence the need for more investment in port facilities to support existing ones.
He said the company invested in the sleepy town because of its desire to support the state government's effort and drive to move the state forward.