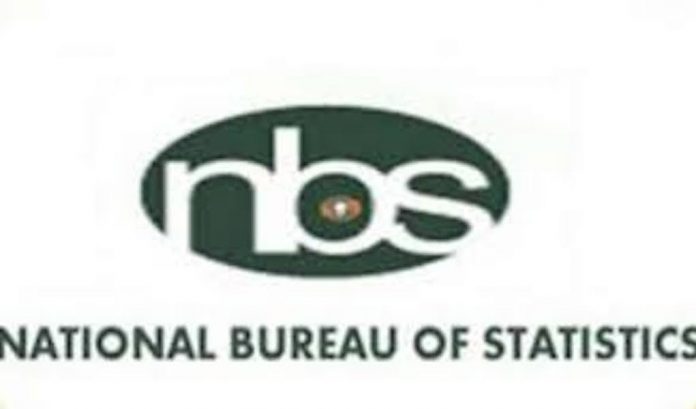 In order for the country to achieve sustainable growth, there is need to urgently diversify the economy and adopt measures to insulate it from external shocks, writes Obinna Chima
The National Bureau of Statistics (NBS) last week released Nigeria's full year 2019 Gross Domestic Product (GDP), which showed that the economy grew by 2.27 per cent, compared to the 1.91 per cent recorded the preceding year.
However, the GDP for the fourth quarter of 2019, rose to 2.55 per cent, the highest quarterly growth since the 2016 recession. Growth in the preceding quarter was 2.28 per cent.
According to the GDP Report for Q4, and full year, released by the statistical agency, aggregate GDP in Q4 stood at N39.57 trillion in nominal terms, higher than the N37.80 trillion in Q3 and N35.23 trillion recorded in the corresponding quarter of 2018.
GDP in real terms stood at N19.53 trillion. However, quarter on quarter, real GDP growth was estimated at 5.59 per cent.
The average daily oil production in Q4, however, declined to 2.00 million barrels per day (mbpd) during the review period, representing –0.04mbpd lower than the production volume of 2.04mbpd in Q3; but indicated a rise of 0.09mbpd over the 1.91 mbpd recorded in the same quarter of 2018.
However, oil production remained consistently at or above 2.0mbpd all through 2019, the NBS added.
The economy was largely driven by the non-oil sector, which contributed 92.68 per cent to growth in Q4 and 91.22 per cent at full year while the oil sector contributed 7.32 per cent to GDP and 8.78 per cent in 2019.
Agriculture contributed 26.09 per cent to growth while industries accounted for 20.27 per cent as well as services which recorded 53.64 per cent contribution to growth.
Furthermore, manufacturing contributed 8.74 per cent to real GDP in Q4 and 9.06 per cent at full year. But while the GDP figures showed slim expansion in economic activities, Nigeria's per capita income has not grown fast enough because its population growth rate of almost per cent still outpaces its GDP growth.
Indeed, the country is still faced with the challenge of poverty and low capacity due to its perennial power crisis. Per capita income is used to measure the average income in a given population, and is used to compare the wealth of one population with those of others. It also measures a country's standard of living and helps to ascertain its development status. It is one of the three measures used for calculating the Human Development Index (HDI) of a country.
That is why some economic analysts and even policymakers have stressed that the country urgently needs structural reforms to take the economy out of the woods.
The reforms, they posited, should be a combination of monetary and fiscal policies that would create jobs, increase the disposable income of Nigerians and lift more citizens out of poverty.
Economic Expectation
The Head of Research, Coronation Asset Management, Mr. Guy Czartoryski, predicted a stable naira exchange rate against the dollar this year. Czartoryski, said this in a presentation titled: "Year Ahead 2020: Re-risking the Financial System," he delivered at a breakfast session organised by Coronation Merchant Bank in Lagos, recently.
According to him, in the long-term, the naira depreciates against the dollar in line with the difference in inflation between the two currencies. He noted that over the years, trying to stop the naira from depreciating had proven to be a forlorn activity.
"We believe the CBN will keep the exchange rate at close to N362.50 to a dollar for most, if not all, of 2020. But the effect will be to add pressure on the naira as its fair value slips against the dollar.
"The recent history of the naira versus dollar exchange rate shows that 20 per cent over-valuation of the naira, in terms of fair value is associated with devaluation.
"Such a level may be reached during 2021, but the risks of this happening in 2020 are low, we believe. The immediate cause of naira devaluation (as opposed to long-term driver) is unsatisfied demand for dollar and resulting depletion of forex reserves at the CBN, as we observed in 2016," Czartoryski explained.
However, he pointed out that a gross forex reserve level of $30 billion or less would be dangerous, saying it would restrict the ability of the CBN to supply dollars to the forex market.
He explained that management of forex reserves is linked to the CBN's setting of market interest rates.
"Currently, Nigeria has a dual interest rate system with the CBN's open market operations (OMO) bills available only to banks' proprietary books and to foreign portfolio investments (FPIs).
"The later accounts for a significant proportion of the CBN's $38 billion forex reserves. If the CBN cannot sell sufficient OMO bills to foreigners in early 2020, then this could, in our view, present challenges to its forex reserve management and dispute the current N362.50 to a dollar exchange rate," he said.
"Oil prices look set to trade above $60 barrel per day in most of 2020, in our view. With the potential to sooth investors' fears about Nigeria's outlook. Continued OPEC cut led by Saudi Arabia are supporting the forward curve which prices oil (Brent) at $62 barrels per day.
"Our core thesis is that portfolio investors (both local and international), are confident about Nigeria's prospects when oil prices (Brent) are close to $60 barrels per day or above, and unhappy when oil prices fall below this level.
"2019 was a case in point, when markets were generally happy with Nigeria's profile, but responded negatively to oil falling to $56 barrels per day in early August – net outflows of US dollars from the reserves of the CBN rose that month, as did domestic interest rate around that time," he added.
On their part, analysts at Renaissance Capital (RenCap), also stated that a naira devaluation was unlikely in 2020.
RenCap, one of the leading emerging and frontier markets focused investment banks, stated that the CBN has enough foreign exchange reserves buffers and monetary policy tools to keep the naira from depreciating in the short term, despite concerns about the drop in the country's reserves to $36.5 billion.
"The central bank will strive to maintain a relatively stable naira, by using the tools at its disposal. It is for this reason we revise our 2020 FX rate forecast to N375/$1, from N429/$1 previously.
"The good news is that there has been no front loading of imports yet, implying there is no sign of pressure on FX yet. We believe the government has the FX reserves buffer and monetary policy tools at hand to keep the naira from depreciating to its fair value, in the short term," the firm explained.
They added that the proposed $3.3 billion Eurobond to be issued by the federal government in the coming months would further help to shore up both the reserves and the naira.
According to the report, Nigeria has had some positive developments in recent months that suggested some progress on the reform front.
They listed some of these reforms to include the 2020 budget which was passed ahead of the start of the fiscal year (January-December) for the first time in some years, which implied government expenditure started being disbursed earlier this year. Others are the Deep Offshore Act and the Finance Act 2020.
However, they noted that, "Consumption also remains weak in part due to the lack of income growth and high inflation. Job creation has also been low.
"Government consumption and investment are the main drivers of growth. The quickening of private sector credit growth is positive for growth overall.
"But even though the linkage between the oil price and the non-oil sector has weakened, it is still stronger than that between credit and the non-oil sector."
Getting the Economy Back
To the CBN Governor, Mr. Godwin Emefiele, there is need to urgently diversify the economy and "create institutional structures that will insulate the economy from oil shocks."
Emefiele also warned that a potential fall in oil prices could debilitate the economy and adversely impact exchange rate and heighten inflationary pressure.
"I reiterate that even as economic recovery stayed fragile, effective anchoring of inflation expectations remain fundamental.
"Besides, potential fall in oil prices could debilitate the economy and adversely impact the exchange rate with ramifications for inflation.
"It remains urgently imperative to diversify the economy and create institutional structures that will insulate the economy from oil shocks," he explained.
According to him, following a tepid performance in 2019, global macroeconomic condition was expected to stabilise in 2020, as growth momentum inches up, albeit, sluggishly. According to the International Monetary Fund (IMF), global growth for 2020 is projected at 3.3 per cent, from 2.9 per cent in 2019.
The projection was buoyed by expected positive outcome of the US-China trade talks, favourable execution of Brexit, and ample monetary policy stimulus. Regardless, downside risks subsist and market sentiments remain fragile, especially as heightening geopolitical tensions between US and Iran amplified global uncertainties.
However, for the Nigerian economy, the CBN governor said short-term outlook remained modest while output growth recovery was expected to progress.
He stated that CBN analysis forecast growth at about 2.4 per cent for 2020.
Furthermore, Emefiele said cautious policy was irrefutable as growth was still low while per capita income and unemployment rate remained outside tolerable levels.
"Besides, the modest short-term prospect is threatened by a delicate oil price dynamics, weak aggregate demand, persistent herder–farmer conflicts and prevalent security challenges.
"I am of the view that a favourable resolution of these challenges, reinforced by sustained FX stability, as well as continued implementation of the Loan-to-Deposit Ratio (LDR) policy, will further boost short-term outlook," he added.
"I note the improvements in banks' Non-Performing Loans (NPLs) position and our continuing efforts at de-risking the target sectors.
"Robust credits will bolster domestic investment, household demand and factor productivity while accelerating economic diversification, and ensuring strong and inclusive growth," he added.
To the Country Manager for the International Finance Corporation (IFC) in Nigeria, an arm of the World Bank, Eme Essien Lore, there is need for ambitious reforms in Nigeria, to stimulate economic growth in the country.
Lore, pointed out that good policies are instrumental in having inclusive growth agenda, "and there is no question about that."
According to her, there is an incredible amount of dynamism from the private sector in Nigeria.
However, she pointed out that there was a broken social contract in the country, saying that the populace doesn't trust government, "and therefore, for example, we have a situation where there is low tax compliance."
"I think we also have a fractured business contract between government and the private sector. We don't have enough trust between these two critical stakeholders in the ecosystem.
"It is pretty low and I think it would take years to build that trust and there must be commitment on both sides to make that happen," she added.
According to the IFC country manager, the multilateral agency would continue to advocate for good and robust policies, as well as for trust between the private sector and government.
"We should be in a hurry in Nigeria," she said.
Lore noted two areas policymakers in the country should focus on.
"There is a policy-driven part, which focuses on government making the right decision and putting in place robust policies. That is very important and we should always advocate for that.
"There is also a part that requires more innovation and collaboration in the private sector and focusing much more in the sub-national level, which I think there are lots more opportunities at that level.
"Essentially, what I am saying is that there is a part the private sector has to play. It doesn't entirely depend on policy. We think there is absolutely an opportunity for that in Nigeria.
"I do think we have a very dynamic private sector in Nigeria and things can be done outside the policy framework that are very impactful in Nigeria," she said.
Continuing, Lore added: "Why is inclusive growth important in Nigeria? It is important because of the impact it has on people, and ordinary, hardworking Nigerians, who are essentially the backbone of this society.
"For more than 10 years in Nigeria, there was a situation where we had about seven per cent growth. But if we are very honest with ourselves, we would know that it was jobless growth.
"In fact, in some areas in the country, then, in spite of the fact that we had growth, there was increasing poverty."
According to her, statistics today show that many people in Nigeria are suffering.
"Is it malnutrition, youth employment or maternal health? For me, it is the issue of literacy that is worrisome. Statistics shows that only 19 per cent of Nigerians who are primary school graduates are literate. "That is, only 19 per cent of people who leave primary school in Nigeria can read. That hits me in my heart.
"This and other scaring statistics make it imperative for us to pursue inclusive growth. We must be relentless about pursuing inclusive growth.
"We must be absolutely dogged about this. It matters because it affects people in their everyday lives," she added.
She stressed the need to put the private sector in the middle in the quest to deliver inclusive growth in the country, saying "It is not government that would deliver on it, it is the private sector that can deliver on that agenda."
"But we don't think there is a simple solution, but we do believe that boosting productivity will accelerate growth and help create more and better jobs.
"So, from our perspective, all policies in the country should be designed with the objective of boosting productivity and creating more and better jobs.
"Nigeria is far away from its aspirational peers and there is a lot to be done. Those aspirational peers, many of them are in Africa and in Asia as well. So, there is a lot to be done for Nigeria to bridge its productivity gap," she added.
The Deputy Governor, Operations Directorate, CBN, Mr. Folashodun Shonubi, advised the federal government to urgently embark on an aggressive expenditure rationalisation to significantly reduce recurrent expenditure, free resources to fund expansion, ramp up fiscal stimulus and enhance fiscal buffers.
According to him, deficit financing by the monetary authority should also be addressed.
According to him, the government must explore opportunities for financing by the banking sector.
"In the external sector, we must sustain our actions, including transparency, to further strengthen investor confidence. There has been a gradual return of investors after the sudden reversal in the last quarter of 2019.
"We continue to see significant progress with the measures taken in the banking sector," he added.
According to him, a combination of the LDR based and de-risking measures by the Bank had led to the ramping up of credit into employment generation sectors, thereby enhancing prospect for improved growth.
He, however, advocated for a review of capital requirement of banks to further strengthen their resilience and boost their capacity to adequately play their role as engine of growth.
"As I have mentioned in my earlier statements, the fiscal authority need to rise up to the occasion and effectively support the effort of monetary policy to promote growth.
"Persistent shortfall in revenue and increasing recurrent expenditure, has made the fiscal space even tighter, while recent trends in the level of deficit and debt accumulation have reached a worrisome state," he explained.
He noted that slow global economic growth has the tendency to weaken demand for Nigeria's crude oil and cause fiscal fragility, saying crawling recovery was certain to worsen unemployment and poverty. "Though current inflationary pressure is an expected outcome of current strategies to alter the structure of domestic production, rising prices must be tamed.
"The Bank must continue to take necessary actions to deliver on its primary mandate of maintaining monetary and price stability that is conducive for economic growth, even as benefits of recent measures manifest gradually.
"Developments in the global economy continued to be influenced by the dynamics of China-US trade dispute, changing vulnerabilities in global financial markets, and geo-political tensions, amidst global debt build up and generally sub-optimal inflation in developed economies.
"Low-inflation, especially among the major developed economies, further heightened the prospect for continued adoption of accommodative policy by central banks in 2020 to tackle slowing growth," he said
In the same vein, the Managing Director, Cowry Assets Management Limited, Mr. Johnson Chukwu said, "the key thing is to broaden the non-oil sector.
"We need to stimulate sectors like manufacturing, construction and the real estate sectors. These are sectors that would create employment and lead to inclusive growth in the economy."