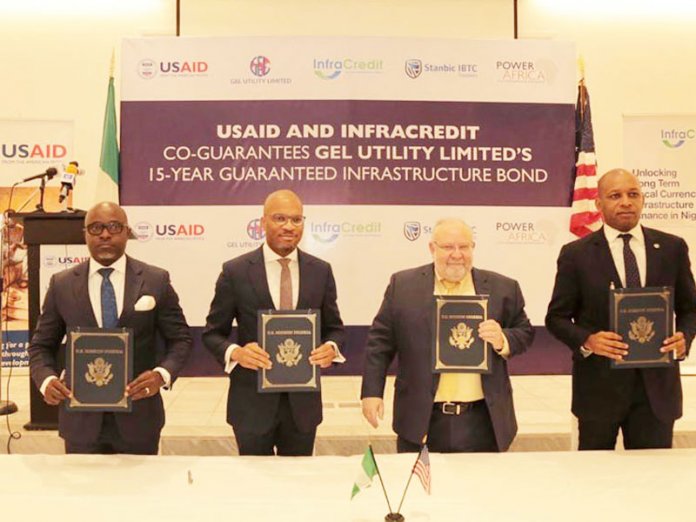 The United States government through its Agency for International Development (USAID) and Infrastructure Credit Guarantee Company Limited (InfraCredit) recently signed a Declaration of Partnership for the first-ever bond co-guarantee under a risk sharing arrangement, to provide increased access to electricity to consumers in Port Harcourt, Rivers State.
The N13 billion ($36.1 million) co-guarantee for a 15-year bond represents a partnership with InfraCredit, a domestic 'AAA' rated specialised infrastructure credit guarantee institution backed by the Nigeria Sovereign Investment Authority, GuarantCo (a Private Infrastructure Development Group company), KfW Development Bank and Africa Finance Corporation to provide local currency guarantees and mobilize long term debt financing for infrastructure in Nigeria. InfraCredit is an official partner of Power Africa.
Speaking during the signing ceremony, USAID Mission Director to Nigeria, Stephen Haykin, said Nigeria was important to the US government's global development strategy and boosting Nigeria's economic growth can only be fully realised through a healthy power sector. He, however, noted that despite having the largest population and largest economy in Africa, Nigeria suffers poor electricity supply. "The lack of a reliable and affordable electric supply in Nigeria impedes every facet of life – from local markets to large industries and schools, hospitals, and impacts the everyday lives of the people.
"Today's event highlights a ground-breaking collaboration between USAID, InfraCredit and GEL Utility Limited to increase access to power consumers in Port Harcourt. This co-guarantee marks the first – ever risk sharing arrangement between USAID and InfraCredit, and emphasises both institutions' dedication to supporting the development of Nigeria's power sector," Haykin said.
Also speaking during the event, the Chief Executive Officer of InfraCredit, Chinua Azubike, said InfraCredit was committed to facilitating investments in the power sector by providing guarantees in collaboration with strategic partners such as Power Africa. "When we are able to draw on Power Africa's capacity, networks, competence and credit quality, we can achieve our mutual objective of bridging the power infrastructure gap," Azubike said.
Also at the signing ceremony were the Chief Executive of Stanbic IBTC Trustees, Charles Omoera and a non-Executive Director of GEL Utility Limited, Felix Achibiri, who expressed optimism about the success of the partnership.
InfraCredit will also partner with GEL Utility Limited, which develops, operates, and provides grid-connected and off-grid electric power. GEL delivers electricity to the Port Harcourt Refining Company through an 84-megawatt (MW) power plant. The bond issue is symbolic, as it will be the first local currency corporate infrastructure bonds issued in the Nigerian debt capital markets with a co-guarantee by the USAID. With the benefit of the co-guarantee, the Series 1 Bonds was accorded a 'AAA' credit rating by Agusto & Co. and Global Credit Ratings Co. The Series 1 Bonds was 123 per cent subscribed by twelve (12) institutional investors including ten (10) local pension funds. The proceeds of the bond stemming from this co-guarantee agreement will be used to provide up to 14 megawatts of excess generated electricity from the power plant to customers within the Port Harcourt area, either through Port Harcourt Electricity Distribution Company or directly to eligible customers under the implementation of the Excess Power Program in collaboration with the Nigerian National Petroleum Corporation and fund replacement of the GEL Utility Limited's current short-term financing with long-term local currency debt.
Power Africa is a US government-led partnership coordinated by the USAID, which is working to increase electricity access in Nigeria as well as the African continent. Since 2013, Power Africa has worked to add more than 30,000 megawatts of electricity generation capacity and 60 new homes and business connections across sub-Saharan Africa.
So far this initiative has leveraged over $50billion in investment from public and private sectors and the partnership with InfraCredit is expected to bolster the figure.
The success of this collaboration demonstrates InfraCredit and USAID's commitment to facilitating access to long term local currency finance to support Nigeria's energy sector and enhance our journey to self-reliance; also importantly is the strategic significance of InfraCredit's ability to crowd-in risk sharing capacity from highly rated international DFIs like USAID.
According to Chinua Azubike "We believe this transaction marks a significant milestone and inflection point for our risk sharing strategy towards syndicating capacity to mobilize domestic credit to the private sector for infrastructure development."