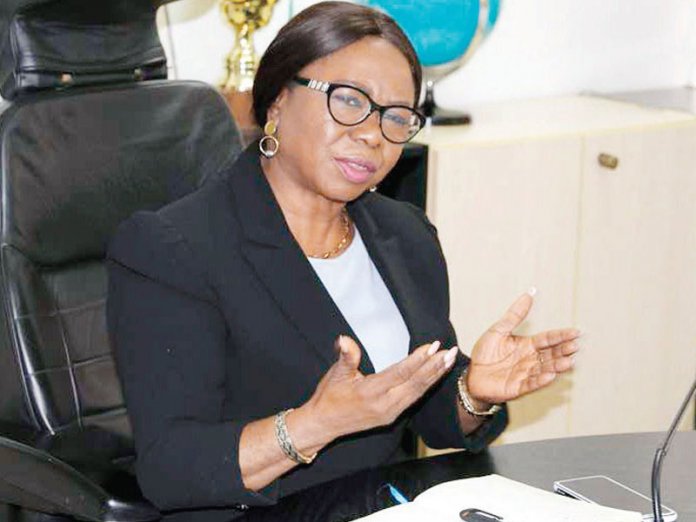 The Acting Director General, Securities and Exchange Commission, Ms. Mary Uduk, in this interview spoke about development in the capital market in 2019. She also expressed optimism that the Finance Act 2020 will stimulate activities in the capital market, even as she urged the power distribution and generation companies to take advantage of the market to raise long term financing to enable them address their funding needs. Obinna Chima and Goddy Egene present the excerpts:
Are there policies you think the federal government should initiate to support the growth of the capital market?
I want to say that we appreciate the Finance Act that was recently introduced by the federal government. For those of you that have read the Act, you will see that there are a number of initiatives that are in support of the capital market. We were expecting more because we have been working on some of those initiatives for many years with the Federal Inland Revenue Service (FIRS) and other relevant stakeholders. The government has through the Finance Act answered some of our prayers. There are others that we thought they would have done like the issue of taxes but they gave us what they thought we should have; we will continue to push for more tax reductions in different areas. We also expected that government will give us some palliatives for some companies to encourage them to come to the market. We are still working with government to ensure those are done and this is just the beginning as the Finance Minister said.
You don't have to wait for government or National Assembly to repeal some bills or come up with new ones, it will take years, but now with the Finance Bill which as we learnt is going to be annual, we will start again to work towards next year. The focus is on driving investments and for us to do that we must bring capital into key areas, the issue of tax incentives is very critical. In terms of infrastructure funds, government can't fund infrastructure so private sector would do that. So, we should be able to have infrastructure funds and investment of course should enjoy tax incentives. Private equity funds that also drive investments in SMEs, Venture Capital, etc, these are critical areas and the government can look at. Private equity funds operators who invest in core areas of the economy like mining, agriculture should be granted certain incentives, so theses incentives will drive inflows of capital into those areas having more incentives that would drive investors into the market. The core thing there is the area of tax bringing people into the tax base.
What is SEC doing to increase new issues in the market?
As we speak we have a market Committee going round engaging some of these companies to come to the market. We also have a standing market committee that is driving this issue encouraging and engaging other companies to come and list in the market. Don't forget that these companies are private companies that are family companies, so it takes a lot to get them to come to the market. We also found out that other jurisdictions have same issue. I remember discussing the same issue with Saudi Arabia when we had Africa and Middle East Regional Committee (AMERC) meeting and one of the things they said was they had to reduce lots of their requirements to get these companies to come and list by starting them with what we call equivalent of our second tier market and then gradually moving them into the main market. We are also looking at what the requirements are that the companies find hard or difficult to comply with, we will work with them to ensure that we see what they can work with to bring them to the market.
In addition, we are also working with the exchanges, in other jurisdictions. They also have something like a clinic where the exchanges and regulator would assist those companies to comply with those requirements especially on the issue of governance because that is very key. The exchanges and the regulator will work with those companies to assist them to comply on the issue of governance. We would also engage other government agencies willing to comply with the listing requirements. Some of those companies are almost ready to comply with the listing requirements. On the issue of governance, I know in some instances they have to comply with all of the governance provision, some jurisdictions are looking at it critically with a view to determining what aspect of governance they could step down for some of these new companies. May be we should begin to do same. In respect of LNG we have been engaging NNPC and we had a meeting with LNG and I am sure when they are ready they will come.
What is the current situation in terms of unclaimed dividends?
For new dividends issued now we don't have problems with them. What we have are the legacy issues that have been there and also the issue of multiple subscription in those days. As long as people don't come to claim their shares it will be difficult to wipe out unclaimed dividends. We have been working with the brokers to get in touch with these people who bought shares in different names to come forward and claim their shares. It will be difficult to wipe out those unclaimed dividends. If I have shares and I don't come forward to claim them either because I had forgotten the names with which I bought them, as long as they are not claimed, it will be difficult to know where to send these dividends to. So they are still the legacy issues that we are trying to combat. But for the new dividends today that are being issued, we don't have problems there.
For that reason, we have been working with the registrars, we have been working with the brokers to get in touch with these people who bought shares in different names to come forward and claim their shares. I know that we have had a lot of engagements with the brokers and registrars in respect of that. We are trying to resolve the legacy issues and to this end, we are engaging the registrars, Central Securities Clearing System (CSCS), the brokers to update the records in the system. Last November, we issued a circular directing all stakeholders to update their records in respect of their clients and that information should include the BVN numbers.
At the time the shareholders invested their money there was no BVN number, so we have now directed the brokers to update their information. This information will be sent to the registrars and CSCS and the issues will be addressed. We believe that if that is concluded, the issue of unclaimed dividends will be addressed. So, most of the issues we are having are with legacy issues and the only way we can solve it is if we update our own records and the stock broking firms update their records. And we also said in that circular that if any client does not update his records he will not be allowed to trade.
When are we likely to see the listing of the power distribution companies and the generation companies?
The Discos and Gencos were supposed to operate for about seven years because government had reasoned that at that time they would be ready to come to the market. We know that government is doing a lot to clean them up and to bring them up to speed, to get them ready for the market. It is only when they come to the market to raise long term financing that they will have the money to operate well and be attractive to investors. But for now they are not ready and when they are ready you will know. We are engaging them and working with BPE for them to be able to come to the market.
At what stage are we presently in terms of the demutualisation of the market?
They have the demutualisation plan and everything is being taken step by step. We just gave an approval in principle and they have a court order to hold an AGM and a notice has been published. So we are following the principles and the rules as the SEC had issued and also the demutualization Act, let's be patient as we are waiting for it to take place.
Are there plans for recapitalisation of capital market operators?
Recapitalisation should happen for the market to be better. If we have say 20 or 50 big firms playing as opposed to what we have now which is 255, the market would be better. We want strong firms, so it's something that should happen. We need well capitalised firms as opposed to the situation we have now, Let's work towards what will make it happen.
A number of other sectors are recapitalising and so we are asking capital market operators to think about it because sooner than later it would have to happen.
What is the SEC doing in the area of investor protection?
For investor protection, we ensure that no one takes your money away in an illegal manner and the protection is not that somebody will compensate you. A regulator will also tell you try to diversify your portfolio, try to talk to experts and their different vehicles of investments so in one way or the other they will have effect of the market cushion on their wealth.
What is your assessment of the market last year?
2019 was a good year for the SEC. A lot of people like to refer to the negative returns in the equities market, but we think that does not define the year. We made a lot of efforts towards resolving the issue of unclaimed dividends; we have finally come out with the rules around derivatives market we believe will deepen our market and will make more securities products available for trading on our market, will provide participants with risk management tools. We have also brought out a few more rules on Central Counterparty (CCP) and also supporting the derivatives market and then rules around collective investment scheme (CIS) so that we make them better to be able to attract more investors. It's been an eventful year and we are happy with what we have done this year and we look forward to a better 2020.
What were the milestones recorded by the regulator last year?
We have gone very far in solving the unclaimed dividends problem, that's a big milestone for us. We have engaged the NIBSS to make use of the BVN and we have got the CSCS and the registrars working towards reducing it and there has been a marked reduction. More importantly, we know that there would be no future unclaimed dividends, there would be no addition to the unclaimed dividends profile and we count that as a success.
We believe that once we solve the identity issues that we have presently, the problem of unclaimed dividends will be a thing of the past. Also we have continued with our education of the market, we are making more efforts towards awareness on what stakeholders need to know to make the market more attractive, make it better and protect the investors more.
In the area of Ponzi schemes, how much did the SEC do last year to ensure that unsuspecting Nigerians are not defrauded of their hard earned money?
The problem of Ponzi schemes continued last year and unfortunately Nigerians still invest in these scams. Last year we identified and closed a lot of them, we thank the police, the EFCC and all the authorities that cooperated with us in closing these schemes. They still remain attractive and that is why we are intensifying efforts to educate the public. They are just there to defraud Nigerians and that is why we keep enlightening the public. We will close them down and their promoters would be made to face the law. The SEC would continue to work to protect investors and also to ensure these schemes do not see the light of the day and even when they do they are closed down quickly.
Ponzi schemes thrive all over the world, it's not a Nigerian problem. They tap into human greed coupled with the current economic situation. People see it as a way they can easily get out of poverty, it can also be as a result of not being aware of what investments options are out there. That is why the SEC and the entire capital market community have this year intensified efforts at investment education. People need to know that it's easy to open a money market account, a mutual fund account, get stocks and things like that. We want the market to be easier, more accessible and we also want to have more products. We want a deeper market and we believe that with these combinations it will reduce the number of Ponzi schemes coming up and reduce the number of investors putting their money into Ponzi schemes.
What measures have been taken by SEC to rebuild confidence of retail investors in the market?
We are doing a lot to boost investors' confidence in our market. But I want to say that both local and foreign investors are very good for the market. Investors' fears can be of two folds, firstly they could be afraid because they feel that capital market operators will mismanage their investments, secondly is looking at the volatility of the market that makes investors skeptical.
For the first scenario, we have a number of initiatives that we have put in place to boost investors' confidence. We have the e-Dividend mandate system, the Direct Cash Settlement as well as multiple subscriptions in place. For the second category, investors have to take ownership of their investments. They have to be able to monitor their investments, attend Annual General Meetings as well as read the annual reports sent out to them.
Investors are also protected through the National Investors Protection Fund (NIPF) Risk Based supervision that enables the SEC to supervise the operators to ensure that they do not do what they are not supposed to do. The Complaints Management Framework enables investors to know where to complain to and how long it takes for such complaints to be resolved. For those of the investors that are averse to risk, they should get their financial advisers to advise them properly on where to invest.
We also advise retail investors to invest in Collective Investment Schemes and Mutual Funds because those are managed independently by professionals and they are diversified thereby reducing risks.
We are committed to protecting investors in the work we do. We will keep working on our rules and the possibility of amending them when the need arises, we want more transparency in the market so that investors will feel comfortable and the market can be better. During the last Capital Market Committee meeting, the Investor Education Committee came up with quite a few things. They are doing few initiatives, that they are doing and continue to do, the first as you may know is the inclusion of Capital Market Studies in basic and advance school curriculum, that is the secondary and primary school. So the trust now is to begin to prepare teachers guidelines, and also we are now looking at the university curriculum so that people understand capital market from the basics as they go through their education.
Another thing is the e-dividend issue, so far we have about 2.8 million accounts mandated for e-dividend and we are looking to increase that and also, we want more people to be aware of what it is and that you can get your dividends directly into your own account, we hope that or we believe that will increase or improve market confidence and make a lot of retail investors return to the market.
We are also introducing new products, as you may be aware we are trying to build a commodities market. We believe that Nigeria is ripe for vibrant and a robust commodities market. So there has been engagement with the stakeholders so such as the Standard Organisation of Nigeria, to establish standards for our commodities, so that we can create market and build market for it. We have a commodities ecosystem world group that has come up with all those very incitement recommendations on what we need to do to have a good commodities market. We are also looking at the derivatives market, the rules have been exposed to the market and it would soon be approved and out, so very soon we hope to have an exchange traded derivatives in the market. So all these are to deepen the market, improve liquidity in the market, make the market more vibrant, make the market more attractive for investors.
What are your expectations and outlook for Nigerian capital market in 2020?
The future for the Nigerian capital market is related to the outlook on the general economy. Various estimates of economic growth indicate the Nigerian economy should grow by about three per cent in 2019. We also expect positive growth in 2020 as the economy improves. Furthermore, the federal government presented the 2020 budget and it was approved in record time, which is a landmark compared to previous budgets. The budget is expected to sustain growth and affect the capital market positively. As you are aware, the Capital Market Masterplan (2015-2025) guides the policy decisions of the Commission and we expect to further consolidate on the gains of implementing some of our initiatives. Specifically, we expect to ensure the market operates more effectively and rules and regulations are prompt in protecting investors.