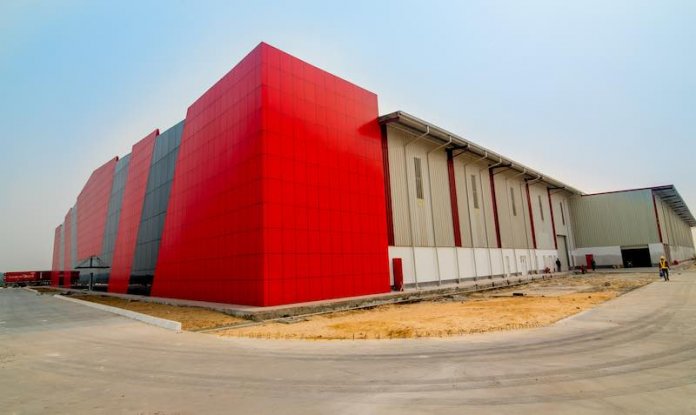 Bennett Oghifo
Alaro City, a new ultra-modern all-inclusive city in the Lekki Free Zone, Lagos, is becoming a magnet of sorts for foreign direct investments and this is expected to be unprecedented in the years ahead.
"Money knows where to go and multiply, you do not need to go asking it to come," said Kingsley Muoghalu, former Deputy Governor of the Central Bank of Nigeria, speaking, recently, at Nnewi 2020 Investment Summit where he urged the federal government to replicate the Lekki Free Zone (LFZ) model across strategic manufacturing hubs in the nation.
Mr Muoghalu's comments echo that of other notable economists and finance experts in the country who have observed the recent unveiling of new investments in Alaro City, the new inclusive city-scale development in the LFZ. On January 31, Governor Babajide Sanwo-Olu of Lagos State commissioned the launch of operations of Ariel Foods FZE, located in Alaro City; as well as welcomed other investors who were in various stages of constructing their facilities in the new city.
The facility by Ariel Foods covers 15,414 square meters and is the largest ready-to-eat therapeutic foods factory in Africa. At the launch, the company's Chairman, Dhiren Chandaria, said the facility has a yearly production capacity of 18,000 metric tonnes and is the most technically advanced manufacturing facility in the world; capable of enabling Nigeria to meet its own requirements and export nutritional ready to eat foods. The factory brings needed FDI, therapeutic foods capacity and jobs creation.
Other companies expected to create thousands of jobs in the coming months and years that were unveiled at the launch include: Starium (BUA Group), Sana Industries, Universal Homes, HMD Africa, Loatsad Promomedia, Kenol and ASB Valliant. Universal Homes is an exciting investor as it plans to tackle one of Nigeria's biggest problems: housing. John Latham, the Executive Director of Universal Homes, said the firm already has 2,000 homes completed and under construction in Kenya. "Universal Homes is bringing its high-quality, accessibly priced apartments to Nigeria, in partnership with Alaro City," he said. "We are pleased to play a role in the housing agenda of Lagos State and to be the pioneer residential development in Lekki Free Zone surrounded by amenities like shops, schools and healthcare."
Launched in January 2019, Alaro City is planned as a 2,000-hectare mixed-income, city-scale development with industrial and logistics locations, complemented by offices, homes, schools, healthcare facilities, hotels, entertainment and 150 hectares (370 acres) of parks and open spaces. Currently, 16 companies are designing or building their facilities in the city; and 3.5km of initial road networks and a modular 50MVA power plant are under construction. A partnership between Rendeavour, Africa's largest new city builder, and Lagos State Government, Alaro City has been widely hailed as the next evolution of Lagos. In one year, it has emerged as the biggest catalyst for investment in the LFZ and created thousands of direct and indirect jobs.
Any keen watcher of Rendeavour's mode of operation would not be surprised at the growth and significance of Alaro City. The company is seen as Africa's largest new city builder, with over 12,000 hectares (30,000 acres) of city-scale developments in the growth trajectories of large cities in Kenya, Ghana, Nigeria, Zambia and Democratic Republic of Congo. Stephen Jennings, Founder and CEO of Rendeavour, said the company is creating the living and working spaces that will help sustain and accelerate Africa's economic growth, meet the aspirations of Africa's burgeoning middle classes, and serve as a catalyst for further urban development.
"We are proud to be bringing significant foreign direct investment to Nigeria," he said at the launch of Ariel Foods facility in Alaro City. "We have a long-term commitment to Africa, and to Nigeria in particular. We opened our first businesses in Nigeria in 2006, launching what is today one of Nigeria's and the continent's leading investment banks, Renaissance Capital, and in 2012, RenMoney, Nigeria's leading consumer finance bank.
Alaro City is a symbol of our commitment to Nigeria, and of the continuity of a partnership anchored in three administrations of the Lagos State Government. Alaro City is also a symbol of the significant market demand for a high-quality, inclusive city-scale developments designed for business and living. With the first 1,000 hectares of Alaro City activated, we already see demand outstripping supply, and investors ready to bring capital to activate strategic locations such as portions of the city's earmarked second 1,000 hectares with waterfront access."
More than partnering with Rendeavour to ensure that the full potentials of Alaro City are achieved, the Lagos State Government also needs to support investments in the LFZ by accelerating critical supporting infrastructure in the zone. Stakeholders such as the Lekki Estates Residents and Stakeholders Association have intensified calls for the complete construction of the Lekki-Epe Expressway; the construction of the proposed 50-hectare truck park announced by the past administration; as well as supporting roads such as the 7th Axial Road from the Lekki Deep Sea Port, linking the LFZ to the Shagamu-Benin Expressway.
The seaport, which recently got a financing boost in the form of a $629 million loan from the China Development Bank for its construction, equipping and early operation, is another game-changer in the LFZ and requires all the support it can get from the state government. If successfully managed, at 100% operational capacity, the seaport has the potential to re-position Nigeria as the new trans-shipment hub in sub-Saharan Africa.
Governor Sanwo-Olu, speaking at the launch of Ariel Foods FZE in Alaro City, said his government would create the right environment for these investments. "Alaro City is a critical part of our plan for the development of the Lekki Free Trade Zone," he said. "When this project is completed, it will essentially amount to one of the busiest and inclusive urban development that the state has seen in recent times; and one which combines high quality residential, commercial and industrial facilities, all surrounded by 150 hectares of parks and green spaces.
As a public private partnership between Rendeavour and the Lagos State Government; our goal is for Alaro City to become a veritable model for PPPs of this kind. We also intend for it to serve as a model for the kind of reasonably-priced and climate-friendly urban developments that Lagos deserves, as a 21st century megacity. We are thus grateful to Rendeavour for being excellent partners and investors on this project. I assure you that our administration in Lagos State will continue to guarantee policies, programmes and initiatives that will attract investments and create the right environment for these investments to thrive and create economic value."
As more investments pour into Alaro City and the LFZ, the Lagos State Government will also begin to serve as a model for other state governments as such calls as that made by Mr. Muoghalu will increase and policy makers will be forced to examine the LFZ model.