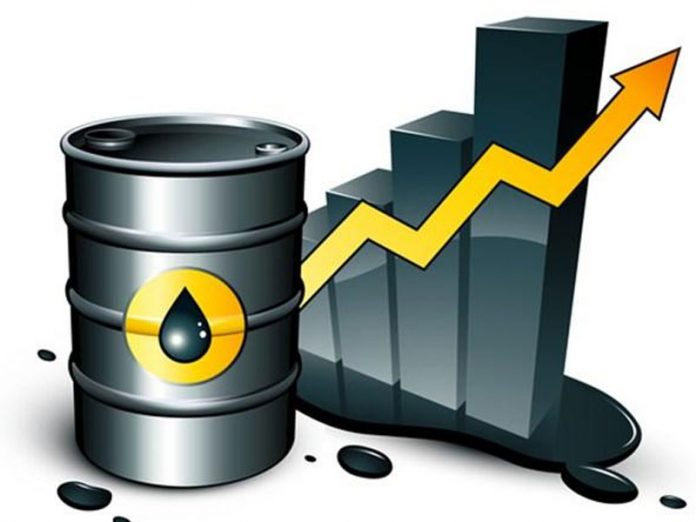 Court orders arrest of Etete, Adoke over Malabu Oil deal
Ejiofor Alike with agency reports and Kingsley Nwezeh in Abuja
Global benchmark crude, Brent oil, yesterday hit a 2019 high above $72 a barrel, propelled by steady economic growth in China and a fall in United States crude stocks, which defied expectations and signalled firm demand, while global supply remained tight.
Brent had hit an intraday peak of $72.27 before settling at $71.92.
United States West Texas Intermediate (WTI) crude futures were at $64.39 per barrel, up 34 cents or 0.53 per cent and just shy of a 2019 high of $64.79 hit last week.
China's economy grew by 6.4 per cent in the first quarter, official data showed, defying expectations for a further slowdown and assuaging global markets as a United States-China trade deal also appears near.
Refinery throughput in China – the world's second-largest crude user – rose 3.2 per cent in March from a year earlier.
Prices have been supported this year by a pact reached by the Organisation of the Petroleum Exporting Countries (OPEC) and allies, including Russia, to limit their oil output by 1.2 million barrels per day.
The measure was part of the efforts of OPEC and other producers, including Russia, to gradually tighten supply through 2019 to reduce a global glut.
However, OPEC and its partners may not renew the curbs when they expire after June because of the risk of over-tightening the market.
Global supply has been tightened further by United States sanctions on OPEC members Venezuela and Iran.
Iran's crude exports have dropped in April to their lowest daily level this year, tanker data showed and industry sources said, suggesting a drawdown in buyer interest ahead of expected further pressure from Washington.
Reuters reported that Indian refiners are increasing their planned purchases from OPEC nations, Mexico and the United States to make up for any loss of Iranian oil if the United States enforces sanctions more harshly from next month, sources and company officials said.
Indian Oil Corporation (IOC), India's top refiner and Iran's biggest Indian client, will cut Iranian oil imports to 6 million tonnes or about 120,000 barrels per day, in the 2019/20 period from 9 million in 2018/19.
It has also reportedly raised the optional volumes it can buy from other producers to 2 million tonnes.
All four Indian state-owned refiners that buy Iranian oil are confident of securing additional barrels from other producers, officials from the companies told Reuters.
According to agency reports, they have not yet placed orders for Iranian oil for May, when the current waiver expires, pending clarity from the United States.
While, India's Bharat Petroleum Corp (BPCL); and Mangalore Refinery and Petrochemicals Ltd (MRPL), have tapped Iraq to make up for Iranian oil, Indian Oil Corp (IOC) has signed its first annual contract with United States suppliers and also raised supplies from Mexico.
In June, OPEC and its partners will decide whether to extend their agreement, but Russia's willingness to stick with the cuts now looks less clear.
Gazprom Neft, the oil arm of Russian gas company, Gazprom, expects the global oil deal to end in the first half of the year, a company official said.
Court Orders Arrest of Etete, Adoke over Malabu Oil Deal
Meanwhile, a Federal Capital Territory High Court, sitting in Jabi, Abuja Wednesday ordered the arrest of former Minister of Petroleum, Chief Dan Etete and former Attorney-General of the Federation and Minister of Justice, Mr. Bello Adoke SAN, both of whom were implicated in Malabu oil scandal.
The order by the FCT Court presided over by Justice D.Z. Senchi followed prayers of the Economic and Financial Crimes Commission (EFCC) for a warrant of arrest against Etete and Adoke.
The court further ordered that the two should be arrested by the Police and International Police (INTERPOL) anywhere, including outside the jurisdiction of the court.
Also declared wanted were Raph Wetzels, Casula Roberto, Pujato Stefeno, and Burrato Sebastiano. They were due to be arraigned before Justice Senchi yesterday to face charges related to the Malabu Oil scandal but failed to show up.
The EFCC had since 2017 pressed charges against Shell Nigeria Exploration Production Co. Ltd, Nigeria Agip Exploration Limited, Eni Spa, Raph Wetzels, Casula Roberto, Pujato Stefeno, Burrato Sebastiano, Duazia Louya Etete (aka Dan Etete), Mohammed Bello Adoke, Aliyu Abubakar and Malabu Oil & Gas Limited.
All the defendants declared wanted had repeatedly failed to appear before the court.
In view of their persistent absence in court, the EFCC had through its counsel, Mr. Aliyu Yusuf, brought a motion ex parte praying the court for a warrant of their arrest and an order for leave to execute the warrant outside of the jurisdiction of the court.
"At today's p
roceeding, Justice Senchi, granted the prayers of the EFCC, and ruled that the Nigeria Police, the INTERPOL and any other law enforcement agency should arrest them anywhere they were found, including outside jurisdiction of the Federal Capital Territory, (FCT) High Court," an EFCC statement said.
The matter was adjourned to July 11, 2019 for further hearing.
In a response last night, Adoke said he would fight the order in court because he had already been cleared of any wrongdoing by a "competent court of law".
"The honorable judge was misled by the EFCC to grant the warrant. Justice Binta Nyako ruled in April 2018 that I was only carrying out a presidential order in the OPL 245/Malabu transaction and that I had no case to answer. That naturally ends the EFCC case against me but the agency has chosen this path and I will use all legal means to exonerate myself," he said.