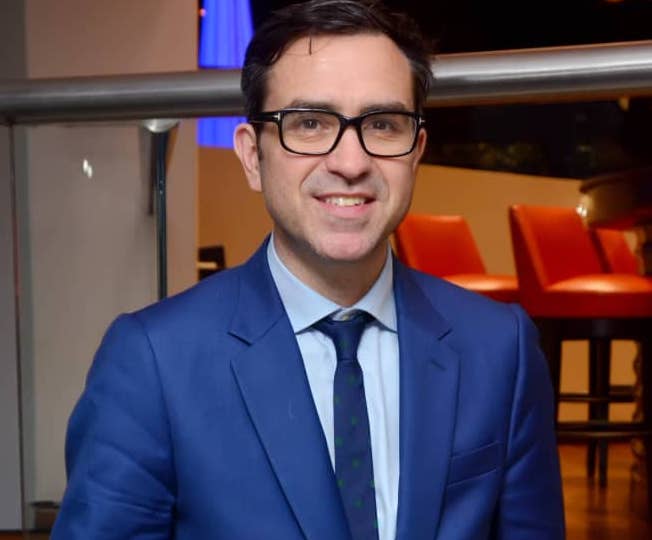 The new Chief Executive of Commonwealth Enterprise and Investment Council, Alan Gemmell, was in Nigeria recently to launch the International Advisory Council, during which he met with Nigeria's Vice President and the governor-elect of Lagos State. In this interview, he speaks on a number of programmes embarked on by the council to boost trade and investment among the Commonwealth countries. Peter Uzoho presents the excerpts:
What would you say the Commonwealth Enterprise and Investment Council has done in promoting Nigeria's products and investment over the last one year?
We're a business network for the 53 countries that make up the Commonwealth, and we're placed for public private engagement across the commonwealth and we're really excited that Nigeria is the hub of the work that we're doing around the world. Under the leadership of our Country Director for Nigeria, Obinna Anyanwu, our network in the country has been growing and we signed up seven new Nigerian businesses and strategic partners over the course of last year. We now have 17 businesses and governments as part of our network.
And, I'm here on this visit to see how we would take our partnership with Nigeria – the government and the businesses – to the next level. We've launched the new International Advisory Council, and we just had our first meeting of the International Advisory Council and we were delighted that the governor-elect for Lagos, Babajide Sanwo-Olu was presented to us, and he told us about his priorities for investment and business and creating opportunities for business in Lagos.
And I hope that we would develop a new partnership with him to help him deliver his ambition for Lagos State. We also met with Vice President of Nigeria in Abuja and similarly talked to him about how the Commonwealth and businesses can grow together from countries across the Commonwealth. I hope that we work on attracting investors into Nigeria and into states like Lagos; and I also hope that we will launch a programme to spur SMEs because we know that SMEs are such a critical part of the Nigerian economy. We have an SME accelerator programme called Commonwealth First and we're very keen to bring Commonwealth First here in partnership with the state governments of Lagos, Akwa Ibom, and with the Nigerian government under the leadership of His Excellency, the Vice President.
How would describe the transaction cost of doing business amongst Commonwealth nations?
Working with the Commonwealth Secretariat, we published some research about a year ago to look at the benefits of trading between the Commonwealth. We found out that Commonwealth countries said a lot of things – a common law legal system, the rule of law but, also use of the English Language in an official context but also; because Commonwealth countries have some cultural and sporting connection and shared set of values I suppose, it is 19 per cent cheaper for businesses in Commonwealth countries to do business together and we called that the 'commonwealth advantage', and that's really important to my organisation. We're trying to build a network of businesses across the Commonwealth, hoping that that network will lead more businesses and more trade.
You said Nigeria is the hub of the Commonwealth's work cross the world but Nigeria does more of importing. So, what is the advantage for Nigeria?
So we're here to be a platform for Nigeria's export businesses, but also for the inward investment opportunities and ambitions the governments and businesses have and with our Advisory Council today and my tour around Lagos, we saw and talked about the opportunities for investment in Nigeria. I had a great presentation on the Free Trade Zone, and there are opportunities for Nigerian investors to build other businesses and take advantage of the Free Trade Zone. So we're trying to build the network where businesses understand and know the ambition of politicians here and their appetite to attract investors. And really, we hope that our members and come out members respond to that ambition, respond to that appetite for being attractive to investors.
Experts have been urging Nigeria to sign the African Continental Free Trade Area Agreement. They believe Nigeria would benefit from it. What's your take on this? Should Nigeria go ahead and sign the agreement?
Our organisation here is driven by its members. What we're really trying to do is to create the most attractive platform for those businesses to know one another and trust one another and build an ambitious network and businesses across the Commonwealth. We think that as businesses know one another and trust one another better then they will do more trade. I mean that's I think we can do to try and incentivise more economic activity.
As the new Chief Executive of CWEIC, what would be your top priority for Nigeria in the next one year?
Our leaders have been responding to the ambitions of the federal and state governments that we work with, that's why we met with the Vice President and where we were privileged to have the governor-elect of Lagos State, we also have Akwa Ibom State as a partner. So number one post-election is to work closely with the Country Director to see that he works very closely with the federal and state governments, to see how Commonwealth businesses, Commonwealth investments and all Commonwealth programmes can help support governments' economic growth ambitions. And then also, to build these network of businesses that we have in Nigeria. It's great that we've had seven new members and 17 Nigerian businesses in all. We would like to see that number grow and more businesses benefit from the relationship and network that we have built around the Commonwealth.
You created your Nigerian Hub in 2017, what impact has it had on Nigerian businesses?
It's to let us put Nigeria at the heart of our network and to grow our offer and relevance in one of the most important countries in the world. In addition, in that time, we've had a Commonwealth Business Forum in London and the President of Nigeria attended that and spoke in two sessions. So this really is about us making sure that where there are opportunities for Nigeria to be in the Commonwealth conversation that we create, that Nigeria is at the political conversations.
Are you looking at anymore initiatives for SMEs in Nigeria?
The number one thing for us is to get our Commonwealth First programme here. We think it's a great accelerator, we think it's a really nice product we think can respond to the ambitions of the state governments here – the governors-elect of Lagos and Akwa Ibom but also other state governments that can support the ambitions the Vice President and the federal government have outlined.
Is Nigeria being a hub the end thing? Because all eyes are focused on Ghana and if you have to look at the size and the market, Nigeria has an edge but the FDI is moving to Ghana. So what is really the issue and how can you intervene to help Nigeria overcome this challenge?
Again, our job is to build a network of businesses that have common interest; and our common interest is: they are exporting or want to export to other Commonwealth countries, and we want more businesses from across the Commonwealth to think about investing in Nigeria. And we want to want work with businesses in Nigeria to help them think about investing in other countries of the Commonwealth.