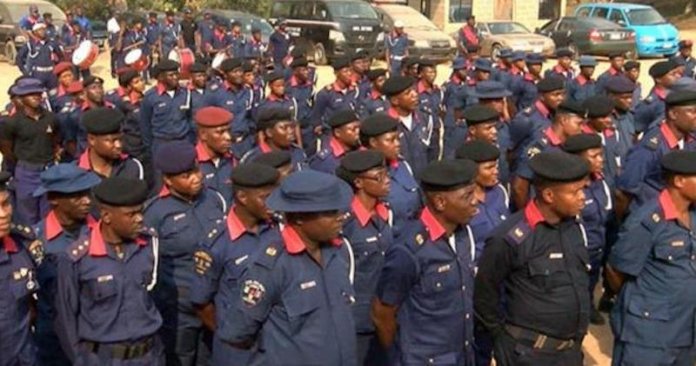 Olawale Ajimotokan in Abuja
The autopsy report on the late Assistant Superintendent of the Nigerian Security and Civil Defence Corps (NSCDS), Oche Ochigbo Jumbo, has revealed that he died from the head injuries he received during the scuffles with two traffic wardens in Nyanyan, an Abuja suburb on March 20.
THISDAY gathered last night that three renowned pathologists carried out the autopsy on the civil defence officer on March 26 at the Maitama General Hospital, Abuja, after the Inspector General of Police, Mohammed Adamu ordered the test.
The autopsy revealed that Jumbo's death was unnatural, saying it resulted from "multiple skin and soft tissue injuries, blunt force injury to the head and cerebral oedema."
"Death was due to the blunt force injury to the head". He was said to have been involved in an altercation with traffic wardens at the traffic control point on Redeemed Junction along Nyanya-Karshi road, at about 7.25 a.m. on March 20, 2019, which led to his receiving repeated blows to the head and body with fists and batons, both there and later on in the police station.
"He collapsed and was taken first to Nyanya General Hospital, and then to Asokoro District Hospital, Abuja where he was certified dead by 10.30a.m. that same day."The brain was swollen as evidenced by widening of the folds of brain tissue (gyri), and narrowing of the spaces in between these folds (sulci).
"In medical parlance, this is referred to as cerebral oedema. Blunt force injury to the head is a well-recognised cause of cerebral oedema, a condition in which there is severe impairment of brain function. This was the cause of his death," parts of the report revealed.
Those that witnessed the autopsy exercise included the deceased brother, a family lawyer, a Police Detective, John Anebe, a renowned Pathologist from the General Hospital, Asokoro and another from a private hospital, Abuja (names withheld).