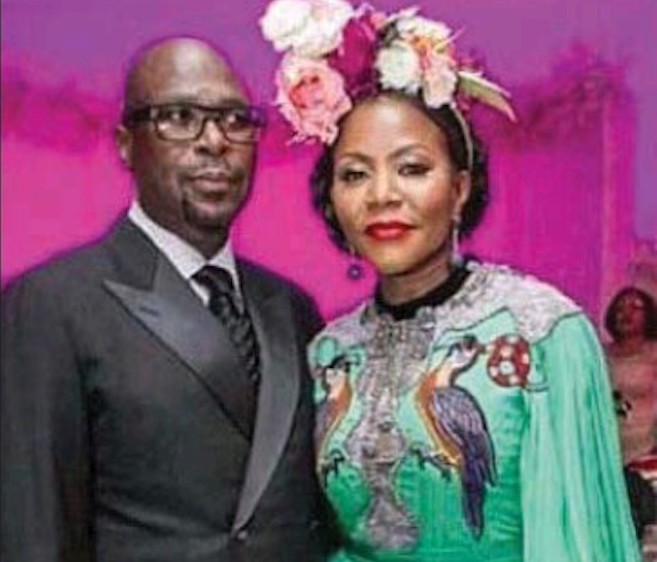 One is a billionaire businessman and boardroom guru. The other is a first-rate connoisseur of fashion. Yet if you ask Tunde and Reni Folawiyo what their greatest accomplishments are, they would be unanimous in declaring the joining of their hearts and souls as life's greatest blessing. For many celebrity couples, 30 years is more than enough time to fall in love and fall right out of it. For Tunde and Reni who recently celebrated their pearl wedding anniversary, it is not enough time to savour marital bliss. The iconic power couple have been a mainstay of the social scene since March 11, 1989, when the wedding bells tolled the solemnization of a lifetime of journeying together along love's lush lanes.
When Babatunde Tijani Folawiyo, first son of the late billionaire businessman, philanthropist and the former Baba Adinni of Nigeria Chief Abdulwahab Olayinka Iyanda Folawiyo first crossed paths with beautiful and bashful Reni, he fell head over heels. Reni, the first daughter of late Chief Lateef Adegbite, the former Attorney General of the Western Region of Nigeria, and former Secretary-General of the Nigerian Supreme Council for Islamic Affairs, gracefully reciprocated his amorous advances and the rest is history. Theirs is a union approved by love, tribe and religion and it shows in the continuing tranquillity of their marital existence.
The love that waxed strong then between Tunde, 59, and Reni, 54, waxes stronger now. Each year they spend side by side and arm in arm adds more firewood that keeps their flame burning ever bright. And in the person of their two grown-up, well-behaved children, Faridah and Fuaad, they have left a token of their shared bliss for posterity.
As the head honcho of the Tunde Folawiyo Group with an estimated bet worth of $650 billion according to Forbes, Tunde is in a position to spoil his wife silly and spoil her silly he does. In addition to the love that money cannot buy, he regularly gifts her with the best things money can. Thanks to his diversified portfolio spanning the energy, real estate, communications, shipping, and agriculture sectors, Tunde is one of the most loaded men around and it shows.
Not that Reni is a pushover either. The blue-blooded matriarch of high society runs Alara, an upscale concept store ensconced in Victoria Island. The store was designed and built by the internationally renowned Ghanaian-British architect, David Adjaye, whose design for the National Museum of African American History broke ground in 2012. Her store is a destination of choice among the glitterati.