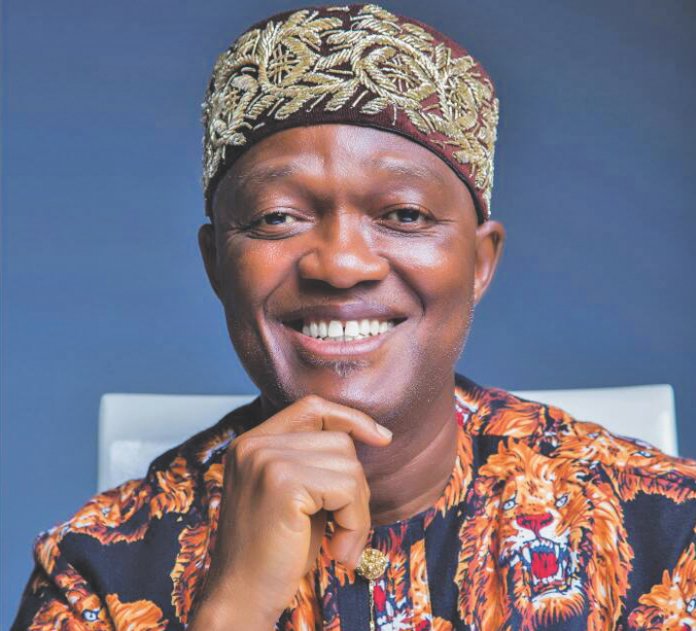 Dennis Agbo has every cause to celebrate and give thanks to God. A member representing Udenu/Igboeze North Federal Constituency (Enugu State) in the House of Representatives, he clocked 55 years in March and rolled out the drums in celebration. In this encounter with Ndubuisi Francis, the lawmaker says his 55th birthday was an appropriate time to celebrate and give thanks to God for His goodness and mercy towards him
Most people prefer to mark their 50th birthdays, but you chose to celebrate at 55th. Why?
Ordinarily, l don't mark my birthdays but there comes a moment in one's life that one has to reflect on one's life experiences. So, when I reckon with the various accomplishments which God has graciously performed in me, I feel like having lived three times over. I started as a high flying upwardly looking vibrant young man some years back as a banker. In 1989, I took employment with the defunct Afribank where l began a career in banking. l spent only a year there before joining Zenith Bank and within the seven years l spent in Zenith Bank l rose to senior manager and pioneered the setting up of five branches before moving on again to the United Bank for Africa (UBA) and later African Express Bank in 2001.
From your narration, you seem to have climbed the ladder so rapidly, what was the magic?
Yes, l did and that l believe has to do with my upbringing. Like l said earlier, l lost my father very early in life and that toughened me as we had to struggle all the way to support my mum who alone fought to see all of us through university education. In essence, what I am trying to say is that through the dint of hard work coupled with God's grace, l was always excelling.
You also seem to have exited the banking industry so early; what was the reason for that early exit?
I am an adventurous person and l like challenging opportunities. So, when l felt l had done my bit in the banking sector, l had to move on into other things and that was how l ventured into entrepreneurship in 2004. I set up multiple enterprises ranging from manufacturing of security and leather outfits to electricity distribution, telecommunications and food processing among others and l made success stories of all of them.
After all these you decided to launch into politics; can you share your experiences so far?
Yes, I joined politics and in 2008, l was appointed Special Adviser (SA) to the then Governor of Enugu State, Barrister Sullivan Iheanacho Chime on Intergovernmental and Multilateral Partnerships and l was happy l used my consulting experiences in this area, to give the state access to independent, non-statutory revenue and development opportunities through federal government projects, investments and employments, as well as development assistance from various donor agencies and development partners. In 2015, l contested and won the House of Representative position to represent my good people of Udenu/Igbo-Eze North Federal Constituency at the National Assembly.
At the House of Representatives, l feel fulfilled because l was able to give my constituents quality representation and also attracted several impactful projects to the various communities that make up the constituency in the last three and half years.
Those projects include: 4.2 kilometres of rural electrification with one transformer linking Ezzodo and Ugbaike communities.
Others are a fully furnished three classroom block at Aji, Igbo-Eze North LGA, a five  classroom block at Udah Community Secondary School, Igbo-Eze North LGA, 500 students capacity examination hall at Aguibeje, motorized borehole project at Aji, Enugu – Ezike and employment for up to 85 eligible constituents.
I also empowered constituents with tools for entrepreneurship and sustainable livelihood, development of complete value chain in poultry and cassava for wealth creation and employment generation.
Ten beneficiaries have also graduated from the university on my scholarship under GoddyBriggs Foundation. 14 more are currently studying in various institutions of higher learning with our scholarships, including six medical students. I deliberately use the scholarships to support indigent students, and also encourage the study of medicine among his constituents.
I equally sponsored several motions prominent among which was the motion on the need to transform and modernize the animal husbandry system in Nigeria, to terminate the mobility of herdsmen and solve the crises between herdsmen and farmers. This was at the peak of the bloodletting occasioned by the frequent clashes between herdsmen and farmers across the country.
You have told your success story but has there been any sad moment in your life or has it been all rosy all through?
This is another important question. No, in between l have had ugly experiences in life. There were life threatening experiences in between. Twice l was attacked by armed robbers on the highway; twice robbers invaded my house in the night while I was asleep with my wife and children. I was once ambushed by robbers and driven away with my wife but later abandoned with my car when the robbers realized the car did not have enough fuel.
I will also not forget in a hurry one particular incident l was seized by four armed robbers in my car, and was sandwiched in between them for a long distance, detained later in their hideout while they robbed same night with my car and killed six people.
In all of these incidences, the Lord delivered me. Had I been among those killed by the robbers, what would have become of all my vision and dreams of a glorious future? Certainly, there would not have been any opportunity to demonstrate my capability as a commissioner, SA or legislator. What would have been of my children? Indeed, some of my children may never have been born. Yes, my spirit of philanthropy may never have been known. I would have been soon forgotten. I might have been regarded as an ordinary, and what I hate most is to be called ordinary.
But I believe that the Almighty had a role well cut out for me and, as long as I remained faithful, he will ensure that I am preserved to discharge that role to the benefit of society and mankind.
My story has been that of a chequered life made glorious by the abiding grace and mercies of the most high. As they would say, I was born with a silver, even gold spoon, but I lost the spoon when I was barely three years old. That was in 1967, the year the civil war broke out and my father died among the prominent casualties of the war. My late mother struggled as a widow to bring up eight children and trained all of us through the university.