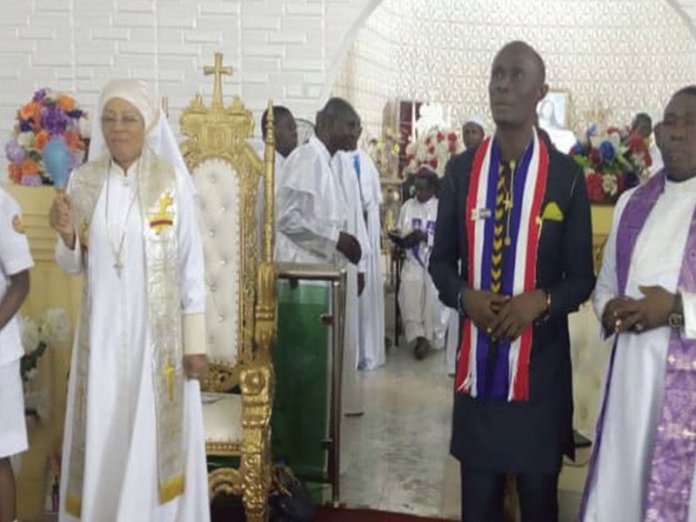 The Adviser to the Liberian President on Religious Matters, Rev Niimely Emmanuel, recently stormed the Faith Mission Cherubim and Seraphim Church at Satellite Town, Lagos, to worship with the faithfuls.
Tagged 'Anointing/Special Thanksgiving Service', the day began with the processional hymn and then a call to worship. The next step was the introit and then the opening hymn, which heralded the opening prayer, taken from Psalm 100, 130 and 24 in that particular order.
Another hymn proceeded the Bible reading, which dovetailed to the praise and worship session by the choir before the Apostle's creed was read. The next event was the three members prayer before the offering/anointing. Testimonies and thanksgiving was then the order of the day, which led to another hymn and then the sermon by the Liberian special adviser.
As things wrapped up, the special thanksgiving began in earnest and then the tithe taking before issues of first timers and membership card was tackled. Announcement took place and then blessing of offering before the closing prayer and grace was said to signal the end of the joy-filled programme.
After his ministration, Emmanuel who had a tete-a-tete with journalists said he was in Nigeria on official and personal capacity.
He said: " I came here for a special thanksgiving and to ask the church to remember my country Liberia and pray for the success of my president, George Weah because his success is the nation's success. When the president is blessed, the entire nation is blessed too. We also pray for protection of his life and that God will deliver him from all his enemies. Also, we ask that God sees him through."
On whether both countries are partnering asides religiously he said: "It's our desire for all the countries to come together and partner what the government is doing. Nigeria being a long time partner of Liberia, we cannot forget the role Nigeria has played in our government. We will continue to look forward to that support."
On religious crisis that continually brews in West Africa but not in Liberia, Emmanuel called on all to eschew religious tolerance.
He said: "Christians, Jewish, Muslims, traditional worshippers, Buddhists and all those practicing other religions are still citizens of that country.
"So for me in my country as a religious adviser, I work with all religions. I make sure I fellowship with them all. One thing is that my office is a governmental and political office. I look at it from the angle that it's not church, mosque or Buddhists, it's a governmental office.
"So you open your wings and incorporate everybody. You bring all the religions together and let them be part of what is happening in the country. With that, you will solve the problem with ease. That is what we have been doing in my country by His grace and things are fine.
"So my advice to all African countries, particularly Nigeria , the religious adviser needs to open up and incorporate everybody to see that the country is for all of us."
Back to the service in the church where he worshipped, he said he enjoyed every bit, adding that he met the Nigerian team back in Liberia and established contact, which necessitated his visit.
Also speaking, Deputy Primate of Faith Mission C&S Church, Gen. Supt. Apostolic Mother Oluwaseye Yomi-Sholoye, who was recently in Liberia to meet the key officials and ended up facilitating the special adviser's visit, said the journey started two years ago.
She said: "It started in 2017 when a Bishop Munsu met us online (the church) and decided to travel to Nigeria to participate in our first crusade. He is the Prelate and Bishop of Christ Temple of Miracle Church in Liberia. He has visited and worshipped with us about four times and he invited us in 2017 to come minister in his church.
"Then I was unable to make it and I asked if it would be possible in 2018. I was also unable to make it because the C&S Church in Nigeria was preparing for our annual conference and Faith Mission was the host church.
"I then gave my word that I will attend in 2019. So we had to be in Liberia to attend and participate. I delivered the word on their 38th conference and their theme was 'Rebuilding the temple'. While we were there, we were about 30 in my entourage. We ministered and impacted positively. The Lord through us carried out deliverances and healings.
"Asides being at the temple, we ministered at the president's church in Liberia. We were there twice and God showed His mighty power. The people are already testifying of the goodness of God. In the process, we met so many people. It was not arranged. It was the Lord's doing. Some people saw us in the elevator, saw the glory of God in us and wanted to know who we were.
On the special adviser's visit to Nigeria she said: "We met him in Liberia with our garment. Even though they are not a white garment church, they were stupefied and flabbergasted at what the Lord is doing. They saw what the Lord was doing through us and they decided to come to Nigeria to visit us."
On her philanthropy which she is know for, Yomi-Sholoye said they carried out some humanitarian works over there in Liberia. She said: " We have started that already in Liberia. We went to deaf and dumb people over there as a humanitarian. We gave them foodstuffs and educational materials and prayed with them. We also went to orphanages and we did same. We also counseled them. We even went to mosques and schools and donated as well".