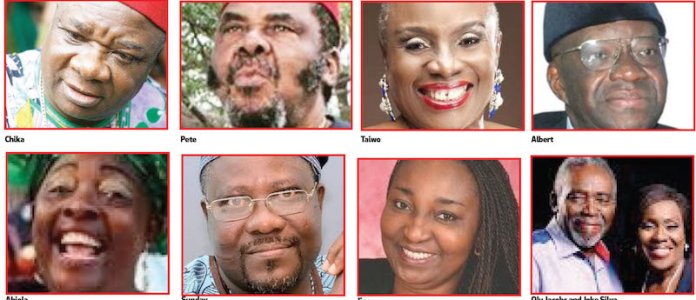 The 80s and 90s were one of the best TV era in the history of Nigeria. The period was marked with riveting and captivating soap operas played by indelible characters. From The New Masquerade to Behind the Clouds, these actors evoked nostalgia whenever their names are mentioned. How many of them
do you remember in this list compiled by Vanessa Obioha?

Chika Okpala
The veteran TV actor played the lead character Chief Zebrudaya in 'The New Masquerade'. His comedic manner of speaking tinged with incorrect grammar made him a lovable actor. That character would later cling to him like a second skin, such that whether he is in character or not the widely held opinion of him is retained as top-of-the-mind. Though he has played other roles in different sitcoms, none has been as nostalgic as the 1980s sitcom. He was honoured with the lifetime achievement award by the Africa Magic Viewers' Choice Awards (AMVCA) IN 2017. Recently, he made a cameo appearance in Genevieve Nnaji's Netflix movie, 'Lion Heart'.
Sadiq Daba
Who could ever forget Bitrus played by the maven actor in the 70s soap opera 'Cock Crow at Dawn'. The broadcaster and TV producer is renowned for his diverse characters which he brings to life with peerless precision. He was very prominent in most of the 80s and 90s soap operas such as 'Behind the Cloud', 'A Place Like Home' and featured in most Nollywood's early offerings such as 'Nightmare'. In 2014, Kunle Afolayan cast him as Inspector Danladi Waziri in his award-winning blockbuster 'October 1'. The movie fetched Daba an Africa Movie Academy Award for Best Actor the following year.
In 2017, Daba announced that he was diagnosed of leukemia and prostate cancer. Through the help of benevolent Nigerians, he was flown out of the country for treatment. He would later be among the crusaders who walk against cancer.
Funmi Adams:
Most people remember her for her patriotic and children's songs such as 'Nigeria, My Beloved Country' and 'Mama, Thank You For Your Love'. In 2007, a thread on the whereabouts of Adams started on Nairaland but to date, only bits of information about the songstress is available.
Pete Edochie: Okonkwo!
That was the character that beamed Pete Edochie to the world. A younger Edochie interpreted the role with so much conviction in the film adaptation of Chinua Achebe's 'Things Fall Apart' that when he finally moved on to other productions, he was still referred to as 'Okonkwo'. Edochie has taken up many roles in Nollywood, most times that of a villain. His signature proverbial sayings and blinking of eyes endeared him more to more fans. His recent feature was in Genevieve Nnaji's 'Lionheart' where he played Chief Ernest Obiagu, a wealthy owner of a bus transport company.
Franca Brown: No doubt, 'Behind the Clouds' boasted of many thespians and one of them was Franka Brown. She played the mother of Nosa, the late MacArthur Fom.
Justice Esiri
The late actor was among those who donned the titular character in the longest TV soap opera in 'The Village Headmaster'. He took the reins from Ted Mukoro who succeeded Femi Robinson, the first actor to play the role. Esiri was also famous in other TV and film productions.
Albert Egbe
"To be a millionaire, think like a millionaire!" was the catchy phrase of the lead character Basi (also known as Mr. B) in the Nigerian sitcom Basi and Company which ran from 1986 to 1990 on NTA, and was later syndicated across Africa. Written and produced by Ken Saro-Wiwa and filmed in Enugu, the show derived inspiration from African folklore, and lampooned widespread corruption in oil-rich Nigeria while highlighting its consequences. Egbe played the role for two years (1985-1987) before another TV and Nollywood personality Zulu Adigwe took over. Other actors who played the titular character in the TV comedy series included Also Douglas, Laso Amaro.
Zack Amata
The oldest of the Amatas, Zack was famous for his role in 'Behind the Clouds' where he played alongside Franca Brown and MacArthur Fom as the father of the latter. Known as Mr. Okonzua (also Papa Efe) Zack was a disciplinarian who his fans took a liking to. As acting is the family's DNA, it is no surprise that some of his children didn't toe a different path, namely Jeta Amata. The actor who also wears a producers hat finally tied the knots in 2017.
Taiwo Ajai-Lycett
In 1979, Laolu Ogunniyi's 'Wind Against My Soul' rocked the airwaves. The show also saw the veteran actress play a lead role alongside the late Sam Loco Efe. Ajai-Lycett who is also a journalist and an Officer of the Order of the Niger is mostly revered for her role in the M-Net drama series, Tinsel.
Abiola Atanda(Madam Kofo): To date, when you mention Madam Kofo, the first mental image is that of Abiola Atanda in her dramatic gele styles in the soap opera 'Second Chance'. Prior to that, Madam Kofo was a performer with the Hubert Ogunde Theatre Company where she learnt to dance 'Bata'. She also featured in other productions such as 'Mirror in the Sun'. Atanda can still be seen rocking her signature gele styles at events.
Sunday Omobolanle (Papi Luwe) Omobolanle was one of the TV actors that delighted Nigerians back in the day. His multirag attire and comic style of speaking endeared him in the Comedy Half Hour series produced by the late Baba Mero theatre company, Ojo Ladipo Theatre Company. Known for his ability to play diverse characters, Papi Luwe played alongside Adebayo Salami, who was known as Oga Bello. Together they lit up the siliver screen with their comical antics. Jide Kosoko was also featured in the plays.
Ene Oloja: The veteran actress was one of the famous actors of 'Cock Crow at Dawn'. Playing 'Zamaye' in the 80s sitcom earned her several national awards and recognition. She is often referred to as the doyenne of acting. Though living in USA, the actress featured in her first Nollywood flick 'Zero Hour,' recently.
Olu Jacobs: That authoritative voice of his cannot be mistaken. Olu Jacobs featured in many of the popular starred in the 80s but he is also remembered for his role in the drama series, 'Third Eye' acting which he played alongside his wife, Joke Silva.