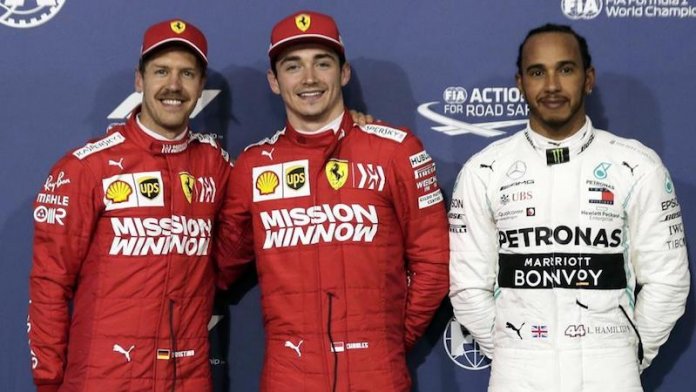 Ferrari's Charles Leclerc beat team-mate Sebastian Vettel to take his maiden pole position at the Bahrain Grand Prix. The Monegasque, 21, beat the four-time world champion by 0.294 seconds as Lewis Hamilton and Valtteri Bottas took third and fourth for Mercedes.
Leclerc was fastest in all three parts of qualifying, a powerful statement of intent. Hamilton was 0.324secs behind, pipping Bottas by just 0.66secs.
Leclerc said: "I am truly happy. In the last race I was not satisfied with my qualifying and I worked really hard to do better.
"Seb is an amazing driver and I have learned a lot from him and I will learn from him all year. But today is a good day for me."
Vettel, who had only one run in final qualifying, said: "Charles did a very good job today and he deserves to be on pole. I felt happy with my only run and we are in a good place for the race."
Leclerc's switch to Ferrari this year, as a replacement for Kimi Raikkonen, was highly anticipated as he has talent in abundance.
He qualified fifth for his first race two weeks ago but finished it on Vettel's tail and had to be told to back off by the team to protect their positions in the closing stages.
Ferrari team boss Mattia Binotto said on Friday that Leclerc was free to lead the race and stay there, so their new driver has a great opportunity to take his first win today if he can convert pole into a lead at the start.
It remains to be seen whether Ferrari really will carry through on their commitment to let the drivers race, but with this performance Leclerc has confirmed his huge potential. He has looked quicker than Vettel for much of the weekend and was ahead throughout qualifying.