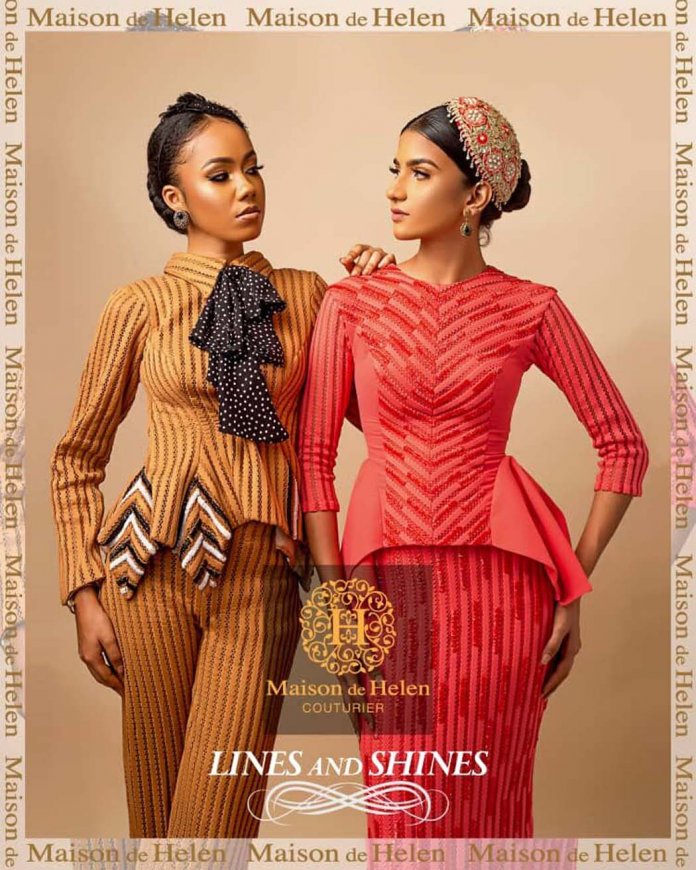 Oh la la… This is definitely a breath of fresh air in the Nigerian fashion scene. Nigeria's emerging fashion brand Maison De Helen is tantalising our senses with its super stylish 2019 ready-to-wear collection titled "Lines and Shine".
 The brand Maison De Helen is a family business, which was originally founded in 1990, it is currently run by Elsie Unuane. Like her predecessors, she devotes her time to exploring creative means to express fashion with the goal of establishing Maison De Helen as a global leader in the fashion industry.
Ms. Unuane took over the Lagos based brand as Creative Director and rebranded it in 2015 upon moving back from the United Kingdom after her studies there. She holds a Diploma in Chemical Engineering from Nottingham University, a BSc in Environmental Sciences from Bournemouth University, and an MSc in Environmental Sciences, Law and Management from Brunel University all in the United Kingdom. However, with fashion running in her veins, she couldn't stay away from her true calling.
Speaking about her inspiration behind Lines and Shine, Ms. Unuane explains: "our first 2019 ready to wear collection is inspired by symmetry, lines and shine, these are characteristics that are very quintessence of the modern day woman. I have created luxurious pieces that cater to every woman and the different settings she finds herself."
Pieces in this collection feature the finest of fabrics, elaborate embroidery and intricate beadings. They come in colours ranging from subtle to bold, while the designs are mainly influenced by strong-shoulders with deconstruction moving from midi to full length.
Shoot Credits
Brand: Instagram / @ maisondehelen
Photographer: Instagram/@praise_that_photographer
Art Direction/Styling: Instagram/@infoworldcharming
Style Assistant: Instagram/@davidstarr_
Makeup: Instagram/@ceeyonceemua
Hairstylist: Instagram/@highdtosin
Hair Extension: Instagram/@lushhairnigeria
Jewelry: Instagram/@stephuks_apparel
Fascinator: Instagram/@enemaya_stores
Models: Instagram/ @dougherty_jessi | Instagram/@shairvictoria
Graphics: Instagram/@trytune.