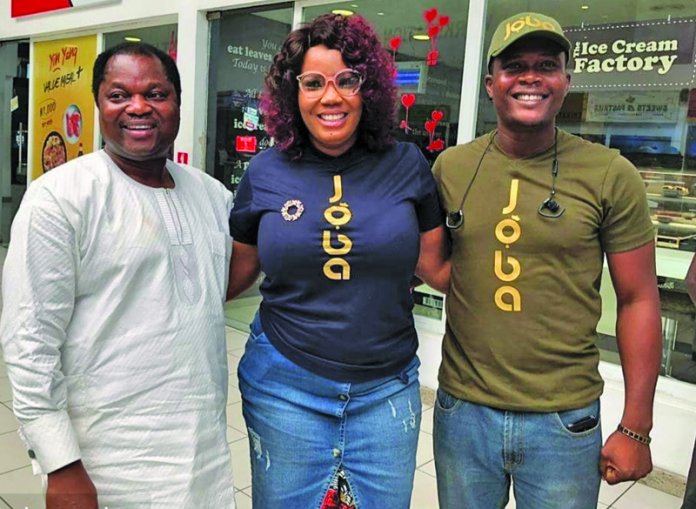 By Chinedu Ibeabuchi

The press got a foretaste of the much awaited suspenseful and emotional drama, Joba, on Thursday at the Genesis Cinemas, Maryland Mall, Lagos.
Before it is set for cinematic release from April 5, journalists were given opportunity to critic the faith-based movie.
The screening was attended by the movie producer, director and writer, Biodun Stephen, alongside cast like Blossom Chukwujekwu, Enado Odigie, Chris Iheuwa, and co-producer, Christine Osifuye. Other celebrities present include Bisola Aiyeola, Woli Arole, Gospel Singer Psalmos, and Senior Pastor of Christ Livingspring Apostolic Church (CLAM) Wole Oladiyun, among others.
When the media was invited to see Joba, they weren't expecting less from Biodun Stephen, the brain behind some Nollywood blockbuster movies like Picture Perfect and The Visit that pulled huge cinema crowd; then Ovy's Voice and Ehi's Bitters rated as the best, by audience choice, on iRoko TV in 2017 and 2018 respectively.
Although told using faith-based template, Joba has a strong and relevant emotional core that exist at given period in everybody's life. It connects the viewers to events in their personal lives that question their beliefs, self-esteem and tenacity. Biodun Stephen achieves this using vivid relatable life experience to pass a message centered on love, strength and omniscience of God. The movie plunges it audience into a very gripping emotional journey on the travails of a young Christian couple battling between their marriage and faith. The faith of the couple is tried, especially when all fingers are pointed to the husband as the cause of their troubles. He must protect his wife who is on the verge of insanity, whilst still managing to keep his faith. It is a production by Shutterspeed Projects in collaboration with Cross Dimension Production.  Judging from Biodun Stephen's cinema works like The Visit and Picture Perfect, Joba raises viewers' enthusiasm and expectations to a rewarding high-quality offering. Joba did not only meet these expectations but also exceeds it with its compelling storytelling, brilliant performances from Blossom Chukwujekwu and Enado Odigie and with some laces of amusing scenes that bring touches of comic relief to an audience who is most likely on the verge of emotional outburst as a result of the captivating story.
The cast assemble was perfect. It showed in the chemistry between Ore ofe played by Enado Odigie and Lamide by Blossom Chukwujekwu.
Though a faith-based movie, one would praise the producer's ingenuity in not making it look like a regular church story with a predictable end. Biodun Stephen brings her creativity in not even making a church scene from the movie, rather twisting the storyline around the trails and tempest of the Christian couple. And as a director, she worked around the cast to squeeze out a perfect rendition of the script.
Showing from April 5 in cinemas nationwide, it will be a delight to see Joba.
Pix: LIvingspring Church.jpg
NACJ to Honour Men/Women of Integrity in April
Olaoluwakitan Babatunde
T
he phenomenal annual Integrity Lecture/ Award organised by the Nigerian Association of Christian Journalists (NACJ) will resonate this April with a few prominent Nigerians who will be decorated as men and women of integrity. The annual event which was initiated 2013 was motivated by the strong drive of the NACJ to contribute to the developmental progress of the Nigerian nation.
A statement from the Secretary General of NACJ, Charles Okhai reads: "We reasoned that for us to effectively contribute our quota to the progress of the country, we must of a necessity solve at least one of the problems facing the nation. In view of the fact that corruption is one of the major factors pulling back the nation's wheels of progress, we had to develop a panacea called integrity to curb the menace of corruption. We believe integrity is the direct opposite of corruption. If Nigerians as a people are mentally integrity-conscious, especially our leaders in the corridors of power, the spate of corruption in our society will be drastically reduced.
"We make bold to say that we are not in the business of giving people awards for the giddy excitement of it, rather, we are propelled and driven by the need to get rid of the societal monster called corruption. For us, this is a worthy venture because no nation can attain her potential in development with the scourge of corruption like we have in Nigeria today. This is one thing that makes NACJ Annual Integrity Award a unique event, an award most powerful, meaningful, and impactful.
"A good number of our past recipients are quick to testify that the memory of the Award keeps them on their toes by constantly engaging themselves with regular self-evaluation and ensure that they don't go offline of integrity. Also, the award is most prestigious because of the wide range of media channels that make up the Association. It is interesting to know that our membership is drawn from Television, Radio, Newspapers, Magazines, Nollywood, Advertising, and Social Media. This makes us the largest media platform in Nigeria.
"We don't pride ourselves to claim that our awardees are perfect people as there is no such fellow on earth, but we painstakingly pick people who have consistently demonstrated sense of integrity in their place of leadership.
"Our focus strongly hinges on the virtues of integrity and this underscores why we select prominent Nigerians to give lecture on integrity at every of our event. Some of our past speakers include the erudite scholar, Professor Pat Utomi; popular and highly revered politician, Olujimi Agbaje; notable social activist, comrade Yinka Odumakin, British trained and intelligent Police officer, retired AIG Tunde Ogunsakin.
"Others are Olubumi Okojie, Nigeria's symbol of journalistic excellence, Mr. Ray Ekpu, and a host of others. This year, Senator Dino Melaye will be on hand to deliver the Keynote address tagged: Integrity, the Essential Factor for Effective Legislation and Building a Virile Nation, while the theme, Integrity Is Everything, will be given by a renowned Journalist.
"This year event will feature five categories of Awards. We have The Integrity Man/ Woman of the Year; Young Person of Integrity of the Year; Man/ Woman of Integrity and Governor of the Year. For the first time, we will have Corporate Integrity Award, which will be conferred on one of the top banks in the country.
Amongst the deserving recipients this year is Dr Olugbu Ukpai, a Nigerian Medical Doctor based in Canada. His sense of integrity is highly commendable. His humanitarian services cut across the globe. The programme is surely to be the biggest media event of the year.