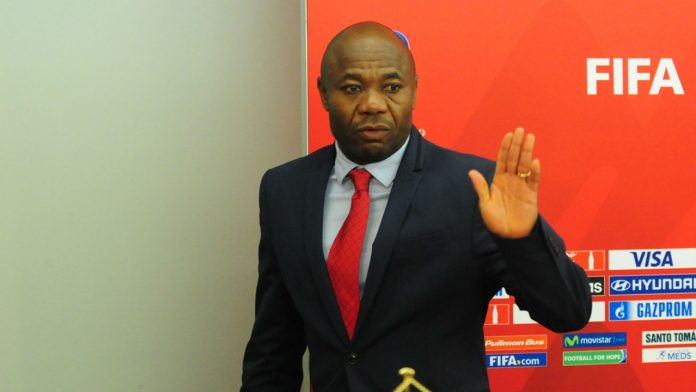 THOUGH HE HAD LED NIGERIA TO WIN THE FIFA U-17 WORLD CUP IN 2015 IN CHILE AND HAD A STINT WITH SUDAN'S AL KHARTOUM SC BEFORE QUITTING THE JOB, NOT MANY BELIEVE EMMANUEL AMUNEKE IS EXPERIENCED ENOUGH TO LEAD A COUNTRY THAT WAS RANKED 140 IN THE WORLD BY FIFA TO ITS FIRST AFCON AFTER 39 YEARS IN THE WILDERNESS. AMUNEKE, HOWEVER, ACHIEVED THAT FEAT WITH TANZANIA
The  order was indeed a very tall one, when last year, Amuneke accepted to tinker the Taifa Stars of Tanzania whose primary objective was to hoist its flag at the 2019 Africa Cup of Nations slated for Egypt. The country's last appearance at the biennial competition was in Nigeria in 1980 where they failed to qualify from the group stage.
Ranked 140 in the world by FIFA, Tanzania is not a superpower when it comes to Africa football and the challenge before Amuneke was how to turn around the fortune of the Taifa Stars and ensure a second AFCON appearance.
After his unveiling, an elated Amuneke said he was beginning a new chapter in his career with his appointment as coach of Tanzania.
"This is a new page of my career. I am a professional coach who believes any professional should be able to work anywhere. I am happy with the contract and I am ready to give my best as a coach in any place I find myself. It's a new page, a new environment but the same philosophy of the game," he declared after he was announced as coach of the Taifa Stars.
True to type, he did the unthinkable as he made history with Tanzania by guiding the Taifa Stars to their first Africa Cup of Nations appearance in 39 years after they defeated Uganda 3-0 at the National Stadium, Dar es Salaam last Saturday
Amuneke's charges finished second in Group L with eight points, five behind leaders the Cranes of Uganda who have already qualified for Africa's biggest football showpiece event.
In a telephone interview with THISDAY, Amuneke said, "Today is an emotional night for me and I'm delighted to have piloted this team to win this important match. It was an agonising moment before the match knowing full well that we must win to stay in the tournament.
"Football is a uniting factor here. I can see the happiness on the faces of everybody while the untiring support from the beginning to the end was a motivational factor for my players who never failed to take their legs off the gas. My wish, for now, is to go back and review the series with my team and to know where we are lacking and also hope we get a good draw when the ceremony holds soon in Cairo, Egypt,"
Amuneke, was celebrated from the stands with few minutes left, fans were chanting his name having broken the jinx that had afflicted Tanzania in the Africa Cup of Nations' qualifying series since the country last qualified in 1979 for the 1980 tournament.
With the feat, Amuneke has joined Stephen Keshi in the group of Nigerian coaches, who helped qualify other African national teams to the continent's biggest football fiesta.
The former African footballer of the Year's feat comes nine years after Keshi qualified and led Mali to the 2010 AFCON in Angola.
Tanzania Football Federation's Technical Director, Oscar Mirambo, has hailed Nigerian coach Emmanuel Amuneke after leading the Taifa stars of Tanzania to their first cup of nations since featuring last at 1980.
Mirambo was full of praises for Amuneke's achievement with the Tanzanian national team and described the feat as a dream come true for millions of Tanzanians who have simply been told that the country has once been at the AFCON but now glad to see the national team playing at the AFCON a reality.
Speaking in the same vein, former Super Eagles safe hand Christian Obi said it was just unfortunate that Nigerian coaches were not given the respect they deserve on the home front, saying he never doubted Amuneke's ability to do well in Tanzania.
"A prophet is not without honour except in his own country. It is just unfortunate that we don't appreciate what we have in this country. Nigerian coaches are very good if given the right atmosphere to work. Amuneke is a very good example. He is technically and tactically sound and he has his coaching Grade A license," Obi said.
The 1985 U-20 World Cup bronze winner indeed charged the eggheads of the Nigeria Football Federation to reconsider its stand on Nigerian coaches.
"It's high time the NFF should start reconsidering its stance and attitude towards Nigerian coaches. It should start giving them the respect they deserve. Given the necessary support, Nigerian coaches would take the country's football to a position of envy," the former Heartland of Owerri goalkeeper trainer opined.
Continuing, Obi said: "I must emphasise that Amuneke is not the first Nigerian coach that would take appointment outside the shores of the country. When Adegboye Onigbinde took over as manager of Trinidad and Tobago, their football was in crisis but he (Onigbinde) gave them some time to stabilise their football and before the expiration of the date he gave them he had begotten for them a good and stabilised national team."
Obi is indeed optimistic that Amuneke would do well with the Taifa Stars.
"I know Amuneke very well, I have worked with him before. He knew his onions," Obi said.
On his part, the National PRO, Nigeria Coaches Association, Etta Egbe said: "A lot of Nigerian coaches are technically inclined but we are being undermined by the football federation. You cannot because one coach failed; you then rub it on every other coach that is very wrong. If one coach disappointed, there are several good coaches that could be turned to.
"Though we trust that he has the quality and the technical know-how to take Tanzanian football to a new height, we would not leave him all by himself as he would enjoy our support and encouragement."
Amuneke was at the 2018 World Cup in Russia as a member of the panel set up by FIFA to shortlist the  2017/2018 season men's footballers and coaches of the year.
Amuneke said then, "As a player, I was privileged to have participated in the 1994 World Cup and now in 2018 I am privileged once again to participate this time, not as a player but as a fan and also one of the people going to make some major decisions."
On his appointment to the FIFA Russia 2018 Technical Study Group, the former Africa Footballer of the Year said, "This role is a good one for me and Nigeria football as it goes to show that our football has grown."
Amuneke who was part of the first ever Nigerian team to feature at the FIFA World Cup talked on the team experience going into that tournament in 1994 saying, "We were excited in the first place for being part of the 1994 World Cup but ahead of the first match against Bulgaria, there was a lot of excitement, a lot of uncertainty, a lot of doubt, a lot of questioning mindset but most importantly we were very confident in our ability as a team and we played as a team, which was the secret behind our little success ."
On having several players he coached in the Golden Eaglets representing Nigeria at the 2018 World Cup, he said, "As a coach it is a thing of pride to see the players you coach at the U-17 level after few years playing for the senior national team, that is pretty much what player development is all about and with FIFA's main priority being development, Nigeria as a nation should not be left behind."
In his playing days, his goals were always crucial and had given Nigeria victory on a number of occasions. From the 1994 Africa Cup of Nations in Tunisia to the 1996 Olympics in Atlanta, to the Afro-Asian Cup at the National Stadium in 1998 and many others.
Against the backdrop of calls in some quarters that new Super Eagles Coach, Gernot Rorh should inject an appreciable number of home-based players into the national team, the former Nigerian international has a different opinion.
"The team still needs the services of the foreign professionals. If the coach should feature a good number of home-based players and fail to get the desired result, he would be heavily criticised for excluding the professionals. Though it is a good move to restoring the confidence of the local players, it is going to take a lot of time and exposure to meet up with the challenges. He still needs the experiences of those foreign-based players that are willing to give their best, not only putting on the national jerseys," the former Barcelona of Spain player said.
The former African Footballer of the Year, who moved to Spanish giants FC Barcelona in 1996 for a fee of $3.6 million had his career at top flight cut short after he suffered a serious knee injury which in the process denied him a regular place in the Catalans team and also deprived him of a second consecutive World Cup with the Super Eagles. Amuneke never fully recovered from his injury and was released by Barca to play for Spanish second division side, Albacete, Busan l'Cons of South Korea and Al-Wahdat SC of Jordan before retiring from football at the age of 33. He also spent some time as an assistant coach at Saudi Premier League, side Al-Hazm, but left the club to become a scout for Manchester United of England.
"It was very painful that the knee injury came at the time it came, especially after moving to one of the best clubs in the world and already had a wonderful season with them. It was a moment of despair in my footballing career having to watch my colleagues in the national team play in France 1998. After our impressive outing at the '94 Mundial, most of us had moved to big clubs in Europe, played alongside the best players in the world and were really looking forward to the France 1998 World Cup. Unfortunately, injury denied me of my dream but I took solace in God like I always do in every situation I find myself," he said.