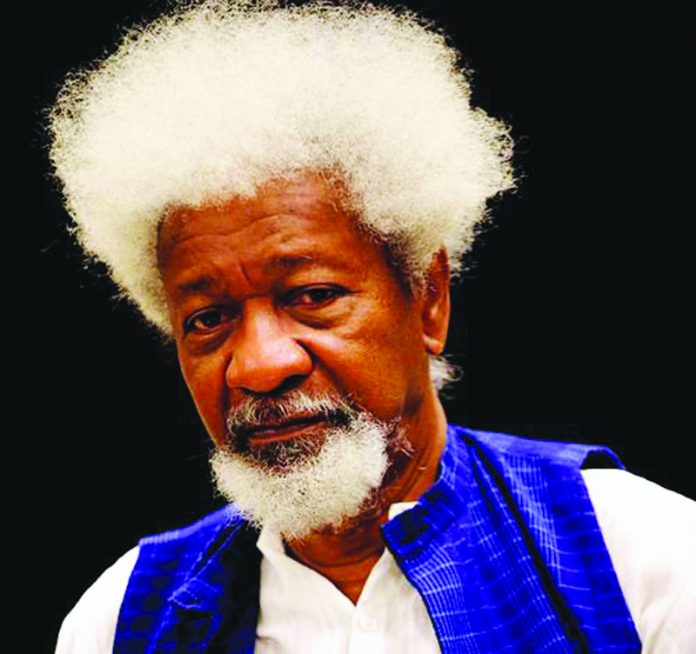 The Nobel Laureate, Professor Wole Soyinka, in company of his wife, son, friends and associates turned the Providus Banking hall in Victoria Island, Lagos into a high-profile poetry lounge last Thursday to observe the World Poetry Day. Yinka Olatunbosun reports
It was long after the close of business. Many passers-by were curious to see vehicles and persons arriving in trickles at a bank at that time of day. That evening was set aside to celebrate life and ideas that are embodied in poetry. Prof Wole Soyinka and the young poets at the event came to demonstrate that poetry is not an obsolete art form through their creative expressions.
Since 1999, March 21 has been adopted as the UNESCO recognised World Poetry Day to encourage a return to the oral tradition of poetry recitals, to promote the teaching of poetry and to restore a dialogue between poetry and other arts such as theatre, dance, music and painting.
A commune of literati was built using white and custard yellow theme for the chairs and the platform for performance. Publishers as well as staff of the bank shared the therapeutic experience that had five leading poets as headliners. Sammy Sage Hassan, Iquo Diana Abasi, Adebola Afolabi otherwise known as Rez Tha Poet, Salamatu Sule and Uche Uwadinachiwere selected from different ethnic backgrounds to give varied voices at this flagship event of the Providus Bank Poetry Cafe.
Designed as a youth-centred initiative, poets were also drawn from four leading poetry communes in Lagos namely Poets in Nigeria, LOUDTHOTS, AJ. House of Poetry and Bariga Poets Collective.
Dafe Ivwurie gave the opening remarks before handing over to the culture advocate, Jahman Anikulapo. Ivwurie stated that the event is the bank's support for contemporary literary arts in Nigeria. He mentioned too that Soyinka was actively involved in selecting the performers.
Soyinka who was introduced as the 'Prime Minister of Ijegba' gave a very brief introduction to the event, capturing the general mood of the nation.
"This is a very ugly time for this nation," he said without any particular reference to any event. Of course, in Lagos, several children were killed during a building collapse at Itafaji, a foremost literary scholar based in Canada, Pius Adesanmi died in a plane crash at 47, and there were reports of several lives lost during the general elections nationwide.
It took no genius to understand the background to the poet's lamentation. He expressed optimism that at the end of the show, the young poets would have recharged the collective spirit.
That they did. Tobi Samuel performed "I" which tore at the heart of Africa as the opening act. Juliet Nnaji in her poetry, "If The Country is A Book" used the chapter imagery to articulate the barrage of challenges plaguing the Nigerian nation and secured a rapturous applause from the audience.
Lending a global voice to the night was Public Affairs Officer for the US Consulate in Nigeria, Russell Brooks who read Maya Angelou's "Caged Bird." The audience was moved Joy Chinye's conversational delivery of the soft-toned poetry with a thought provoking line, "Leaving is not always a bad thing."
Uche Uwadinachi, the ultimate crowd pleaser, kicked off his performance on a romantic note. His satirical poetry is a hybrid of English and pidgin English. With a petite banker as his model, and a rose in hand while on his knees, his poetry juxtaposed the inner and outward beauty using the imagery of power supply, mobile phones with a background sound. It was magical and absolutely comical.
An ethnic atmosphere engulfed the banking hall with IquoDiana Abasi's call and response performance which tapped from the Ibibio folkloric tradition. Her poem, "We did not inherit her" focused on the oil exploration and exploitation ofthe Niger-Delta whilst finishing off on a more optimistic note with "Girl Conditioning"- a powerful female empowerment poetry which elicited responses from the female audience.
Her graceful arms and feet bore the simulation of the beautiful Ekombi dance; perhaps the actual costume would have stolen the show.
From Abuja came Salamutu Sule who preferred to read her poem instead of performing it. A good ambassador of Northern Nigeria, she read a poem that captured the life in Internally Displaced Persons' camps.
Sage Hassan's first poem for the evening, "We Don't Need No Prophets" was a venomous attack on religious hypocrisy. He slid into a near-rap delivery with "Your behind is messing with my mind."
Rez tha Poet created both contemporary and traditional appeal with the performance of "Lines of a Young Man's Wrinkles" and "Who are you?" respectively.
Soyinka wrapped up the night with his poem titled, 'Stop Press: One said 'No' from his new collection of poetry, "A Humanist Ode for Chibok, Leah" which evoked sad memories that provoked some tears from the Nobel Laureate. Light-heartedly, he later vowed not to read the poem in public after his emotional reaction to it.
Other distinguished guests at the event include MD, ProvidusBank Walter Akpani; DMD, Kingsley Aigbokhaevbo; a major sponsor of the Study Abroad in Lebanon programme, Dr.Habib Jafaar; CEO, Bookcraft Publishing, Bankole Olayebi; Founder, Rainbow Book Club, Koko Kalango; fashion icon,Adeola Sagoe; Former Secretary-General Commonwealth, EmekaAnyaoku; Makin Soyinka; and poets such as Toni Kan, SegunAdefila, A.J. Dagga Tolar and Victor Ehikhamenor.