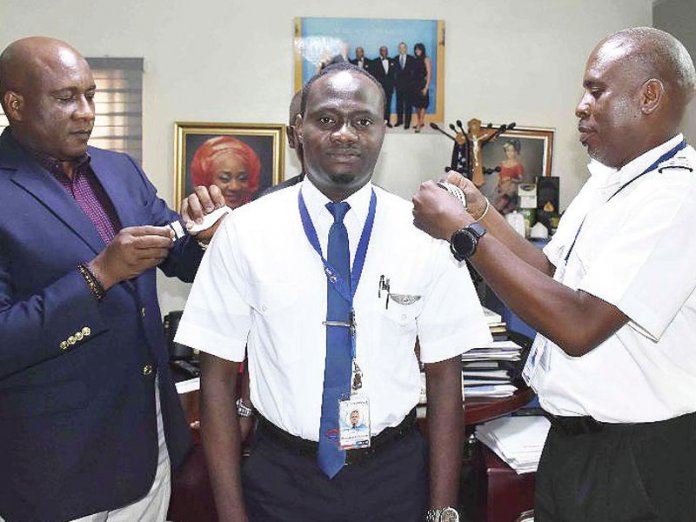 Air Peace has elevated two members of its flight crew to the rank of captain, urging them to sustain the high safety standards the carrier is reputed for.
Speaking during the decoration of Mr. Oluwasegun Fatonade and Mr. William Devine as captains at Air Peace Corporate Headquarters in Lagos, the carrier's Chairman/Chief Executive Officer, Mr. Allen Onyema, said he was proud that they scaled the tough tests for donning the four-bar epaulette. The rigorous requirements the new captains were subjected to, he insisted, were necessary to ensure they were qualified for the high quality of the airline's flight operations.
He assured that Air Peace would continue to reward excellence as a pro-staff organisation and ensure that its workers were promoted without regard to ethnicity and favouritism.
"I'm one of the happiest persons today. I take pride in seeing people grow. We are pro-staff. In our own little way, we try to ensure that staff enjoy their time here. Anyone can become anything they want to be here without discrimination.
"I don't meddle in matters involving selection and elevation of our flight crew. It is strictly on merit. For the flight crew training team to have adjudged the new captains worthy of flying for Air Peace, they really must be good. It says a lot about their quality. The tough tests they passed through before being selected for elevation as captains was necessary to ensure the sustenance of the high standards of our flight operations.
"It's not everyone that was tested that made it. I urge the new captains to continue to work hard to sustain the high quality of our flight operations. The position of a captain is one that comes with huge responsibility, but I have no doubt they will excel in their new roles," Onyema said.
On his part, Air Peace Head of Training, Captain Ndubisi Ekwempu, who presented the new captains to Onyema for decoration, described them as hardworking and dedicated members of the flight crew.
Their elevation to the left seat, he said, was well deserved.
He, however, urged Fatonade and Devine not to rest on their oars.
He commended Air Peace chairman for giving the training team the liberty to do their job uninfluenced. Ekwempu praised the flight crew training team for working hard to produce the new captains.
…Lifts Pharaohs of Egypt to Asaba for clash with Eagles
has also announced that it airlifted Egyptian national team, the Pharaohs of Egypt from Niamey, Niger Republic to Asaba in Delta State for the friendly match with the Super Eagles of Nigeria.
The airline, which is currently pursuing a vigorous network expansion project on the West Coast of Africa, has become very popular on the Accra, Freetown, Monrovia, Dakar and Banjul routes.
Air Peace said its vision is to create seamless flight connectivity, assuring that it would soon expand its regional flight network to at least nine routes, including Niamey.
The Boeing 737-500 aircraft operated by Captain Remilekun Etta, First Officer Callistus Ifeanyi and their crew lifted a total of 114 passengers on the entourage of the Egyptian team.
Speaking on the development, Air Peace Corporate Communications Manager, Mr. Chris Iwarah, said it was a vote of confidence on the quality of the carrier's flight operations.
He assured that the airline would continue to make Nigeria proud in Africa with its regional flights. He added that Air Peace would soon prove to the world that Nigeria had something valuable to offer in aviation with its long-haul flights to Sharjah, Dubai, London, Guangzhou, Houston, Mumbai and Johannesburg launching soon.
"We are quite pleased with the acceptance of Air Peace at all destinations we currently operate to. Air Peace is now the airline of choice in Nigeria and on the West Coast of Africa. This boldly speaks to the quality of our flight operations," he said.