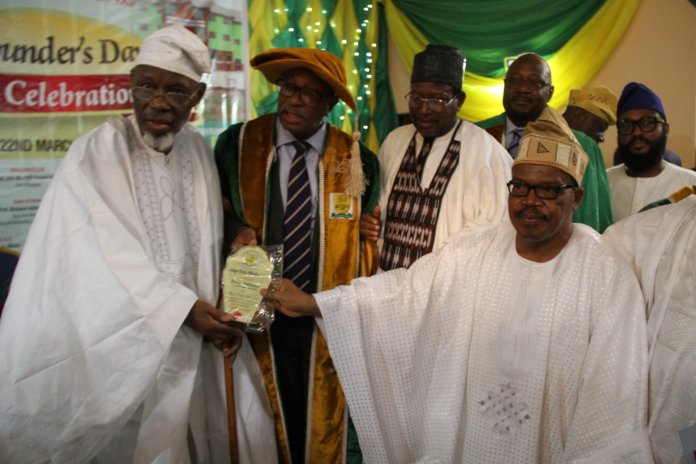 The founder, Ibeji Foundation, Alhaji Rafiu Ebiti, alongside three others, were honoured with the prestigious Bola-Ajibola Community Award at the Crescent University's 13th anniversary, held in Abeokuta; in recognition of their contributions and support for quality education and patriotism to the Islamic religion across Nigeria. Sunday Ehigiator reports Integrity in leadership as a moral compass for societal development was the centre of discourse at the 13th Founder's Day Lecture of Crescent University, Abeokuta, Ogun State to mark its founders day. The occasion was also used to honour four distinguished Nigerians who have been of help to society and humanity.
One of the awardees was the Managing Director of Istabaraqim Nigeria Limited, Alhaji Rafiu Ebiti, whose Ibeji Foundation, a non-governmental organisation, founded in memory of his father in 2010 has been directly involved in the education of several indigent students at Crescent University, providing opportunities for empowerment and entrepreneurial development for Muslim youths, access to quality education, research and vocation, contributions to the promotion of Islam and economic and social welfare of every mankind he is opportune to meet, among others.
The occasion, which coincided with the 85th birthday of the founder of the university and eminent jurist, Prince Bola Ajibola, SAN, was attended by several dignitaries including the Ogun State Governor, Ibikunle Amosun, represented by the Deputy Governor, Mrs. Yewande Onanuga, the JAMB Registrar, Professor Ishaq Oloyede, Alake of Egba Land, Oba Adedotun Gbadebo III, Prof. Dawud Noibi, Olowu of Owu, Oba Adegboyega Dosunmu, among others.
In his welcome address, the Vice-Chancellor, Prof. Ibraheem Gbajabiamila described the 13th founder's day as a major scale for the university. "At the start of 2018, we had about 12 programmes that were deemed for accreditation. Indeed, by the end of the year and the start of this year, we are very proud to announce that all our programmes scored 100 per cent, and we got accreditation for all. This is an important recognition of the quality of our university at the very best."
Delivering the founder's day lecture titled 'Integrity in Leadership: A Moral Compass for Societal Development', Professor of Law, School of Oriental and African Studies (SOAS), Mashood Baderin stressed the need to build human capacity for development in all spheres.
According to him, "government must be about integrity if they want to bring about development. Because development is about people and that is the only criterion for measuring its ultimate success or failure; it is what is it done to enhance the lives of individual human beings. In my constituted opinion, for Nigeria and indeed Africa, effective societal development must reflect an actual human development which facilitates freedom and opportunities for ordinary people, leading to actual improvement in their general well being.
"Human development is about empowering ordinary people to decide who to be, what to be, and how to enjoy an adequate standard of living as enhanced by the concept of individual and collective capabilities. What people can do, and what they can do now, are necessary equipment for realising a path to follow.
The don added that opportunity for human development will not pass a society that delivers necessary basic human capabilities including access to good health, access to good functional public education, a decent standard of living and human security, other capabilities centred on human development including ability to participate in decisions that affect one's life, to have control over one's immediate environment and freedom from violence.
"In advancing human development, I propose that the following germane areas must be prioritised to enhance effective societal development in most African countries including Nigeria. Namely, promoting and ensuring respect for human dignity, pushing human rights and enablement, advancing good and functional public education and capacity building for all, promoting and ensuring human security."
Eulogising Ebiti, the university's Public Relations Officer, Mr. Idris Katib described him as a man of sterling character. "He is a man of sterling character who sees life as an opportunity to seek the pleasure of Allah and prepare well for the life hereafter, protect the weak and advance the course of Islam and humanity to the best of his ability. He is man naturally endowed with the spirit of altruism, fellowship, co-operation, empathy and regards for others.
"He is a hardworking individual that gives a hundred and one per cent to whatever course he believes in. He strives to encourage the progress of others and frequently contributes to the development of his community.
A philanthropist of no mean measure who is well known and appreciated in the Muslim communities where he seeks to spread the knowledge and practice of Islam and foster the spirit of the Islamic brotherhood."
In a brief chat with THISDAY, Ebiti said he was overwhelmed by the recognition "To say that on a daily basis you can make a difference; well, you can. One act of kindness a day can do it. You have nothing until you can affect your immediate environment with the little Allah has given you. I derive joy in giving back in any way I can, and that is what has kept me going. I will implore everyone to render a hand of help to all the needy out there, only then can the world be a better place. And I am grateful to this university for counting me thus worthy of this prestigious award."
His wife, Alhaja Rafiat Ebiti attributed her husband's recognition to Allah while expressing how proud she is of her husband. "I thank Almighty Allah for today, for his mercies over my husband, and for making today a hitch-free day and making all the programmes to go on well. I thank the university for the honour bestowed on him today Allah continue to give him strength, good health and prosperity to be able to continue to help the needy. And I am very proud of him because he is a very compassionate person, so kind-hearted and someone that skips food to take care of the needy. He is not just a good man, but a nice husband and a good father to all his children and those around him."
One of his sons, Dr. Abdulrasaq Ebiti said he was not surprised at the honour as he described his father as fantastic. "Knowing the quality of Alhaji and how earnestly he works for youth development and education, I am not surprised. He is hardworking, tireless, and an enthusiastic supporter of Islam and education. We pray for more grace and blessings."
Old friends of the awardee, Y.K.O Abdulkareem and Mobolaji Abdulfatai simply described their friend of over 30 years as deserving of the award a million time. "He is a philanthropist and man of the people."
Also, two students, Kamorudeen Kehinde and Abdulsalam Ibrahim, among several others, whose education at the university are being sponsored by the foundation, thanked Ebiti for his kind gesture.
After graduation from the popular University of Ife (now Obafemi Awolowo University), Ebiti bagged the fellowship of the Institute of Chartered Accountants of Nigeria (ICAN) in 1992. He is a seasoned accountant, administrator and an entrepreneur of note.
He started his professional career with an internationally renowned firm of chartered accountants, KPMG, where he handled large and medium-sized audit of companies in different sectors of the economy. He gained vast knowledge and skills in the areas of accounting, taxation, secretarial practices, auditing, investigation, business management, receivership and liquidation.
He left KPMG after about five years to join the management team of COMERINT Nigeria Ltd (Subsidiary Company to Agip of ENI Group) as an accountant. During this period, he acquired vast experience of the operational workings and dynamism of the oil and energy sector. He is presently the CEO Istabaraqim Nigeria Limited, a company with a strong association with many of the major chemical processing companies in Nigeria. He is also a Senior Partner at Adisa Ebiti and Co., his practice Firm and Chairman EM Technical Services Ltd, an Engineering Firm.
Ebiti belongs to many organisations and has won many meritorious awards. He is a founding member and Chairman, Finance and Business Committee of the Muslim Ummah of South West Nigeria (MUSWEN), the umbrella organisation of all Muslims in the south-west Nigeria; Chairman of the Board of Trustees of the Obafemi Awolowo University Muslim Graduates' Association, Ansar-Ud-Deen Society of Nigeria, Ebuta-Meta branch, Vice-Chairman, Forum for Islamic Education and Welfare, among others.