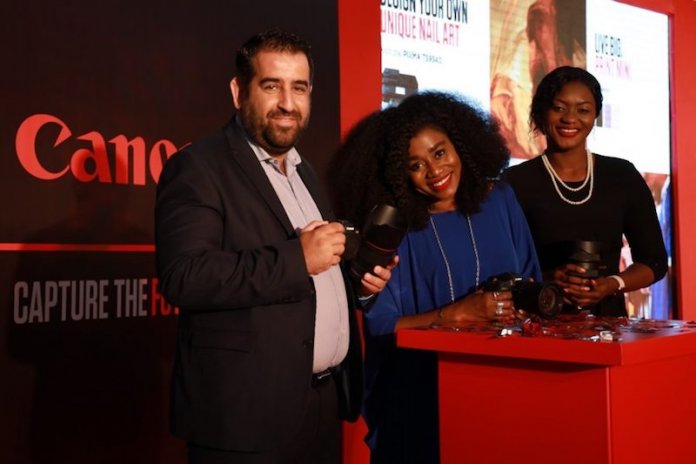 Nosa Alekhuogie and Ezekiel Okpuzor
Canon Central and North Africa (CCNA), one of the leaders in imaging solutions, has reiterated its commitment to the Nigerian market by announcing the launch of three new exciting products – the EOS R Camera, PIXMA TS9540 Printer and the ZOE MINI Printer.
The new range of printers and the camera are poised to expand Canon's imagery range in Nigeria and help customers manage productivity.
The EOS R System is redefining the frontiers of photography and film making. Over 30 years on from the original, era-defining EOS launch, the bold, new EOS R System has the capacity to expand photographic possibilities in countless ways.
Its new RF lens mount has been engineered with the perfect blend of optical, mechanical and electronic design to capture unique moments previously seen as very challenging.
A pioneering lens mount built from the best of EOS legacy
Since its inception in 1987, the EOS System – including Cinema EOS – has grown into the most recognized imaging system in the world.
The Canon PIXMA TS9540 is a compact All-In-One inkjet printer that is capable of A3 printing, with a comparable A4 printer footprint. It delivers professional results with the help of Canon's class leading fine print head technology and its five individual inks give photos a rich gradation and up to a 100-yearalbum life.
The ZOE MINI is Canon's smallest and lightest mini photo printer, the perfect accessory for those who enjoy snapping and sharing treasured moments with family and friends. It features ZINK technology, meaning zero ink is required. With customisation at its foundation, the mini printer, through the Canon mini print app, offers the option to print not only individual smudge-free and water-resistant 2" x 3" prints or stickers, but also a tile print that is made up of four or nine prints, as well as over ten unique collage templates that print on one 2×3 photo.
Speaking on the product launch, Senior Manger Sales and Marketing – B2C, Canon Central and North Africa, Mr. Amine Djouahra, said: "We are very proud to have officially launched and announced the availability of our EOS R System in Lagos- Nigeria. This market plays a significant role in our growth plans and we hope that the local launch event will further cement our position as innovators in imaging technology.
"Canon is globally committed to investing in the unrivalled EOS world with cameras, lenses and accessories that set new heights in image quality, optical excellence and performance."
Sharing her experience with the new range of products that are already available in the market, Canon ambassador, TY Bello said: "Canon is constantly working to better understand the needs of its customers in Nigeria, thus coming up with innovations that will make photography and printing, more attractive, with ease in handling the new range of products."
She called on Nigerians who are lovers photography and professionals in photography to explore the many advantages that the new Canon EOS M mirrorless camera brings.
With the introduction of the new products, Canon is also launching the professional consumer photo competition in Nigeria under the Campaign.
Meanwhile, the CCNA recently organised a private press screening of golden effects pictures' latest movie known as 'Mokalik'.
The Mokalik movie screening was produced and directed by filmmaker, Kunle Afolayan, using the Canon EOS C300 mark II alongside the range of Canon Cinema Lenses, CN-E14mm, CN-E24mm, CN-E50mm, CN-E85mm and CN-E135mm.
The movie starred popular singer Simi and prominent actors such as Femi Adebayo, Charles Okocha and Faithia Williams through a deeply personal tale.