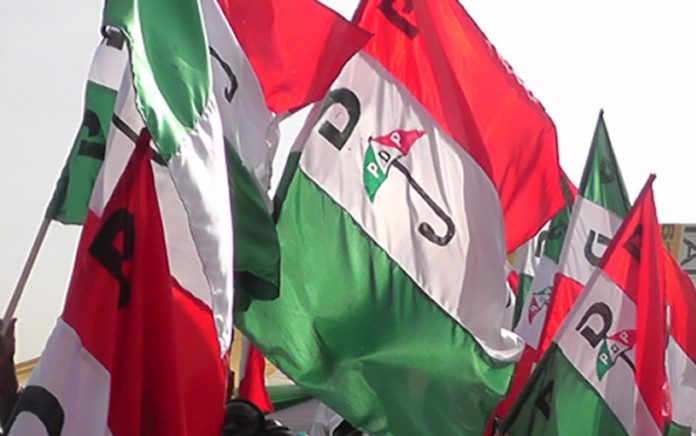 Kayode Fasua

The South-west Zone of the Peoples Democratic Party (PDP) has said it was privy to the fact that the party's presidential candidate, former Vice President Atiku Abubakar, did his home work, assuring that he will triumph at the Presidential Election Petition Tribunal.
The party expressed the optimism in a statement issued yesterday, to rejoice over the victory of the Osun PDP governorship candidate, Senator Ademola Adeleke, at the state's election petition tribunal.
In the statement issued by the zone's publicity secretary of the party, Mr. Ayo Fadaka, the PDP stated: "We  want to assure Nigerians that the illegal manipulation of the presidential election is being challenged diligently by our candidate, Atiku Abubakar.
"The party has done its homework in this respect, having gathered evidences of malpractices across the nation; therefore, we declare that we are confident of getting a fair hearing of our petition before the Presidential Election Tribunal.
"The judiciary will continue to remain the last bastion of our democracy and we trust it to take required actions that will halt impunity, political dishonesty and outright thievery of electoral desires of Nigerians as expressed in the last presidential elections," the party said.
It congratulated the judiciary "for having expressed loudly, that the impunity of the ruling party, the APC, which President Buhari described as 'remote control' in our elections, is being checkmated and this confirms that our generation owes our children and indeed future generations the responsibility to begin to take actions that will safeguard the future of our nation."
Commending the Osun verdict, the PDP urged the judiciary not to be deterred in its quest to assert its independence and dispense justice without fear or
favour.
"Though we note that the judiciary is currently under assault through the numerous actions of the Buhari administration, the last of which is the illegal suspension of the Chief Justice of the Federation, Walter Onnoghen over what is turning out to be phantom charges, propelled by falsehood, we encourage the eminent men on our benches to continue to uphold their oaths of office and do what is proper in the interest of our dear nation," the party said.
 PDP averred that INEC fell short of the expectation of Nigerians in the way it conducted the last general election, alleging that it was compromised by the Presidency.
"INEC continues to betray partisanship in the discharge of its sacrosanct responsibilities, thereby submitting itself to be a mere appendage of the Presidency, which continues to arm-twist and guide it to certain conclusions.
"The current rounds of elections in our nation today leave so much to be decided, as INEC has invoked its guidelines curiously in states and constituencies where APC seems to be failing and use same to assist them against our party in other places where we are thriving.
 "This is partisan and a double standard, which is least expected from the commission," the PDP added.