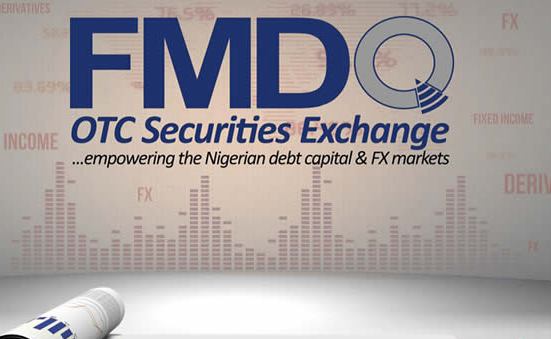 Goddy Egene
Trading in the fixed income and currency (FIC) market operated by FMDQ OTC Securities Exchange picked in February, recording a turnover of N19.18 trillion.
This represented an increase of 27.2 per cent compared to the N15.08 trillion in January and 52.3 per cent a year ago. The Treasury Bills (T.bills) and Foreign Exchange (FX) market segments remained the major drivers of turnover in the FIC markets, jointly accounting for 77.88 per cent of turnover.
A breakdown of the transaction in FX market showed that turnover was $14.59 billion, representing a 20.6 per cent decrease from the turnover recorded in January.
Also, a further analysis of FX turnover by trade type indicates a decline across all three segments, as FX turnover for Inter-member, Member-clients and Member-CBN trades declined by 11.61 per cent, 25.52 per cent and 11.59 per cent respectively.
Conversely, turnover at the Investors & Exporters' (I&E) FX Window in February recorded a 232 per cent increase to close at $9.96 billion, from the $3.00 billion recorded in January 2019. Analysis of FX turnover by product type showed a decline for both FX Spot and FX Derivatives, with FX Spot recording a decrease of 23.33 per cent and accounting for 70.44 per cent of the total decline in FX turnover.
The decrease of 16.14 per cent in FX Derivatives was driven by a 57.04 per cent decline in FX Futures turnover, despite increases in FX Swaps and FX Forwards turnover by 5.89 per cent and 0.99 per cent respectively.
In February 2019, the naira appreciated against the dollar at the I&E FX Window and the parallel market, gaining N2.04 and N1 to close the month at $/N360.99($/N363.03 in January) and $/N361.00 ($/N362.00 in January) respectively, driven by the increase in FX inflows in the IEFW. Conversely, the CBN Official Spot rate depreciated by 10kobo to close at $/N306.85(from $/N306.75 recorded in January).
Meanwhile, T.bills outstanding recorded an increase of N1.08 trillion to close at N16.10 trillion , with opening market operations (OMO) bills accounting for 100 per cent of the increase, while actual T.bills outstanding remained unchanged, as the CBN continued its liquidity mop up via OMO auctions to curtail build-up of inflationary pressure.
Similarly, FGN Bonds increased by N0.26 trillion to close at N8.52 trillion as at February 28, 2019.
Furthermore, the split in sovereign debt between long-and short-term debt as at February2019 was 76:24(long vs. short term), higher than the target ratio of 75:25 outlined in the Debt Management Strategy.