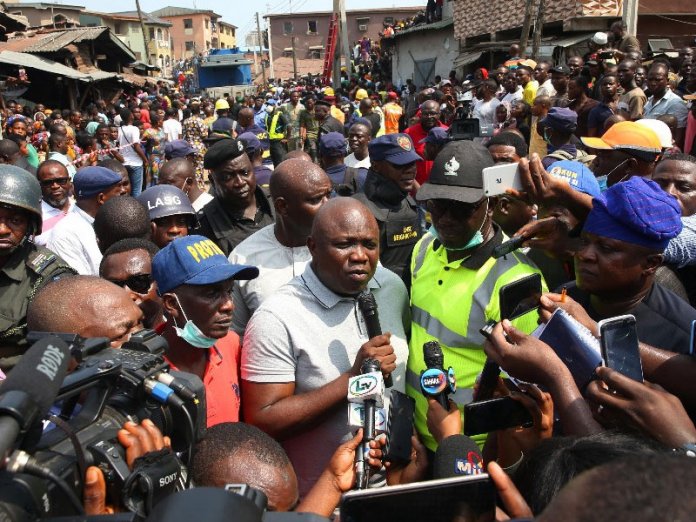 The recent collapse of a three-storey building in Ita Faji area of Lagos Island, killing 20 people, including pupils of an unapproved school within the building, has sparked rage among stakeholders who blamed the government for its failure to regulate the establishment of schools in the state. Funmi Ogundare reports
It was a tale of pain and anguish last Wednesday, as a three-storey building collapsed in Ita-Faji area of Lagos Island killing 20 people, including pupils of Ohen Nursery and Primary School, which the building also housed. The building according to reports, caved in about 10am trapping most of the pupils in the process, when classes were going on.
One of the victims was said to have told his mother that he would not go to school on that fateful day because it was his birthday, but she insisted that he must go to school. Unfortunately he was among those that died first in the building.
Parents of children who lost their lives in the building wept uncontrollably as the children's corpses were brought out from the rubble. Those who survived were taken to Lagos Island Massey Children Hospital for treatment.
Governor Akinwunmi Ambode, who visited the scene of the collapsed building, commiserated with the families of the victims, while describing the incident as unfortunate. He said he had received information that the building was a residential one with the school operating illegally within the premises.
He responded to the concern raised by a resident on the increase in illegal schools in the area, saying that all schools that fall within that category will be closed down.
"We have been informed that it was a school; the building is not technically a school so to speak on the second floor, it was a residential building."
He added that most of the buildings in the area had been marked for demolition, but that some of the property owners in the area defy such notices, and promised that structural defective buildings would be demolished.
Already, the Lagos State Building Control Agency (LASBCA) has commenced the sealing of schools located in unapproved buildings on Lagos Island, while officers of the Office of Education Quality Assurance (OEQA) have been mandated to go across the state from Monday, March 18 to identify unapproved schools with a view to closing them down.
However, in recent times, not enough attention has been paid to the inspection of schools under the purview of the Office of Education Quality Assurance being coordinated by the Deputy Governor, Dr. Idiat Adebule, who also oversees education in Lagos.
A reliable source and a stakeholder in the education sector confirmed to THISDAY that there are more than 14,000 unapproved schools in the state that thrive and government turns a blind eye on this because there is no political will to make decisions.
According to the source, "this government does not like closing down schools. During the Mr. Babatunde Fashola-led administration when Mrs. Sarah Sosan oversaw education in the state, we could go out and close down schools, take pictures and immediately after closing down the schools, I will send the pictures to the commissioner.
"So many schools were closed down for many reasons. Retrospectively if there were schools that got involved in examination malpractices, the worst case, we also shut them down, but this present government led by Adebule did more harm than good as some decisions take longer time because she oversees a lot of agencies."
He regretted that: "If we want to close down schools now, even after writing to her, it will take her almost three months or more before we get approval for the file we sent to her, but now that the disaster has happened, it is unfortunate. Government has not been proactive in taking decisions."
The source disclosed that evaluators have been asked to go round the state within the next two weeks and identify unapproved schools with a view to closing them down, while expressing concern that there has been no mobilisation of any sort from the government to enable them carry out their duty effectively.
"If you are sending less than 300 officers to go out and identify unapproved schools without buses or mobilization, how possible is this? Alimosho Local Government Area alone is very big, how many officers are there to go round? In the whole of Mushin Local Government Area, there are 77 public primary and 30 secondary schools, not to talk of private schools. Both approved and non-approved are not less than 2,000. Unfortunately, we have just six evaluators, can that few cover Mushin?"
He also expressed concern about the few evaluators that are to go round Lagos Island, Epe, Ibeju Lekki and Eti-Osa, saying, "the number of evaluators is less than 30. Can they cover all of these areas with no running cost? Is it possible with no mobilisation of any sort? As a matter of fact, Adebule's constituency, Ojo Local Government Area has the highest number of unapproved schools."
He said the Office of Education Quality Assurance is trying its best to identify the ramshackle schools and forward its reports to the commissioner, but most times there is delay in feedback.
"We have a lot of public schools in Okota, the principals have written since 2017 about structural defects, but government has not done anything. When it collapses, they will start running helter-skelter. There has been no official statement from Adebule, but you want officials from the Office of Education Quality Assurance to go out from Monday to identify unapproved schools with bad structures!"
The source, who blamed the current government for the unfortunate incident, said school evaluators are yet to receive their running cost since January.
According to the guidelines THISDAY obtained from the ministry of education for the establishment of private schools in Lagos, the name search with the ministry costs N10,000; site inspection of the school's location costs N15,000; approval inspection is N30,000, all payable to the government.
The documentation process also involves submission of approved building plan for a purpose-built school, while payment of approval fee is determined by location and size of the school.
Also, the requirement for a single stream for nursery and primary school must be nine classrooms for primary one to six and three nursery classes; one room for head teacher's office; one room for sick bay; one room for library; a room for ICT, as well as playground with two recreational facilities.
The source said during Sosan's administration as Deputy Governor and Commissioner for Education, poor schools were asked to merge, arguing that the current administration lacks the political will to take firm decisions.
"The building that collapsed had been marked for demolition, why was it not demolished? It is sad. Many of the structures on Lagos Island were initially bungalows that developers just put pillars to make money, just as we also have a large number of unapproved and unregistered hospitals. Unfortunately the requirement for the approval of schools is not that stringent," he stressed.
Some educators and parents also attributed the building collapse to poor governance, poverty, illiteracy, greed and unpatriotism on the part of government and building developers.
An educator, Mrs. Omotunde Koleosho said: "I happen to have lived in that area several years ago, the whole of Lagos Island has been turned into a market place. Most houses are now multi-storey with little or no space between them for emergencies. The buildings are poor and of less quality, having been built by greedy developers who used sub-standard materials, the government officials who approved such are corrupt, the dearth in our educational system is a pain in our hearts."
She said from pre-schools to the universities, many parents are too poor to send their children to quality private schools and only make do with the available ones, adding that parents must be up and doing too.
"Family planning is no longer preached, we breed poverty, the economy is sick and the people are the casualties. May God heal our land and help us, only truth can save us, a stich in time saves nine," she said.
A parent, Mr. John Akpan argued that if the public schools had not degenerated to the lowest level, there wouldn't have been such proliferation of private schools.
"The problem is corruption, pure and simple; some people are responsible for inspecting and demolishing that building and many others. They didn't do their jobs and it will continue until those responsible are made to pay for their crimes."
Another parent, Mrs. Titilayo Adewale said: "The parents of the children in most of the schools are traders looking for the nearest place to put their children without considering the consequences since they have been notified of demolition. Some too live in dilapidated buildings, therefore seeing this particular one as normal. It is pathetic."
Mrs. Olubunmi Ishola also stressed that those responsible for the disaster should be punished so as to avert such occurrence in future.
"Schools, apartments, offices and more keep collapsing even at construction stage. If those responsible are not punished, we will never evolve like other humans elsewhere. The building owners, builders, engineers, architects, inspectors and more, are all culpable, even more than the school proprietor if he doesn't own the building in question. Examples have to be set, otherwise impunity reigns."