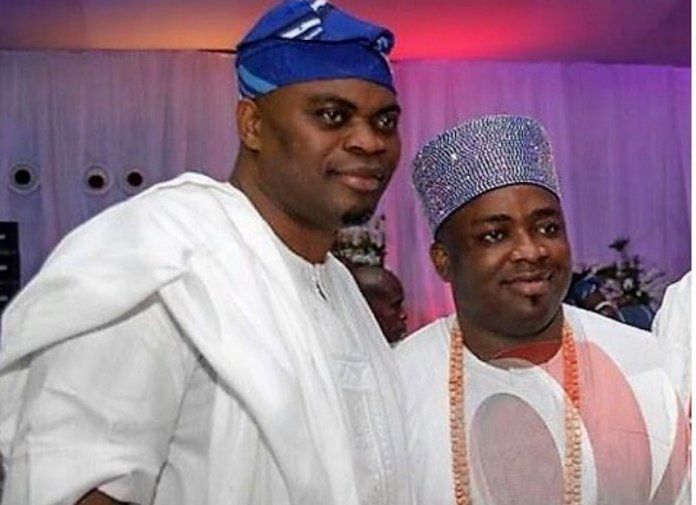 The wide chasm between two royal darlings of high society, Oba Saheed Ademola Elegushi and Oba Dosunmu, the Akinsiku of Lagos, has been bridged and the lifelong friends can once more revel in each other's company like in the good old days of yore.
Before they were torn apart by the scissoring scythe of manipulative hearsay, the flamboyant monarch and the regal courtier were joined at the hip. They gambolled hand in hand from country to country and event to event. They rocked and balled together round the Lagos social scene like two complementary colours mixed to form a majestic painting.
At the height of their camaraderie, King Gush, as the Elegushi of Ikateland is fondly called, and his childhood friend, Olalekan Dosunmu became the epitome of brotherhood that transcends blood. They were always there for each other. Anytime one is at a loss or needed something doing, the other would arrive on the scene with immediate alacrity, ready to lend the proverbial shoulder to lean on.
However, the beautiful garden of their friendship began to be overtaken by weeds as outsiders threw a spanner in the works. Inside sources reported that following the carefully laid plans of a mastermind – rumoured to be Oba Elegushi's stunning queen, Olori Sekinat Aramide – the two bosom buddies began to view each other with suspicion.
The blooming mutual disdain and cold war burst open last May during the burial of Akinsiku's father, Chief Adebola Alabi Dosunmu. On that occasion, Oba Elegushi was nowhere to be seen at an event where he would ordinarily have played a prominent role.
It was the same story few weeks later at the Haven Events Centre, Ikeja, venue of the wedding of Lagos big boy, Dapo Alli-Balogun's son. Although both Oba Elegushi and Oba Dosunmu were in attendance, they treated each other like sworn enemies and wouldn't even extend the common courtesy of a handshake or friendly smile.
However, the faceoff has finally ended as the duo has decided to bury the hatchet. The breach is fixed and the wounds are healed. The good days are back and better for Oba Elegushi and Akinsiku who were spotted together at the burial of the father of the Olofa of Ofa a few weeks ago. The two friends were unmistakable among the throng of pillars of high society as they danced and rocked together like former times.