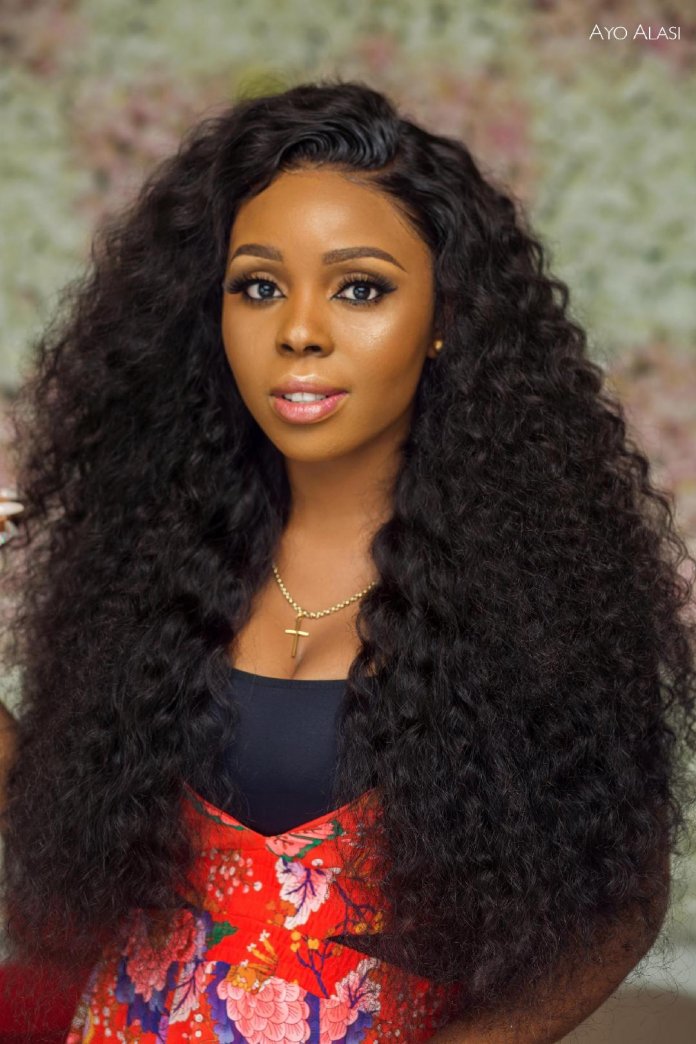 Doris Nkrumah is the CEO of Lagos-based 'Hair By Wanneka.' She is a serial entrepreneur and an inspiration to many. The 'Hair Boss' as she is popularly known, started her journey down this hair business in 2013. At a point, her hair business almost collapsed, but she came back strongly. Doris is simply hardworking and daring, and aims to own an empire. This mother of three tells Tosin Clegg about her growing up, how she started her business, her booming hair business, supporting women and a lot more 
I grew in the midst of a loving family
I attended Majesty High School, Calabar and proceeded to University of Ado-Ekiti (UNAD) to bag a Diploma in Law. I later started an undergraduate programme in English before getting married, relocated to Lagos and started another degree at the University of Lagos. Growing up for me was quite interesting. I had an amazing family that would tear anyone one down if I get bullied. I grew in the midst of a loving family. My mother was a sweet kind person and she loved all her children equally. As the last child, one would think I got so spoilt but I was given strict rules kind of treatment which has built me over the years to become this independent, hardworking and daring. I have always wanted to own an empire.
Passion for human hair products
I started as a stylist in the Nigerian Nollywood industry and gradually gained grounds and made a few friends, which gave birth to my baby steps into the brand I have today called 'Hair By Wanneka.' My passion for human hair products was what influenced my choice of business. Many hair clients love 'Hair By Wanneka' because of the style of the advert, the quality of my hairs as well as the affordability of the hair types. Several times, I have shared my inspiring story of how I had to quit my business more than two times because the business had failed. With determination however, I started again and less than two years after, my business is flourishing. 
Getting active on social media helped
In my early days I resold weaves bought from a well-known hair seller. In-terms of marketing, I would go to banks and waited till I could speak to fashionable female staff to patronise me. From the banks, I moved to church gates just to  wait for the beautiful sisters to tell them about my business. Getting more active on social media was a huge success for me. It was a terrain that was easy to access and quick to reach a wider audience, with more customers from outside Lagos. Gradually, I was able to gather enough money to buy a large stock of product, but unfortunately I got duped by a supplier, which eventually made me to start afresh. It was a bitter sweet experience because I was hounded for taking clients order seriously. I believe in true quality in whatever market I sell. But the saying goes that once bitten twice shy. I had no choice than to start afresh and attend to the business I love; though, it was rough, but I thank God. 
I really don't have a special ingredient to my soup
I'm more about quality than quantity which is the key in this business. My suppliers always sort out the best quality for me. Most times, I go to the factory to get the hair directly, sit with the workers to sort each hair and strands before I sell them to my customers. Most of my hairs have different feels as regards to texture and durability. One thing for sure is that I don't sell fake hair but ensure that my hair is long lastingly depending on how you maintain the hair. 
In terms of varieties, I always try to cater for many pocket sizes. I have many women who cut across many ages and walks of life. So, I personally feel it's best to provide for their hair needs, from weaves to wigs. I also try to ensure I come up or creatively think of how I can always make my hair collections unique. This process always comes with sessions and brainstorming with my team members. I also collate customers' comments which I don't take for granted. Obviously, it comes with sleepless nights but at the end of the day, I'm able to come up with something soild. 
My 'Success Circle' Initiative
Most times, people enquire about how to grow businesses or my biggest hazard in the industry. This gave birth to my 'Success Circle' initiative. I don't run it alone. I have few collaboration on that platform. Success Circle (Wanneka Empowerment Initiative) is aimed at tendering to growing businesses owned by young women or individuals who are aims at good exposure for their brand on social media. We provide financial aid and support SME's. We also most times go live on Instagram and do physical consultations with other women who have worked that part in their various businesses to share their unique experience and expertise advice to growing business. 
We do have one on one physical brunch and get together at least once a month to host a few young women with a mentor in the same line of business. This event is aimed at bridging the gap between the social media and gatherings. At these events, the guest of the month schools young women about the pros and cons of businesses. 
I believe in women having their own business
I know you would say I'm a feminist but I believe in women having their own business regardless of their husbands' money. In attendance most times are young wives, married women and single mothers. Also on the platform, we get paid to talk about a business or do give away. 
I also run 'Wanneka Woman Gele' 
It is a new way of styling 'Hair By Wanneka', most especially with the head gear – Gele. I was inspired by the growing trend of young women getting their hair covered in the Gele. So, I thought to myself 'why don't I do something very stylish and sleek with our native attire and signature look.' That was how the collection was born. It was a collaborative effort with the Bimms Aso Oke. 
The beautiful thing about motherhood 
It is watching your baby turn to a child and gradually to a grown human. I remember when my first child, Emily was born, I looked at her and said what a pretty thing; this gorgeous pretty human God gave me to nurture and take care of. It was the most wonderful experience in the world. Motherhood has made me love more and nurture more. I'm blessed with three beautiful kids. 
I met my husband in the village
I met my husband during a Christmas celebration, surprisingly we clicked and we became very good friends. Marriage is a total school. I never knew it until I got married. Trust me, it's another life demand entirely.  But my husband is very easy breezy with life. Though, we have our ups and downs, but he is a very supportive husband who keeps a level head on everything I do. It's funny how my family loves my husband so much. 
I always try to ensure my style goes with my looks 
Most time, I go very glam but I tone it down with the right hair and accessories. I'm a lover of bags and shoes. Everyone who follows me on Instagram knows that it is standard for me to dash and buy myself or reward myself with a new accessory. As a petite lady, It is quite easy to dress me and very scarce to get our size. My fashion must have a good wig or weave; a good weave can turn an entire look to glam. As the hair boss, I give you the beat weaves that last longer and fits your face shape. You can't go wrong with your bag. The right bag gives you the right pose. And my last but not the least is your feet accessory. Yes, that one is fire for me. You can't go wrong with the right foot wear. 
How I deal with Cyber bullying
It's very simple, delete and block. You know I deal with a lot of customers who leave both negative and positive feedbacks on their purchase on my brand which I note because I believe that customer feedback is the key. I remember one time, I was dragged on Instagram about my products and customer chats were leaked on her page. All the blog in Nigeria took the story. I was tagged on various pages from different news platform. To be honest, it was a terrible moment for me. I literally blanked out and allowed my lawyers to take over the case. I lost customers at that moments due to that scandal but guess what? I regained 10 times the customers again. It was a bitter sweet experience at that moment. I also learnt that in life, hold on to your God, regardless of your standard in life. It is very key. I deal with cyber bullying in the simplest way. I stay true to my hustle and keep selling hair.