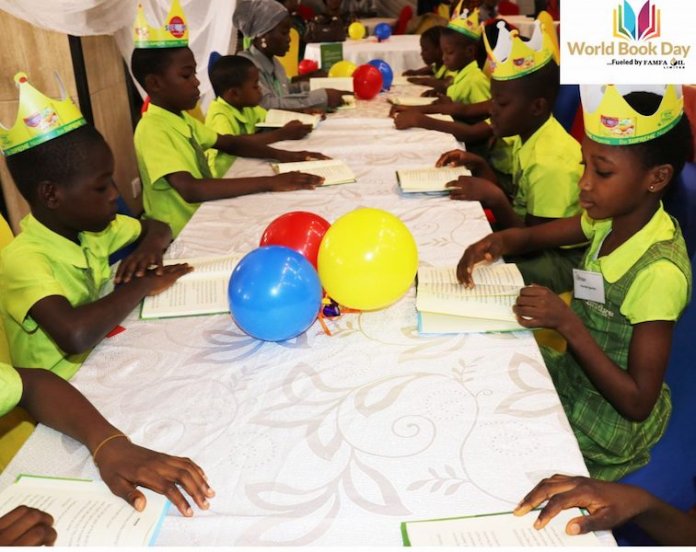 Marked in over 100 countries across the world, World Book Day, a UNESCO initiative aimed at celebrating books and reading, especially among younger people in the society presented an opportunity for FAMFA Oil Limited to create a situation that would unlock the power in the minds of the numerous children that gathered at MUSON Centre Lagos to commemorate the day. Mary Nnah reports
In 1995 at the UNESCO General Conference, it was decided that April 23 would be named World Book and Copyright Day as a way to pay tribute to books and authors. It was also determined that the day would be used to encourage everyone to read and enjoy the pleasures that go along with reading.
April 23 was chosen because that is the date that famous authors like Miguel de Cervantes, William Shakespeare, Vladimir Nabokov, Maurice Druon and Inca Garcilaso de la Vega all died.
However, this annual event is not celebrated on April 23 in all countries because in some countries, it conflicts with other events, so it is otherwise celebrated on the first Thursday in March of every year in these countries just as it is done in Nigeria.
The day was established to encourage people to get engaged with literature and to promote not only reading but also publishing. Also, during this special day, many places all over the world offer plays and special readings to encourage children to read.
This was the case with FAMFA Oil Limited; the Lagos based oil and gas exploration, production and exporting company, brought together children from various public and private schools in Lagos at the Shell Hall, Muson Centre, Lagos, last Thursday for them to read a book titled 'Chidubem: A Child of Destiny', written by 11-year-old Munachi Mbonu. There was also a presentation of a dance drama, titled 'I wish I wish', staged by Proud African Roots Production. The stage play, which focused on the values of a leader, was also inspiring.
For FAMFA Oil Limited, it was indeed an opportunity to create a situation to unlock the power in the minds of the numerous children as renowned personalities in the country were invited one after the other to read along with the children.
Personalities who took part in the book reading included, UNESCO Ambassador, Mrs. Naza Alakija; Nigerian technology expert and entrepreneur who currently serves as the Google Country Manager for Nigeria, Mrs. Juliet Ehimuan Chiazor; Co-Founder and Vice-Chairman of Channels Media Group including its flagship company Channels Television, an internationally-acclaimed television company, Mrs. Olusola Momoh; and Managing Director, Fidelity Bank Plc, Nnamdi Okonkwo.
The book, 'Chidubem: A Child of Destiny' revolves around a young boy, Chidubem, from a humble background who longs to fulfil his dreams of being a great person and to see his family prosper. And through many ups and downs, Chidubem learns to face life head-on and handles every obstacle thrown his way because he made books his companion.
The stage paly, which was a musical drama, got the children so excited as they screamed, shouted and jumped as characters of the play who were mostly in various animal forms went into their midst as the play went on.
The play, 'I wish I wish' is basically about a mystical wind of wishes that leads a girl into a world of adventure. It portrayed the values of leadership as well as the fact that it does not matter who you are, but how you are able solve the problems at every situation and making Nigeria great.
Speaking with journalists during the event, the UNESCO Ambassador, Mrs. Naza Alakija said she loved reading and was able to cultivate the habit from childhood, adding that children these days are addicted to IPad and other technological gadgets. She therefore stressed the need to get the children back to start having passion about reading and getting immersed in the stories and learning from them.
"I think everybody can do their part, it is always good to start from somewhere and develop a platform where other people can be inspired, especially those that do not have the opportunities that other children have. I think it is definitely inspiring, not just for the children, but inspiring others to contribute, get involved and see what part they play."
The Executive Director, FAMFA Oil, Rotimi Alakija said the company has been investing underground in the development of the Nigeria society for a while now. He said as part of its Corporate Social Responsibility (CSR), the company in collaboration with the United for Education Foundation (U4E), a non-profit educational volunteer mobilisation organisation decided to hold the event.
The event, with the theme 'Share a Story', was aimed at encouraging the reading culture among public and private primary school pupils with an overall objective to inspire the children to understand the Nigerian culture and promote unity by sharing the same story.
The focus apart from the fun the pupils had during the event, was to heighten their literacy competencies through re-enforcing the importance of reading.
The executive director added: "Education is important and so are our stories and without our stories we lose our sense of identity and our identity is made up of our people. So, if we lose our stories, we lose ourselves as a nation, and our identity is important because it makes us who we are in the world."