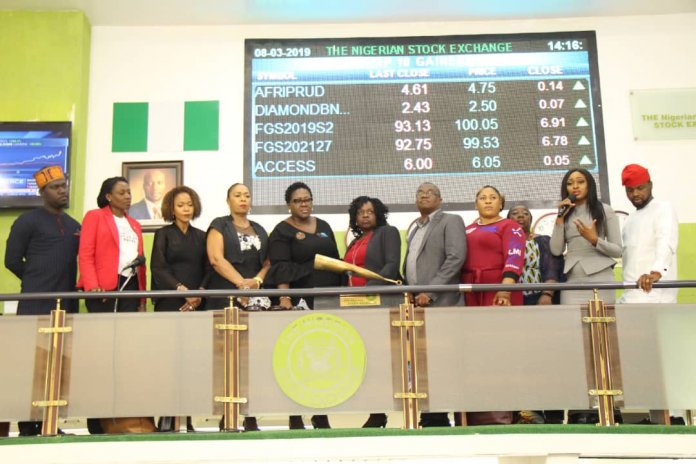 By Oluchi Chibuzor
Women across the country have been urged to be more proactive in pursuing their goals. This was stated by Dr. Ola Brown during the 2019 Nigerian Stock Exchange (NSE) International Women's Day programme with the theme, "Balance for Better". Speaking at the event, the Managing Director, Flying Doctors Nigeria, Dr. Brown, shared her experience as a budding female entrepreneur in the healthcare industry and called on the NSE to improve on the level of education to female entrepreneurs towards encouraging them to aim at been enlisted into the stock exchange.
She said that as a young person who started business about 10 years ago, developed her initiative by having an idea in finance and investment. She further said that there was need to have more female leaders to open doors for other women, as men are more aggressive in enhancing their own course, than female genders, while adding that this has led to the few numbers of women in companies' boards. Dr. Brown said that there is need to change the narratives of the over 25million women in the nation, as there are several issues affecting the female gender.
According to her, "There is a strong narrative about women not being competent in leadership at high place position in companies. Women should do more in work place, study more, network and make the relationship to get the connections needed to get this position. There must be a cultural shift as the position can only come to people who have connection, as meetings happen where women cannot possible be as most meetings happen at night and cannot leave their kids."
Speaking further, the London trained doctor reveals that Nigerian women were entrepreneurial minded competing favourably with other colleagues in the world and the impact is huge. She suggested that they need to be more proactive in forming networks, create space for each other when they at top position, they are more reliable to repay back loans, but how many of them get the loan needed to move their business forward."
Her company Flying Doctors Nigeria, the first air ambulance service established in West Africa, by Dr. Brown was recently nominated by the London Stock Exchange Group as one of the 'Companies to Inspire Africa 2019'. This is the second time the London Stock Exchange Group is carrying out this prestigious and rigorous nomination exercise to list companies to watch and business concerns they believe have the potential to upset the business landscape in Africa.