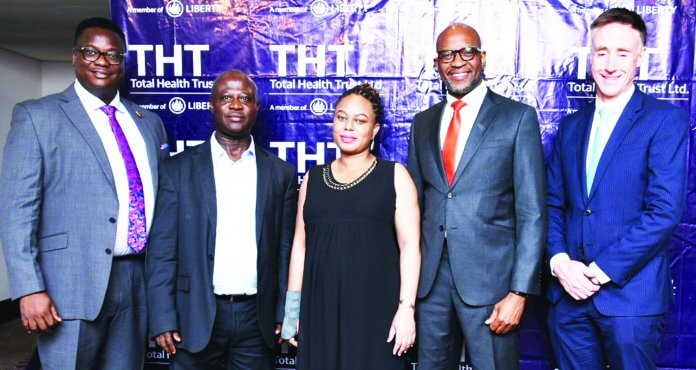 By Chinedu Ibeabuchi

Leading Health Maintenance Organisation (HMO), Total Health Trust, who turns 21 years this year, hosted a cross section of its clients at a cocktail event in Lagos on Wednesday to appreciate their support. The company reaffirmed its commitment to continuously add value to health insurance in Nigeria.
Speaking at the event CEO, Nick Zaranyika said THT has established itself as the leading provider of managed healthcare in Nigeria and its unrivalled 21-year industry track record has seen THT build a formidable reputation in Nigeria, making it the HMO of choice for over 200,000 members, over 500 corporate clients as well a key partner to the National Health Insurance Scheme (NHIS) under whose supervision the company provides cover for selected government institutions.
Total Health Trust (THT) is a leading pioneer in Health Maintenance in Nigeria. Its journey dates back to 1998 when the company started operations which marked the genesis of the managed healthcare sector in Nigeria. THT's vision is to provide Nigerians with access to affordable, quality health care while creating a sustainable environment in which healthcare providers can deliver services.
The company's success as a leading HMO in Nigeria attracted interest from an international investor which led to the introduction of a new innovative comprehensive fee for service health insurance product in Nigeria, which provides enrolees the freedom of choice when accessing health care, a first for Nigeria.   
THT has one of the largest networks of independent service providers, made up of over 700 private healthcare facilities and more than 1800 NHIS-accredited clinics and hospitals throughout Nigeria.
"Our services over the years have been consistent with the quality we espouse. We are proud to say THT helps make Nigeria healthier. We enable our customers to access affordable, reliable healthcare and we support healthcare providers in their efforts to deliver it. We manage healthcare so that our customers and our partners can thrive," the CEO said.
He assured the company's customers and partners of continuous superior services: "We know a wealthy nation depends on healthy citizens. As a business, we have championed innovative ways to improve health insurance in the country and we are committed to supporting our clients to ensure that their employees and their families receive the best healthcare possible in Nigeria.
"We are committed to a healthy Nigeria, and will continue to drive cohesion in the industry in order to achieve quality healthcare."