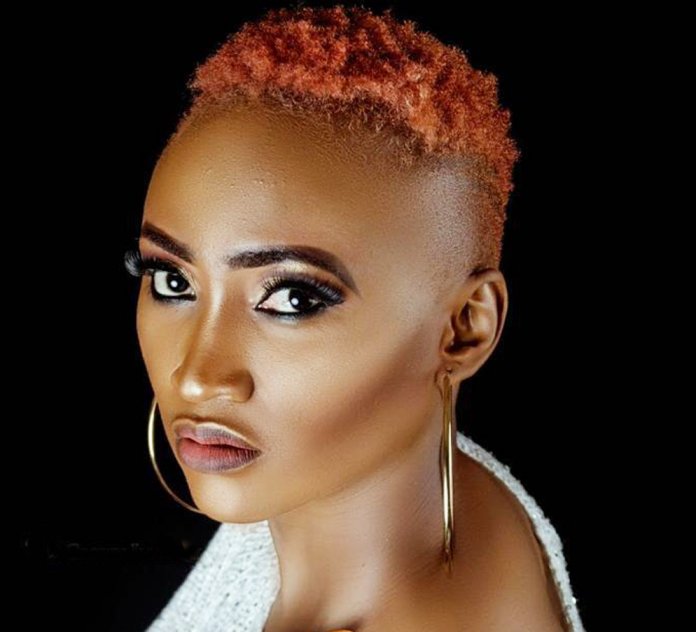 SUPERSATURDAY  
By Seyi Hunter
   

I Bring Smiles, Joy and Sexual Satisfaction to People
Seyi Kokomma Hunter is an actress, beauty pageant an organiser and  sex therapist. Aside the many shades that come with being a sex therapist, she has built her name helping thousands of people experience better sex life, getting proper sex education and spicing up their love life. Hunter tells Tosin Clegg more about her sex therapy career, the hurdles and challenges and everything thrilling about her sex therapy/education
I am an Akwa Ibom girl with an Igbo father  
I'm from a large family, grew up among lots of people. I was born and bred in Surulere, Lagos. I am an Akwa Ibom girl with an Igbo father. Growing up, I've always wanted to be in the entertainment industry. I started by selling tickets for Julius Agwu's show, 'Crack ya Ribs', and doing ushering jobs, while in secondary school. Then, I graduated to dancing in music videos. Before finally becoming a movie producer/actor, then got the international franchise for my pageant, Miss Bikini Nigeria International. Thereafter, I set up my Sex Vlog. I'm a graduate of Performing Arts from the Olabisi Onabanjo University, Ogun State.
I love and enjoy talking about Sex
I decided to share my passion to the world. The feedback was shocking, like the world was waiting for me and people wanted to learn. Lots of people lack sexual skills and so many men out there don't even know how to satisfy us. So, I started teaching them and mentoring some people. Then, I decided to make it a career, started taking online classes in Sex Education and Human Sexuality. I took it five steps further to enable me help people, since 80% of people out there have sexual issues.
My family is my bedrock
I'm from a good Christian home. But they support everything I do. When I wanted to start, I sat them down and told them. My mum and sister said carry go, we dey your back in Ibibio. As for friends, they supported me too.
The meaning of Sex
I would say it is when two or more people come together to explore and devour each other, till they're weak and unable to move for hours. You wanna have sex with me? You have to bring every damn thing in the book. Nigerians don't talk about sex openly but, amazingly, they love and appreciate Sinful Friday. The unique thing about Sinfulfriday with Seyi Hunter Uncensored is that 95% of what I teach is my sexual experiences. I make sure I practice it first, before coming to teach it.
Sinfulfriday WhatsApp Group is a paid platform
Sinfulfriday WhatsApp Group is a pay platform where people subscribe $15 monthly to be there. I teach sexual skills, sex education, mentoring, networking, I teach dirty talk, I'll bring out your A game. Once you are a member of the group, you have access to free seminars, counselling and therapy. And of course, we'll be having our first craziest party in Easter; it's going to come with live practical classes and more. It's going to be wet and juicy. I started the Sinfulfriday WhatsApp group in the second week of February. We have 122 members presently. I started it based on requests from my viewers. They needed a place where they can have access to me 24/7. We'll be moving to Telegram soon, because WhatsApp won't contain us.
I'm an extremely private person
I can be sleeping with your next door neighbour and you'll think he's my cousin. I love a man that spoils me silly, with gifts, care and 'sexcation.' He has to be very romantic and I need me a man that will give me TLC. I'm single and presently not in a relationship. Marriage is too overrated in Nigeria. If you find someone you're compatible with marry, if not face your career. Nobody should marry under pressure, as the rate of divorce is too high. Marriage to me is till death do us part, so I'll take my time till I meet the man whom God specially made for me.
My Sex Vlog has been smooth
Funny enough my Sex Vlog has been smooth; it's my beauty pageant that hasn't been easy in terms of sponsorship. One major blast I had was when two people sent in mail asking me to shut down my Sex Vlog saying I was sent by Satan from the pit of hell. I wish you can see the mails I receive and I post them on my Instagram page. People send in thank you mails, saying how I've helped their marriages and relationships with my videos and one on one Therapy. And I receive lots of gifts from men and women, especially women, they appreciate me a lot.
A good foreplay essential
A good foreplay is the bedrock of good sex. As for the advice, let everybody go and subscribe to my Vlog and watch all my videos. New videos come up every Friday. This new year, I'm focusing on building my brands, making my face and name known. I'm concentrating on doing more production, acting and building both my Vlog and the WhatsApp Group. I'm putting Miss Bikini on hold till 2021. Once I've built my face, I'll start back the pageant.
My Mentors and role models
They are every woman out there, who came from nothing but have made something of themselves.
My weirdest sex experience
I have plenty of them and I love outdoor sex, there's something about it that keeps me dripping. I've had sex in the club, balconies during the day several times, parking lots and Yatch. The Yatch is my best till date. It happened when I was in Europe on vacation. Smell of the water is intoxicating plus the waves, and people around heard me screaming. I love to experiment and try out new things every-time, I love to tie up my man and be in charge, and I also love to be tied. Then, I'm crazy about role play. I sell sex toys and Lingeries so I have lots of these things I use at my disposal. And I encourage couples to introduce sextoys in their relationship and role play. It keeps the relationship alive and warm and will make you have something you're looking forward to all the time. I'm not a regular girl, so I don't do regular. Can't remember the last time I had regular sex. I have a sex dice I use with my man.
I'm not a bad influence
My Vlog is 18+. I'm the best thing that has happened to people of our time, the sex goddess. I bring smiles, joy and sexual satisfaction to people. I make people's sexual dreams come true by bringing their greatest fantasies to reality. I deserve some accolades and awards.
Miss Bikini Nigeria stalled my acting career
I started Miss Bikini Nigeria about the same time I started acting; so it stalled my acting career. I had to focus on building the pageant and that affected me as an actor a great deal. I was working once in a while, not the way I should. Now, I've decided to put the pageant on hold for two years so I can concentrate on building my face. Once I've achieved that, sponsors will come easily and everything will flow. So starting this year, I'm giving acting 101% of my time. The Sex Vlog isn't in the way at all, I have people handling my sex toys and lingerie business. WhatsApp group is Online. So, everything is flowing. Miss Bikini is my baby; organising the event is always one of my best moments, but I'll miss that. The pageant has opened the greatest doors for.