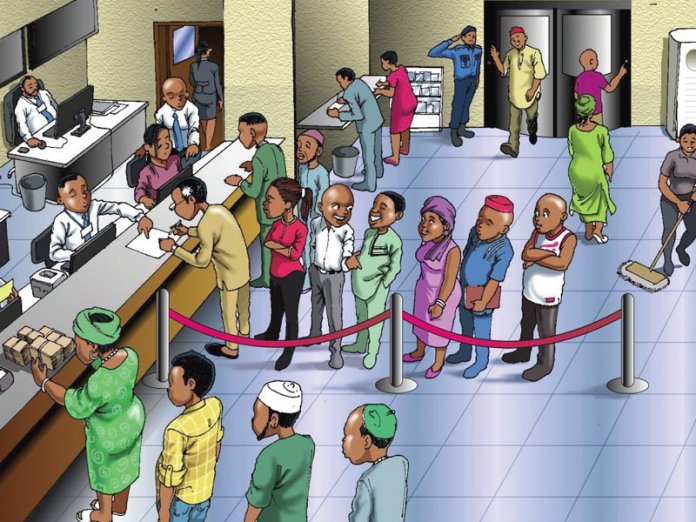 Obinna Chima writes on efforts to improve Nigeria's business environment
Globally, to realise economic gains, reduce corruption and encourage small and medium scale enterprises (SMEs) to flourish, unnecessary red tapes, among other bottlenecks must be eliminated.
In addition, specific safeguards must be put in place to ensure high-quality business regulatory processes.
According to the World Bank, Nigeria registered 75,380 business in 2016 (34,531 in 2006) against 376,727 and 3,418 registered in South Africa and Senegal respectively in 2016. Also, time required to start a business in Nigeria reduced from 30 days in 2013 to 11 days in 2018 (including activities such as registering a company, to opening a bank account and other requirements), compared with an average global decline from 27 days to 20 days over the same period. The report shows that there is more need to deepen reforms and advocacy.
That is why the federal government has been pushing for an improvement in the business environment.
Enabling business includes the promotion of norms and customs, laws, regulations, policies, international trade agreements and public infrastructure that facilitate the movement of a product or service along its value chain.
For long, Nigeria has suffered from the inhibitive developments, wittingly and unwittingly, with its economic consequences, including the reputational risks of being known as unfriendly business environment.
However, the Presidential Enabling Business Environment Council (PEBEC) has been on awareness campaign, with the goal of delivering reforms to improve the doing business environment, and moving Nigeria into the top-100 on the 2020 World Bank Doing Business Index (DBI).
The DBI is a yearly ranking that objectively assesses prevailing business climate conditions across 190 countries based on 10 Ease of Doing Business (EoDB) indicators, and offers comparative insights based on private sector validation of reforms delivered in the two largest commercial cities in countries with a population higher than 100 million.
The report consequently features Lagos and Kano states for Nigeria. The 2019 report disclosed that there was an improvement in Nigeria's Distance to Frontier (DTF) score by more than 11 basis points over the past three years. This means that Nigeria has improved its business regulations as captured by the doing business indicators, and is narrowing the gap with global regulatory best practice. But it is still work-in-progress.
The success so far, has been driven by the implementation of over 140 reforms by PEBEC over the period, which also resulted in the country moving up 24 places in the rankings over 3 years.
With PEBEC's new National Action Plan (NAP 4.0) focusing on deepening reforms and driving compliance, which would run from the 1st of March till the 30th of April 2019, it is expected that the benefits of the reforms will be fully realised to give strategic support economic activities.
One of the earliest gains now is the possibility of reserving a company name within four hours and registering a new company with the Corporate Affairs Commission (CAC) within 24 hours from the time of submission of all documents for registration with the commission. It was not possible before now.
By this development, SMEs can get help in registering companies from any of the customer service support centres at all the CAC offices nationwide and reserve a business name on the CAC Registration Portal (CRP) within four hours if they submit the request before 2pm on a working day. It costs only N500 to reserve a business name. In addition, all the documents for registration only need to be submitted on the CRP in PDF format with a size no larger than 5MB. This process does not take more than 30 minutes.
Speaking at the 10th Presidential Quarterly Business Forum in Abuja, the Secretary of PEBEC and Senior Special Assistant to the President on Industry, Trade and Investment, Dr. Jumoke Oduwole, said about the target: "We know it is bold, but we are quite clear on what our mandate is and are motivated by the impact these reforms will have on the lives of Nigerians."
Business Registration
According to PEBEC, steps to register a business have been simplified further. For example, after applicant checks that the intended company name is available on the CAC website and then reserves it, applicant completes pre-registration form: CAC 1.1 online using the CRP and makes payment for filing and stamp duty – all the fees are available on the CAC website.
The applicant signs the pre-registration documents and uploads for processing the CAC 1.1 form; Memorandum and Article of Association (MEMART) retrieved from the CAC website; recognised form of identification for directors/subscribers and secretary; and evidence of payment made to CAC. After these, the applicant will receive the company certificate and Certified True Copies of the documents in return and within 24 hours the company is registered. The Tax Identification Number (TIN) is also automatically generated and sent electronically to the email address of the first company Director, so applicants must ensure that the email is accurately provided when filling the forms.
Vice President, Yemi Osinbajo, has reiterated that the enabling business reforms spearheaded by PEBEC are eliminating unnecessary physical visit to CAC, which could take up to 10 days to register a business; physical visit to the Federal Inland Revenue Services to get a Tax Identification Number (TIN) or register for Value Added Tax (VAT); physical inspection of business premises before issuance of Business Premises Permits; engaging an accredited agent for registering a company with the CAC; and requirement to fill and submit several documents and forms.
On the other hand, applicants are now registering their businesses in the comfort of their offices or homes. Registration of business premises in Kano State is also now automated, and electronic certificates are sent to applicants after the registration process is completed. This process takes 1 day to complete. Also, the cost of N60,000 for engaging an agent is eliminated and incorporation documents merged into a single CAC Form 1.1, eliminating additional N4,000 on documents.
Of course, the new narrative is encouraging registration of businesses, with the prospects of improving tax collection likely to promote economic growth and development. It also enhances transparency, as payments are made into the Treasury Single Account (TSA).
Continuing, Oduwole added: "This year, we intend to strengthen the collaboration with MDAs and partners to consolidate and build on the work done.
"We will be pursuing the implementation of much-needed legislative reforms, specifically the passage of the CAM Bill and Omnibus Bills; the expansion of the regulatory reform programme started with National Agency for Food, Drug Administration and Control and National Insurance Commission to include other regulators.
"Also, we will pursue the establishment of a National Trading Platform for ports and the concession of our major international airports. "We also aim to continue to cascade the Ease of Doing Business initiatives down to the sub-national level, working with the state governments and will release the first sub-national survey report this April.
"We remain firm in our conviction of the immediate and long-term benefits of the PEBEC reforms. We have put in place frameworks for improved communication and engagement between government stakeholders and private sector players, as we intend to ensure the reforms are validated," she said.
National Collateral Registry
Also, as part of efforts to improve the business environment, the federal government in collaboration with the International Finance Corporation (IFC) had established the National Collateral Register (NCR).
The NCR is a financial infrastructure that seeks to deepen credit delivery to MSMEs through enhanced acceptability of movable assets – equipment, machinery, vehicles, Keke – NAPEP, crops, livestock, account receivables, inventories, and jewelry – as collateral for loans by financial institutions.
It is a registry where security interests in moveable assets are registered after being used as collateral to obtain facilities from financial institutions.
NCR allows lenders to assess their priority interest in potential claims against particular collateral.
The objective, it was learnt, is to enhance financial inclusion in Nigeria, stimulate responsible lending to MSMEs, facilitate access to credit secured with movable assets, perfect security interests in movable assets, facilitate realisation of security interests in movable asset.
The key deliverable of the registry is to promote the acceptance of movable asset as collaterals for loans and contribute to economic growth and development of the country.
It was signed into law in 2017 by Vice President Yemi Osinbajo, during the period he acted as president.
Presently, a cumulative of 154,827 MSMEs have used movable assets valued at N1.561 trillion to obtain loans from financial institutions since the NCR was passed into law. The latest NCR report obtained by THISDAY had showed that a breakdown of the amount recorded between January 1, 2017 and December 19, 2018, put the value of the assets at N1.209 trillion; $1,142, 389,799.12 (N349,571,278,530.72) and €6,080,004.36 (N2,121,921,521.64).
The report also revealed that of the 154,827 MSMEs that used their movable assets to obtain loans from financial institutions, 22,251 were female-owned MSMEs.
It stated, "Considerable number of borrowers secured credit from financial institutions in 2018 using their movable assets as collateral. The high number of borrowers that secured credit in 2017 is attributable to the high participation of smallholder farmers under the CBN Anchor Borrower's Programme using cross-guarantee as collateral.
"During the year under review, there was an upsurge of lending using movable assets as collateral. This is attributable to the increase in the number of microfinance banks on the NCR portal as well as increased participation of deposit money banks and non-bank financial institutions. Out of the total amount of N1,209,381,006,933. 90, a sum of N43,618,262,792.17 went to female MSMEs."
Therefore, efforts to eliminate major bottlenecks in doing business, better access to credit and power shortages will go a long way in stimulating growth in the country, promote job creation and contribute in alleviating poverty.