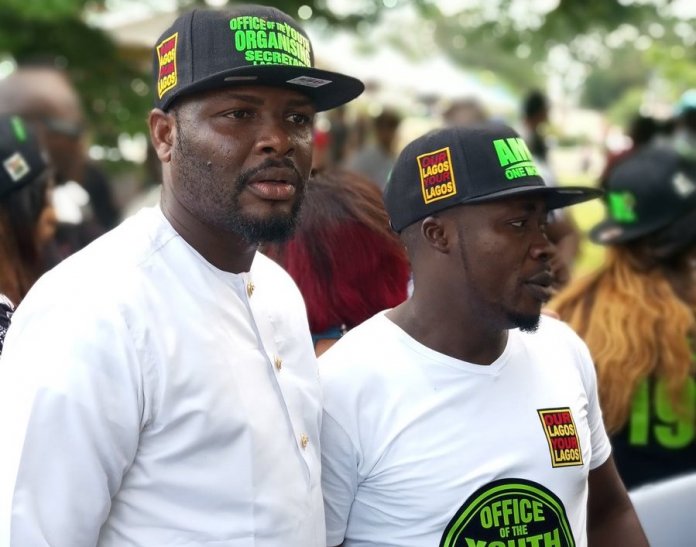 By Ayodeji Ake
Youths of the All Progressives Congress in Lagos state on Monday have condemned opposition parties who may  promote anarchy and inciting violence amongst its residents.
At a largely attended meeting held at Ajeromi area of Lagos, the Youth Organising Secretary, Aregbe Idris, disparaged People Democratic Party, Lagos gubernatorial candidate, Jimi Agbaje,  noted Lagos is too sophisticated to propagate unholy sermons of discord and enmity against the backdrop of personal gains.
His words: "A man who sees politics as a business transaction shouldn't and must not be taken seriously. There's absolutely no doubt that some people do not mean well for Lagos and Jimi Agbaja is certainly one of them.
"In the last decade, the politician hasn't pulled off any significant achievement and no single soul has been able to substantiate or benefit from his political aspirations for twelve years" he said.
In the same vein, Aregbe enjoined the youths in the state to throw their massive weight behind Sanwo-Olu and Obafemi Hamzat by coming out in masses to vote the duo and the party's candidates across the state, irrespective of their ethnic backgrounds.
"A win for the APC is a blow struck for a grander and vibrant Lagos, as I strongly believe in the intellectual capacity of Sanwo-Olu and Obafemi Hamzat to drive Lagos to a greater height, create opportunities for all and strengthen the fabric of unity existing in the state. And these are the breeds of leaders that we need and not some misguided elements with uniformed sense of reasoning," Argebe stressed.