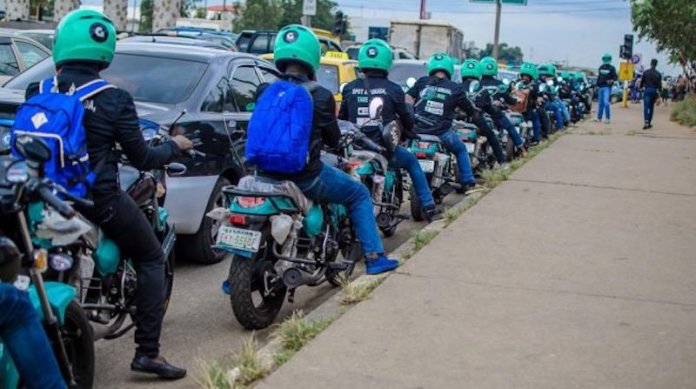 Sunday Okobi and Oluchi Chibuzor
As Gokada, a tech-enabled motorcycle taxi start-up in Lagos celebrates its one year in transport business, the management of the company has said it is strategising on how to provide reliable alternative means of transportation in Nigeria.
The two-wheeled transport company, which also opened its corporate office to serve as a training centre for its teaming corporate riders in commemorating its one-year anniversary, said it has positioned itself as the future of reliable transport in Nigeria.
The Chief Executive Office of Gokada, Deji Oduntan, who disclosed this to journalists at a media briefing in Lagos recently, said the need for safety and solution to traffic congestion in Lagos necessitated the establishment of company and the consequent training centres for riders on their platforms.
According to Oduntan, "We are here because we want to celebrate one year in business and we are using this opportunity to also launch our new office.
"The reason behind this is because we see ourselves as the future of reliable transport here in Nigeria. We understand that there are several transportation options for people in Lagos, however what we noticed is that there is a huge problem of traffic which Lagosians have faced for many years.
"Thinking about how to solve this problem, we asked ourselves how do we move people around Lagos quickly without them being hindered by traffic, which was difficult for us because motorcycle riders are associated with high level of accidents and crime but we knew that coming into this market, we wanted to change the narrative, we wanted to give people the service they can use quickly and safely, here we are today."
According to him, "In one year, there have been a few things we have been able to achieve, and I think it has been an awesome year for us for us to be able to launch a new office in one year.
"In this one year, we have been able to create a very strong affection for our products, we have thousands of customers who have downloaded our apps and want to use our service to different places. I think in one year, there is a strong demand for our product."
He added: "Looking at the speed and safety, we felt well positioned to solve traffic problems as user can connect with the riders at ease from anywhere close to them using the app from their mobile phones."
He said Gokada is just not a motorcycle platform, saying, "we just started with motorcycle because that is the immediate need of customers."
"Beyond motorcycles, we feel we are capable to provide multiple services to the average customers in Lagos. We are also going to explore other avenues like ferries."
The Gokada boss said because of the nature of the business, they have put in several measures that would mitigate risks and improve their acceptance in the market, as they are in the transport industry for a serious business.
Oduntan, further noted that the firm has insurance package built into their operation for every rider and customer who uses their services.
"On our platform, users are able to connect to the nearest drivers who we do standard background checks, guarantor checks and verification that reinforce the safety element of our business," he stated.
The tech-enabled motorcycle taxi start-up, which also conducts a psychological assessment, oral interview and a riding assessment, said they have recorded 0.01 per cent accident rate within the period, adding: "There is a comprehensive insurance package so that if there is an accident, Gokada will stand in for them."
However, just like every Small medium Enterprise (SME), Odutan said finance had been a challenge to further expand in term of acquiring more bikes to cope with the demand, appealing for funding partners to consider investing in the business
"Basically, we are looking for financial partners who can help us acquire more bikes and we operate and pay them some amount in return. This would be a great deal, and we hope by 2019, we would be able to get the right financing partners to help us get more bikes in order to offer great services to our customers in Lagos and beyond," he said
Send