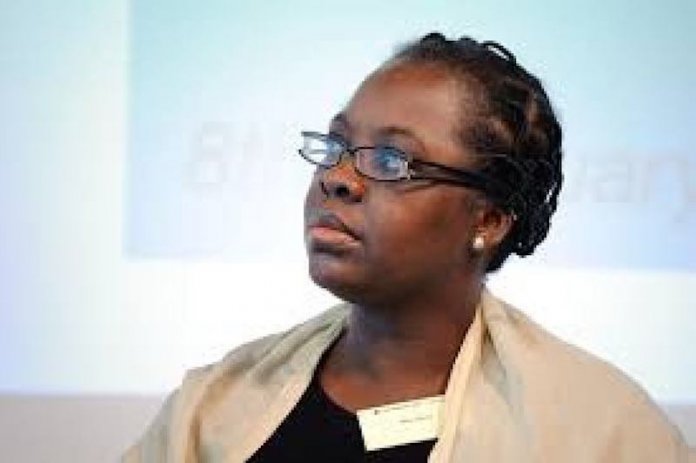 Yinka Olatunbosun
Agreat number of members of the art community in Lagos bade farewell to the outstanding curator and global citizen, Bisi Silva in a solemn ceremony that followed her funeral service last Thursday. The black theme for the outdoor event was an indicator of the general mood of many who considered her death as untimely and a monumental loss to the art scene, both domestic and international.
In celebrating her life and times, an exhibition of memorabalia from some of the art projects curated by Bisi Silva was staged at the Freedom Park, Lagos Island by the Centre for Contemporary Arts, an organisation that she founded about a decade ago.
A bicycle wheel installation titled, "Richardson Ovbiebo's Clan" was quite a catch within the white walls of the exhibition hall. The work was described as a continuation of the artist's interest in social economies found in Lagos.
Beneath the glass against the wall were the paper clippings- a pot-pourri of programme notes and posters from past exhibitions curated by Silva as well as CCA's tenth anniversary in December, 2018. These exhibitions include El-Anatsui at 70 exhibition titled, "Playing with Chance", Kelani Abass' solo exhibition titled, "Asiko" which featured paintings and installations- some of which were on display.
Additionally, works from artists, Ndidi Dike and Taiye Idaho were reminders of the late curator's interest in developing individual artists, allowing each to have a distinct voice.
CCA's contribution to the art knowledge economy under the watch of Silva was articulated through a showcase of the literary pieces that had been published by the Centre. One of them is J.D. Okhai Ojeikere's book.
With culture activist, Jahman Anikulapo as the compere for the evening of tributes, the memories of the late curator were evoked through a series of tributes and performances. The music interlude was a medley of eclectic collections which were symbolic of the cosmopolitan lifestyle that Silva lived.
Sinmidele Adesanya, the founder of Mydrim Gallery in Lagos was the first to pay tributes to Silva. Describing the late curator as her friend and chief consultant, she chronicled their friendship and journey through art discoveries.
"She made me travel the world. Bisi was the brain behind the Institute of Visual Arts and Culture. She made life so interesting. She organised an art workshop at the Ahmadu Bello University and brought speakers from all over the world to broaden the understanding of art," she revealed.
Adesanya also recounted Silva's last moments in Lagos after a protracted battle with cancer.
"She was an eternal optimist. She didn't let the illness wear her down. She kept working. No one can tell the story of the visual arts in Nigeria without the mention of Bisi Silva," she said in an emotional speech.
That same emotion welled up in another leading art curator, Sandra Mbanefo-Obiago during her speech where she described Silva as "a star". Being a widely travelled curator as well, she understood how Silva's international repute travelled ahead of many curators from Nigeria. She ended her tribute on a very touching note.
"I'm so honoured. I'm so proud and I'm so empty," she said.
Nothing compares to the priceless tribute from Mojibafe Oladunjoye, a nephew to Silva who said he'd keep his tribute short as his late aunt would have wanted. Describing her as "Ajala traveller" and "dynamic thinker", he made some highlights of the lessons he learnt from his late aunt.
"Be good to people. Show empathy. She taught me how to read. She's the only one I know who reads junk mails," he recalled.
He switched to French while reading a quote from Helen Keller which roughly means, "All that we deeply love becomes a part of us."
Next, it was the turn of artists, who had enjoyed Silva's mentorship. One of them, Taiye Idahor gave Silva the credit for building her self-confidence as an artist.
"Bisi taught me how to talk. She made me have the confidence that I have today. I worked with her part-time and then full-time," she said.
Speaking for the Committee for Relevant Art (CORA), the cultural activist, Toyin Akinosho recalled Silva's biting commentary in her informed criticisms of Nigerian art.
After the goodwill messages from Arterial Network in Harare, the cast of "Hear Word" led by Ifeoma Fafunwa paid homage to the lost curator in the presence of the curator's sister and actress, Joke Silva.
A documentary movie on Bisi Silva directed by Remi Vaughan-Richards was screened after the audience had joined Seun Olota and his team in performing Frank Sinatra's "My Way".