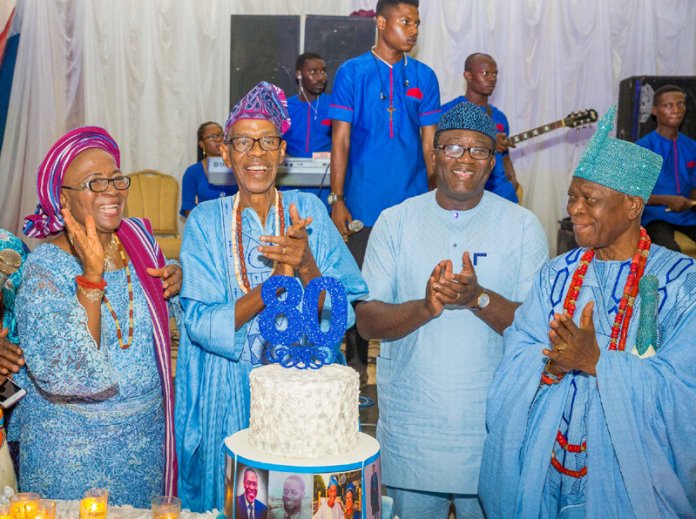 For two days last week, Ado-Ekiti, the Ekiti State capital, wore a carnival-like air as hundreds of eminent personalities including royal fathers and the state governor, Kayode Fayemi, converged on the city from within and outside the country. The occasion was the 80th birthday celebration of renowned educationist and administrator, Chief Olusola Bayode, who was the son of a preacher.
Bayode was the founding principal of Aisegba Community Grammar School (1972-1984) and principal of his alma mater, Christ's School, Ado-Ekiti (1984 -1994). He is widely revered across Ekiti and Ondo States as a man who has moulded the lives of thousands of huge successful individuals.
The programme was initially scheduled for between Thursday, February 21 and Saturday, February 23, but it was brought forward owing to the sudden postponement of the recent presidential election.
Quite conspicuous at all the events were members of the Class of 87 of Christ's School Alumni Association. Members of the set at the event, whose president, Morakinyo, is Chief Bayode's son, include Deji Bamgboye, Ayo Owolabi, Joe Adeleye (all of whom flew in from the United Kingdom), Wale Aribisala (PDP National Treasurer), Ope Obafemi, Tope Adeboboye, Olukorede Oni, Taiwo Adedoja, Akin Elegbe, Samson Olujobi, Dr Bola Balogun, Odunayo Adebiyi, Dapo Akinwunmi, Subulade Adeboye, Toyin Omotosho, Sola Adigun, Ola Zacchaeus, Poju Asaolu, Chief Olatunji Obayemi, Niyi Falodun, Owoola Daramola, Gbenga Ojo, Taiwo Omifenwa, Sola Oyewande, Akin Akinyemi and Gbenga Fadipe.
The birthday ceremony thus commenced on Wednesday, February 20 with a communion service at the Christ's Church, Ureje, Ado-Ekiti. Shortly after, guests converged on the Christ's School Alumni Centre near Fajuyi Park for the presentation of 'The Preacher's Son,' Chief Bayode's autobiography, where dignitaries lavished encomiums on the celebrant.
They included a retired justice and Oluyin of Iyin Ekiti, Oba Ademola Ajakaiye, former national President of the Nigeria Medical Association (NMA), Lawrence Kayode Obembe, and several serving and retired principals of secondary schools in Ekiti State, among others.
Family members of the educationist, including his children and grandchildren were all present.
Speaking on her father, Bola, the eldest child said: "He is so compassionate. He couldn't eject a tenant who owed money because my father thought that ejecting a son of a priest would be injustice. He is highly principled. He is charming, swerve, very committed to our school fees. He never played with our education. And I recall how his own father sacrificed to get him educated.
"He has his camera, and because of the pictures he took when we were young we have many things to tell our children. He is highly domesticated. He and I do fight a lot, but now that he is older, he has become soft with me. His entire life has been about the school, church and his home, Ikere."
Morakinyo, a London-based architect, who is the first son said: "We thank God for the success of the event," he said. "I know it has always been his passion and dream to write about his life, his career and experience as a road map for younger school administrators coming behind him and to leave footprints for younger generations.
"So, he has been saying he would do it and finally he has done it. We thank God this is happening in his lifetime."
While describing the personality of his dad, he said: "I thought I knew a lot about him until I read his book which showed me lot things l was never familiar with. My father is a very strong and principled man, a man of very high and exacting standards.
"Some people see him as stubborn and unyielding. He will never compromise. He is a man who sets high expectations for himself and the people around him. He has impacted and built a lot of lives. We his biological children are not his only children.
"He is not a perfect man, but a man who has done his best and has given more than he has taken from the society. He is a great educationist, great administrator and great manager of men. It's an honour to be his son."
Kayode Obembe, an old boy of Christ's School, who also eulogised him said: "l had left Christ's School before he became principal, so we did not interact at that level. But when I became president of Christ's School Alumni Association, I interacted with him, and it was through his advice that we put in place what we call the Elders Advisory Council. That was why we were able to complete this building, the Alumni Civic Centre in my regime 40 years after the foundation was laid."
Pa Deji Fasuan, who also spoke glowingly about Bayode, praised him for developing agriculture and planting trees when he was principal.
"Even before I met him, his fame had spread as the only principal then in the old Ondo State who was planting trees and encouraging agriculture on a massive scale.When we eventually met, I liked him the more. Even though he used to be very stubborn, we made the best of our relationship," he said.
Members of the All Nigeria Conference of Principals of Secondary Schools (ANCOPSS) in Ekiti State decorated Bayode as a Fellow of the body in recognition of his sterling contribution to the association and service to humanity.
While reviewing the book, 'The Preacher's Son' Professor Kunle Adegun, said: "Chief Bayode in his book gives meticulous details and guidelines that could help guide the younger ones and younger school administrators on how best to run the affairs of the school."
A thanksgiving service was held the next day at the Christ Church, Ureje, Ado-Ekiti where all the priests glowingly eulogised Chief Bayode, his wife, Chief (Mrs) Morohunmubo Bayode. The presiding Bishop tasked the youths of today to emulate Chief Bayode's sterling attributes, which he noted would help build a better future.
Later that evening, the guests relocated to the AB Events Centre, Adebayo area of the state capital where they were treated to scintillating songs and assorted sumptuous food and drinks. The special guest at the event was Ekiti State governor, Dr. John Kayode Fayemi.
In his remarks, Fayemi described Bayode as a committed Christian, a disciplinarian, a foremost administrator and educationist and an exemplar of the totality of Ekiti values.
"His reputation preceded him at Christ's School. His term brought stability to the school. He is absolutely committed to his family, to his hometown, Ikere-Ekiti, to the church, the Anglican Communion. We are so fortunate to have such a man like Chief Olusola Bayode in Ekiti," the governor said.
Members of the Class of 87, Christ's School Alumni Association, got a resounding ovation at the event following their beautiful rendition of Ogboju Omo L'aye Nfe, a song made popular by Chief Bayode during his term as principal of Christ's School.
Born to Rev D.F. and Mrs. G.A. Bayode of Ikere-Ekiti, Chief Olusola Bayode was President of the All Nigeria Conference of Principals of Secondary Schools (ANCOPSS) in the old Ondo State (comprising Ondo and Ekiti States between 1989 and 1993. Happily married for 53 years, Chief Bayode is a life member of Full Gospel Businessmen's Fellowship International. He has been decorated with dozens of awards and honours.