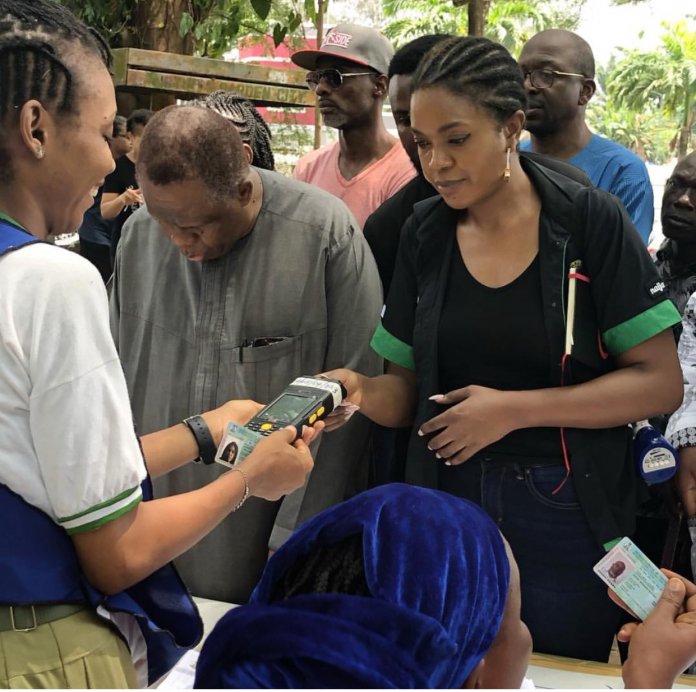 At the recently held presidential and National Assembly elections, THISDAY monitored the social media handles of celebrities and it was obvious majority obeyed the clarion call by turning out en mass to perform their civic responsibilities. Ayodeji Ake and Sunday Ehigiator profiled those that voted and those who did not
The Performers
Celebrities are often seen as role models by their teeming followers. Little wonder their fans often take their word as creed. From influencing their lifestyles to dressing, food choices, and even to the most basic things, celebrities influence their fans either positively or negatively. At the just concluded elections, it was a gamut of positive influence as many of them took the entire process serious. They took to their respective social media handles to urge their fans to go all out and vote. On the Election Day, they also inundated their fans with pictures of themselves at their respective polling units. Suffice to say that the turn out of celebrities who voted this year was quite impressive, a move that went a long way to ameliorate voter apathy among their teeming fans.
Kate Henshaw
For the veteran actress who has been always been vocal about politics, it was a no brainer that she would vote. On her Instagram page, her clarion call on the day of election was, "as we head to the poll, let's exercise our right to vote wisely and peacefully. Say no to election violence".
Omoni Oboli
The actress-cum-producer pulled all stops just to vote. She flew back to Nigeria from her Canadian abode only for the elections to be postponed. Despite that, she stayed till the next week to vote. On the Election Day, she went to her polling unit as early as 6am and when people trooped in to vote, she helped organise them to avoid chaos. So passionate was she about the process that she stayed way above and beyond duty till 1am, to make sure the entire process was rounded off. She further promised the six youth corps members that worked with her N10,000 each. According to one of her posts, "I have performed my civil responsibility..election not war. God bless Nigeria."
Mercy Johnson
Days before the election, the Nollywood delight was in Dubai with her husband on vacation. But to perform her civic duties she came back and voted. After standing in the queue to get accredited and vote she said: "Melanin is no longer popping. I was under the sun and my brain has reset, but I am so glad I voted and it was a peaceful process."
Tiwa Savage
According to the Mavin crooner, Tiwa Savage, who also turned up to vote, "you have to stand up for something than falling for nothing."
Toyin Abraham
Nollywood actress Toyin Abraham also voted. While fulfilling her civic duties she wrote, "We are exercising our civic responsibility. Out here to vote."
Pastor Paul Adefarasin
For Pastor Paul Adefarasin and wife, Pastor Ifeanyi of House on the Rock and congeners of the much touted The Experience, it was a call to civic duty.
The beloved cleric and wife were not left out. He wrote on his page afterwards: "My family have voted and we voted for what will make Nigeria a much stronger and greater nation. It's important you do the same. Be patient, your vote does count."
Pastor Sam Adeyemi
The Head Pastor of Daystar Church, Pastor Sam Adeyemi showed that prayers for a better nation without action is void. According to him, "It's a new day. Vote prayerfully and thoughtfully. Have the picture of a developed Nigeria in mind. Choose leaders that can make it happen. God bless Nigeria."
Rita Dominic
Fondly referred to 'Riri', veteran actress and producer of The Meeting, Rita Dominic also voted. After the process she said; "Civic duty done. It went smoothly at my polling station."
Ufuoma McDermott
The Hear Word actress, Ufuoma McDermott was among those that went all out. At her polling unit, she helped organise the voters. She said, "I have done my part and helped in the organising process. It was tedious but it was worth it."
Annie Idibia
The actress and African Queen said: "I am excited to vote. Then again, I pray and hope it will be free and fair. May the universe hear the cry of every Nigerian and come through for us. Amen."
Tuface Idibia
Nigeria's legendary singer Innocent Idibia, also known as Tuface Idibia also voted. Given his recent passion to condemn the wrongs in the society, a no show would have drawn flaks. While at his polling unit in FESTAC Town he said: "May the winner win. One love."
Folarin Falana a.k.a Falz
Folarin Falana was one who definitely put his vote where his mouth is. Given the recent release of his self-conscious songs that highlighted the underbelly of things going wrong in the society, Falz was certainly expected at the polls and he did not disappoint. He wrote: "Heading out to exercise civic responsibility. Let our voice be heard."
Simisola Ogunleye
The Jamb Question crooner and newly married Simisola Ogunleye also voted. She said; "Put your vote where your mouth is, in the sun and rain."
Femi Otedola
The oil manage and Forte Oil boss, Femi Otedola stunned social media users when a picture of him standing on the queue emerged. Although many expected him to claim privileges and vote ahead of others, he queued up until it was his turn. He later said: "Saturday, Nigeria decides..ready to vote."
Florence Otedola a.k.a DJ Cuppy
His daughter Florence, who is known as Dj Cuppy was not left out. She said: "Even with today blaring sun, we will sweat and vote."
Tony Elumelu
The H.E.I.R.S Chairman and serial entrepreneur, Tony Elumelu also voted. He wrote this: "Coming out today to vote and observing other Nigerians enthusiastically exercising their civic right brings me hope for our country and for Africa. Participatory democracy is good for development. Let us all play our part."
The Non Performers
These set of celebrities for one reason or the other did not vote because most of them were out of the country. That impediment however did not stop some of them from urging their teeming fans to vote
Tonto Dike
Prior to the elections, Nollywood actress Tonto Dike was all out in sensitising her followers. However, she did not vote as she was in Dubai for a documentary shoot fulfilling her ambassadorial role for a perfume company. In an earlier message on her page entitled, 'Peace Message from King Tonto Dikeh', she said, "As we journey towards the 2019 election, The Tonto Dikeh Foundation urges us all to involve in activities that will engender peace before, during and after the election. The campaign christened: Stand For Peace. rises against electoral violence; caution must not be thrown to the wind as tension rises in the land, but deterrence to violence must be carried out to safeguard human lives and the nation at large. We all should avoid the instigation of violence 'Say No to Violence', vote not fight and aim at replacing 'love for power' with 'Love for peace'. Exercise your civil rights; cast your vote, thereby creating an atmosphere for a free and fair election. Let the interest of all be put above personal interest. Peace not Violence. Be a Bearer of Peace."
Davido
The 26-year-old pop musician David Adeleke was in South Africa for a scheduled event, thus he missed the election. He was however vocal on Twitter where he expressed his thoughts about the election.
Burna Boy
Popular musician Burna Boy did not also participate in the elections on Saturday, as he revealed he was at Los Angeles. He said: "Come party with me tonight at the savoy nightclub, Inglewood".
Teni da Entertainer
The 25-year-old Afro-pop singer was headlining a concert in London on Sunday; February 24 and so wasn't in the country to exercise her civic rights
Zlatan Ibile
Indigenous rapper, Zlatan Ibile also via his Instagram page gave indications that he didn't vote, as he was performing at various concerts in the United Kingdom over the election weekend.
Omotola Jalade Ekeinde
Screen goddess Omotola Jalade Ekeinde was not in the country as she attended the Oscar awards which held on Sunday in Los Angeles. She was one of the judges.
Anita Joseph
Fondly referred to as mother hen, because of her love for Alex Asogwa of Big Brother Nigeria, Nollywood actress Anita Joseph did not also vote as she was on vacation. She however urged her fans to "Vote wisely, your vote is your power. I will be counting from here".
Genevieve Nnaji
Lionheart producer and Nollywood sweetheart, Genevieve Nnaji did not also vote. A cursory look through her Instagram page showed she was silent about the elections entirely. However, a picture she posted on her page gave a clue how busy she was. According to those in the know, the picture was taken at Dreamworks Studio in California, which might mean that another collaborative work might be in the offing. Her films Lionheart was bought by Netflix.
Dakore Akande
Though she wasn't on ground to exercise her civic rights, Dakore Akande was far in Los Angeles raising the flag for Nigeria and Nollywood. In a solidarity post on her page she said: "Proudly Nigerian; in solidarity as I'm unavoidably not around to vote, I carry Nigeria in my heart. Please vote your conscience and shun violence of any form. We are one!"