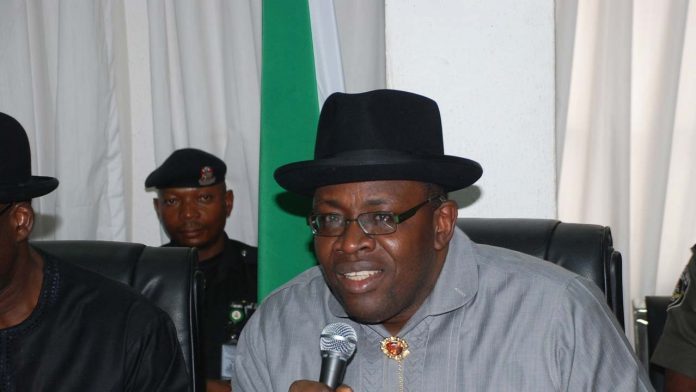 By Emmanuel Addeh in Yenagoa

Governor Seriake Dickson's mother, Madam Goldcoast, yesterday started the final leg of her journey home, in an event that witnessed the presence of former President Dr. Goodluck Jonathan, former Minister of Information, Prof. Jerry Gana, a former Deputy  Senate President,  Senator Ibrahim Mantu and ex-Deputy Governor  of  Sokoto State, Alhaji Mukhtar Shagari.
Also in attendance were the Chairman of the Bayelsa State  Council of Traditional  Rulers, King Alfred Diete-Spiff, former Minister of the Environment, Mrs. Lauretta Mallam, ex-Military  Administrator of Bayelsa State, Col. Paul Edor Obi (Retd), another former Minister of State for  the Environment, Mrs. Sarah Ochekpe and top officials of the Bayelsa State government.
During the ceremony which took place at  the state Ecumenical  Centre,  Igbogene, Yenagoa, the guests paid tributes to the 72-year-old woman who died of cancer a few months ago.
Jonathan, in his comments, said Mama Gogo, as she was fondly called, was diligent in the service of the Lord, and demonstrated exceptional motherly love as captured in the tribute by her daughter-in-law, Dr. Rachel Dickson, wife of the governor.
He said that only a God-fearing lover of humanity would give the support Mrs. Goldcoast gave to her daughter-in-law as captured in the emotional tribute by the Bayelsa First Lady.
Mrs. Dickson had given a detailed account of how Ma GoldCoast Dickson prayed with her, encouraged her for the 15 years that she had a challenge with having children before the birth of the quadruplets about two years ago.
She described Mama Goldcoast  as a jewel of inestimable  value who did not differentiate between her and her biological daughters.
Also, Prof. Gana said that Mama Goldcoast lived an exemplary  life, worthy of emulation as demonstrated by the achievements and integrity of the children she raised.
He described  her as a woman of integrity  and lover of children who had nurtured her children  and all those who came her way to achieve  successes in life.
Governor Dickson in his response, expressed  gratitude  to Bayelsans, various leaders across the country, friends and other sympathisers who had shown concern and support to him and the Dickson family over the demise of his mother.
The remains of Madam Goldcoast would lie-in-state in Toru Orua for a traditional  and Christian wake after which she would be interred in her hometown,  Toru-Angiama, today.