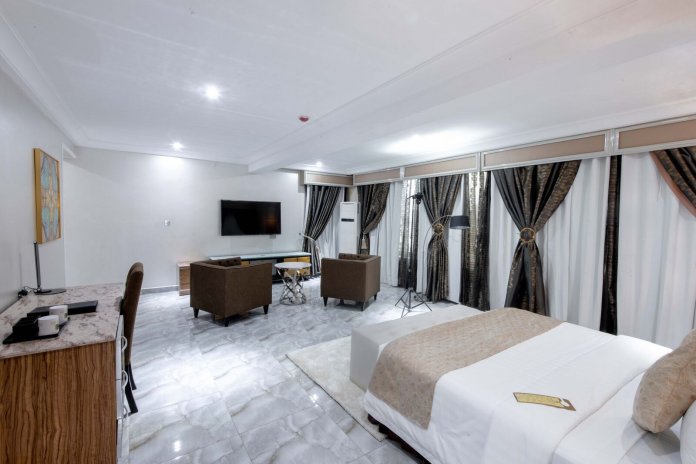 By Bennett Oghifo
The Wells Carlton Hotel and Luxury Apartments, a five-star luxury hospitality icon in Abuja, will be formally inaugurated by
Vice President, Professor Yemi Osinbajo.
The launch, which will take place on December 15, 2018 according to officials, promises to be an exclusive, first-class event with an unequalled convergence of the nation's elite and a grand celebration of achievement, excellence and luxury.
The facility's slogan, "the grand experience of luxury", is no mince of words! A tour of the Wells Carlton Hotel and Luxury Apartments is a surreal, fantasy-like journey into a glamorous world of pure luxury and gratifying indulgence. It is a flamboyant display of unending pleasure.
The sprawling facility features an endless wave of sophistication, style and glamour that would leave anyone breathless with longing. From walkways filled with iconic works of art, building fixtures of unparalleled craftsmanship, architectural finishings of aesthetic perfection, and a modern style that is second to none, the Wells Carlton Hotel and Luxury Apartments is an experience guaranteed to leave guests in the throes of lasting impression.
Majestically situated in the plush Asokoro district of Abuja, the Wells Carlton Hotel and Luxury Apartments feature 55 elegantly bespoke rooms and deluxe suites, as well as a conference center (and meeting rooms) which are perfect for private meetings and corporate events. The epitome
of sheer luxury boasts an amazing roof-top terrace that offers a
transcendent view of the Federal Capital Territory, allowing guests an elevated experience and a secluded ambience of serenity. It also offers avant-garde bars and four world-class restaurants which serve both continental and local cuisines. In addition, the Wells Carlton Hotel and Luxury Apartments provide a world-class gym and enchanting state-of-the-art swimming pools. Among numerous other hospitality services and premium offerings, the Wells Carlton Hotel and Luxury Apartments offers guests the convenience of an international gift shop.
The hotel spa, named Tirta Ayu, is an exotic haven where guests are treated to authentic Japanese and Indonesian spa experiences: a blend of ancient therapeutic remedies and modern-day spa rituals for healthy living and total well-being. It's certainly an out-of-this-world experience.
As a crowning jewel, the Wells Carlton Hotel and Luxury Apartments offer its guests 14 breath-taking and stunning Luxury Apartments and Penthouses, which simply put, must be seen to be believed! Level of detail, attention to excellence, breath-taking splendour, and the provision of every imaginable comfort and facility makes these accommodations stand out from anything obtainable anywhere in the world!
Chairman of The Wells Carlton Hotel and Luxury Apartments, Captain (Dr.) Idahosa Wells Okunbo JP (a man whose reputation, needless to say, precedes him), has spared no expense in creating this world-class icon for those who demand only the very best.
In his words, "This is a brand to which I have attached my name. It has taken me nine years to achieve. Not nine years because it couldn't have been ready sooner; but nine years because, for me, only the word perfect will do. This brand stands for my character of tenacity, perfection, integrity and excellence." Once opened, the Wells Carlton Hotel and Luxury Apartments will proudly cater to short-term and long-term guests.
The formal unveiling to the world of the much-awaited and highly anticipated phenomenon on the 15th of December, 2018, is an event to look forward to, the developers said.