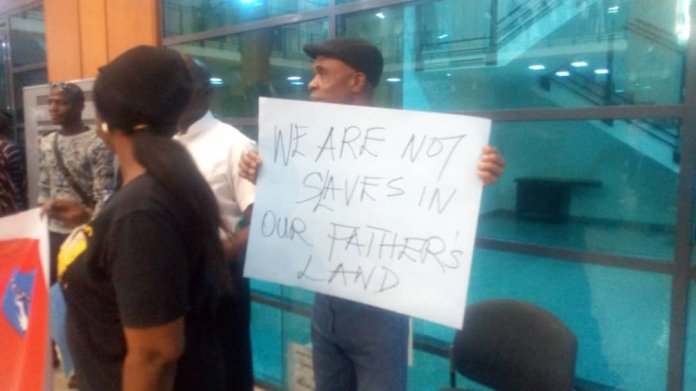 Shola Oyeyipo in Abuja
National Assembly workers, under the aegies of Members of Parliamentary Staff Association of Nigeria (PASAN), are currently protesting at the National Assembly over non-payment of their Consolidated Salary Structure (CONLESS).
The protesting workers who are carrying placards with various inscriptions demanding for the immediate release of their salaries have vowed not to allow legislative functions to be carried today (Tuesday).
But the PASAN chairman, Hon. Bature Musa, said that the intention of the protesting National Assembly workers was not to have a faceoff with the lawmaker. He however noted that the ongoing industrial action was gathering momentum.
Though Musa said lawmakers will not be prevented from accessing the red and the green chambers when they arrive, the protesters who are increasing in numbers have blocked the entrances of the two chambers of the National Assembly.
According to him, "The word picketing does not prevent anybody from working, it is a message passed to the leadership of the National Assembly and don't forget, it is for a duration of between 9am and 2pm, then after that everyone will return to work.
He said "the two chambers have not been sealed, we have not asked anybody not to go to their offices.
"What we have at the back of our minds when we set out is that when they come around they will definitely find out what is happening, because we have written to them almost eight months ago, and nothing seems to be happening.
"You will agree with me that they are almost on their way out and this is the best time for us to cry out loud because the whole world will know why we are embarking on this peaceful demonstration."
He said the workers were ready for negotiations with the National Assembly, noting that "National Assembly is a custodian of law and we are not in this parliament to kick against the law. We are law abiding citizens, once it is 2 O'clock we will return to our respective offices.
However THISDAY has gathered that both chambers are presently under lock and keys while police officers attached to the National Assembly only watched helplessly.
The protesting workers, chanting anti-Clerk of the National Assembly songs, have placards with inscriptions such as: 'Executive, fund National Assembly now'; 'Omolori Must Go'; 'CONLESS Has Been Approved Since 2010'; 'Promotion is our right'; 'Say No to Consultancy'; 'No Welfare Incentives for staff since 18 years now'; 'We Need Alert'; Release Our Promotion Letters Now'; and Contract Inflation is a Crime'.