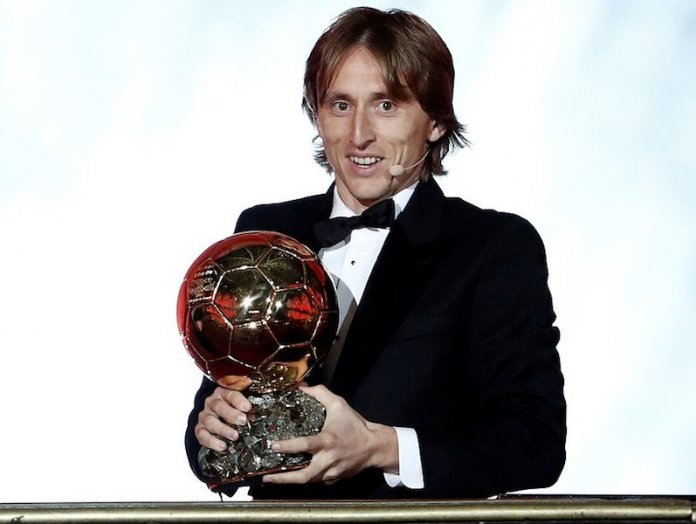 Femi Solaja with agency report
Croatia captain and Real Madrid midfielder,Luka Modric, yesterday won the 2018 Ballon d'Or, becoming the first player other than Lionel Messi or Cristiano Ronaldo to claim the award in more than a decade.
Modric, 33, won his third successive Champions League in May before helping Croatia to a first World Cup final.
Former Brazil and AC Milan forward Kaka, in 2007, was the last player other than Messi or Ronaldo to win it.
Ronaldo, who joined Real Madrid from Juventus in the summer, came second.
Barcelona forward Messi finished fifth, with Atletico Madrid frontman Antoine Griezmann and PSG attacker Kylian Mbappe – both of whom won the World Cup with France – third and fourth respectively.
Victory caps a stellar year for Modric, who also was named the world's top male player at the Best FIFA Football Awards and received the Golden Ball award for the best player at the World Cup.
"It's an unbelievable feeling," said Modric, who is the first Croatian player to win the award. "It's a big pleasure to be here among all these players.
"I am still trying to realise that I have become part of a group of exceptional players to win the Ballon d'Or throughout history."
"I just want to thank all those who helped me to be here tonight. I thank my teammates, my coaches, the staff and Real Madrid, all those who work there, the coaches and teammates in the national team, the ones who voted for me and my family, who allow me to blossom as a person.
"Always have dreams, I wanted to play in a big club, win titles, the Ballon d'Or is all I could dream as a child, it's an honor to win it tonight.
"It's a great pleasure to be here around his players. I keep thinking I'm trying to get used to being part of this group of exceptional players who have won the Ballon d'Or previously. It's a great pleasure to be part of this group. It's hard to say, throughout my career I understood that work, persistence, believing in yourself, is the basis for expressing your talent. I like the phrase: the best is never easy. For me, it was not easy. It was necessary to seize the opportunities."
The midfielder believes changing his role in midfield has been a turning point in his career, saying it all came together while he was at Tottenham.
"Changing position allowed me to develop my game, before I was more an offensive player. When I retreated, I had a better vision of the game, I could better express my creativity, my game. In my second year in Tottenham, I played midfielder and I felt better in the middle."
Modric finished ahead of his former Madrid team-mate Ronaldo in the vote, making the Portuguese icon settle for second place for the first time in three years.
France star Griezmann took third place in the poll, with fellow World Cup winner Mbappe was close behind. Messi, meanwhile, dropped outside the top two for the first time in 11 years and came in fifth this time