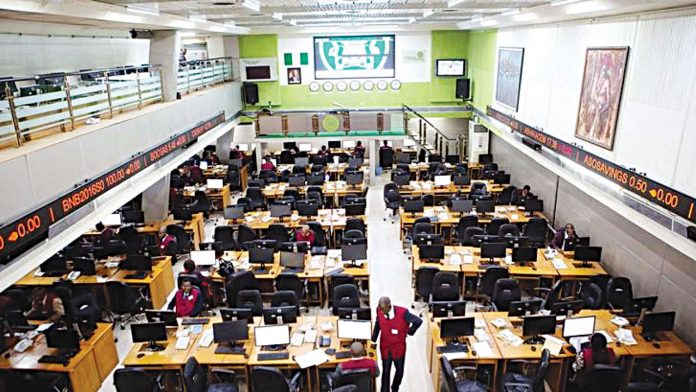 By Goddy Egene

One month to the end of the year, the Nigerian stock market has shed N2.348 trillion following persistent weak demand for stocks in a bear market.
Specifically, in the last 11 months, N2.348 trillion has been eroded from the Nigerian Stock Exchange (NSE) market capitalisation.While the market shed N1.766trillion in 10 months to October 31, 2018, N582 billion depreciation was recorded in the month of November alone. Hence, the total of N2.348 trillion decline in 11 months.
After closing negatively in 2014, 2015 and 2016, the market recovered in 2017 with a record gain of 42.3 per cent. Following the recovery and past trend, some market analysts had envisaged a continued bull run into 2018.
But 11 months into the year, the market is down by N2.348 trillion. 
The Nigerian Stock Exchange All-Share Index (NSE ASI) has lost 19.27 per cent as a result of the continuing sell down.
However, the erosion of value of stocks has made most of the equities to become cheaper and providing a very good entry opportunity for discerning investors with long term focus.
Some stocks with strong fundamentals and bright prospects have suffered significant value erosion, which is a very good entry window for investors.
For instance, Guaranty Trust Bank Plc, which is a regular dividend paying bank and posted improved results for the nine months ended September 30, 2018, has shed 15.7 per cent.
This means, the stock is 15.7 per cent cheaper than its opening price for the year.
Similarly, Access Bank Plc, which ended the nine months with higher bottom-line is trading 25.8 per cent lower than its opening price, while Fidelity Bank Plc is 19.5 per cent cheaper.
United Bank for Africa Plc has shed 27 per cent, while Union Bank of Nigeria Plc is trading 34 per cent below the price at which it commenced the year.  FBN Holdings Plc and Dangote Cement Plc are also trading 19 per cent and 18.7 per cent lower in that order.
Forte Oil Plc, Oando Plc, Total Nigeria Plc and Double One Plc 58 per cent, 21 per cent, 13.8 per cent and 10 per cent cheaper respectively.
These companies had reported impressive results that are capable of attracting increased demand for their stocks.
However, some exogenous factors have continued to affect demand by investors.
Although many of the emerging and frontier markets were affected by the flight to safety by investors due to increase in rates in the United States, the Nigerian case was compounded by sell down by some investors to guide against negative impact of the forthcoming general elections.
Stockbrokers had said whereas some investors have remained confident in the strong fundamentals of the market, such confidence has been challenged by developments in the political scene.  Based on the developments, which include defections and utterances capable of heating up the polity, the Association of Stockbroking Houses of Nigeria (ASHON), the umbrella body for chief executive officers of stock broking firms, said more investors were exiting the capital market.
ASHON said, "For the umpteenth time, we strongly appeal to the political class that rather than indulge in unwholesome activities, actions, attitudes and destructive utterances, they should support all efforts aimed at creating the much-needed enabling environment for accelerated economic growth and development."
According to the association, the unguarded activities and unrestrained utterances of our politicians are heating up the polity with dire consequences on the economy as a whole and the capital market in particular.
 "Perhaps we may remind the political class that uncertainties and all sorts of insecurities that currently pervade our country affect investors' sentiments, asset valuations and market as well as country risk profile and portfolio allocation decisions.
"In recent times, trading statistics on the securities markets in Nigeria have been reflecting investors' apathy to unprecedented level of tension that portends likely breakdown of law and order in the 2019 general election."