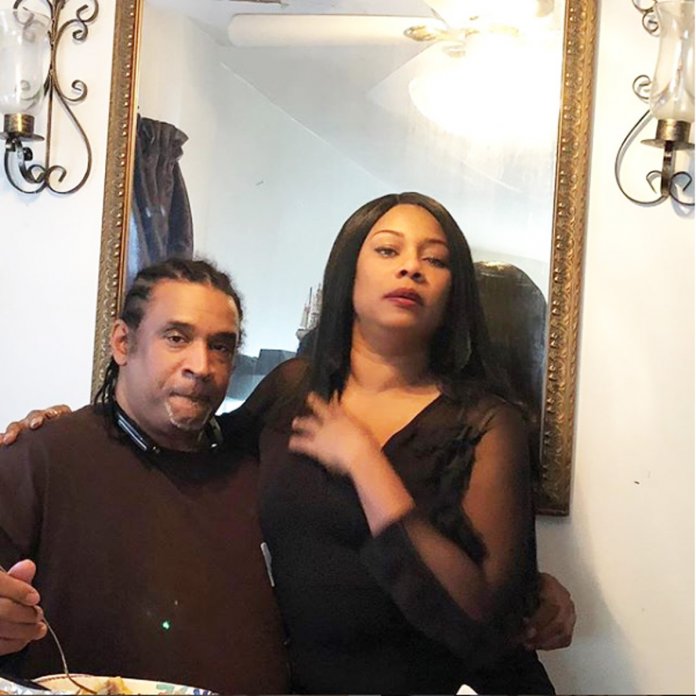 Having found fame first as a model, then, as an actress, Regina Askia still keeps close ties with the world of entertainment. She recently shared rare photos of her American husband, Rudolph 'Rudy' Williams, writes Ferdinand Ekechukwu
Contemporary Nollywood aficionados would easily connect with the name Regina Askia at the mere mention of it. This isn't in anyway difficult to comprehend as she was among the few talented actresses who held sway starring in several home movies at the dawn of what is today known as Nollywood. The on-screen diva held a lot of movie watchers spellbound and with her beauty and skillful acting and great interpretations of roles made her a force to reckon with in the movie industry.  
In fact, it is believed that Regina made many men adulterers in the confine of their living rooms. She wasn't just beautiful but sexy, enhanced by her charming hazel eyes. Regina became an actress after her reign as the Most Beautiful Girl in Nigeria. Her acting debut was in the then popular NTA series, Fortunes, as Tokunboh Johnson, a role which earned her critical acclaim and further roles in Nollywood movies during the 1990s and early 2000s, starring in movies like Most Wanted, Suicide Mission, The President's Daughter, Festival of Fire, Dangerous Babe, and  Man Snatcher, most of which were filmed and released directly to video, reaching a wide audience in Nigeria and across countries in Africa.
The Former Nollywood actress and ex-beauty queen recently took to Instagram to share rare photos of her husband, Rudolph 'Rudy' Williams. The pair who have been married for over 15-years have two children, a daughter, Teesa Olympia, and son, Rudolph Junior. Regina has another daughter, Stephanie Hornecker, from a previous relationship. The striking resemblance between the veteran actress and her daughter could pass both mother and child for sisters as they look pretty much alike.
Regina, it was noted at the time where actors weren't really paid so well, was among the highest-earning actors. To star her in a movie at that time, it was reported that it would cost a lot to get her on set because everyone wanted to see a movie with her as part of the cast. Had it been mainstream Nollywood awards like AMAA and AMVCAs were instituted then, she most likely would have had her name registered copiously in their laurels lists, though she still received several awards for her performances – including one for "Best Actress in Nigeria" by Afro Hollywood London in 2000.
She would later leave her acting career when she settled in the United States after her marriage to an American. In America, she took up a job in the medical field where she established herself as a registered nurse and healthcare provider. However, as an educational activist, television producer, writer, and public speaker, who found fame first as a model and then as an actress, she still keeps close ties with the world of entertainment.
The Akwa Ibom State indigene was one screen diva that came with the celebrity package. Her short lived union with businessman Charles Orie still holds memories as one of the most celebrated celebrity marriages. She graced our hearts and screens equally during her glory days.
Regina, a former medical student who had transferred from the University of Calabar to the University of Lagos was crowned Miss Unilag. She competed in the Most Beautiful Girl Nigeria pageant 1989. Even though she was recorded the people's favourite, she came out second in the competition losing to Bianca Ojukwu. However, when Bianca Ojukwu resigned the crown, Regina took over and became the MBGN.
In 1990, she represented Nigeria at Miss Charm International held in Leningrad, Russia, and came second. She also made history by becoming the first Nigerian at Miss International in Japan, where she made an impact with the most outstanding traditional costume. As it is, every beauty queen gets the opportunity to become brand ambassadors during their reign as queen, which was the case of Regina as she was used as a brand ambassador for major brands in the country at that time.
As a model, Regina appeared in several Nigeria print and television commercials. She also worked on several runway shows. After her qualification as nurse at Wagner College in the United States, she still works on promoting greater collaboration between Africa and its diaspora with her fashion shows as well as medical missions to Africa. In 2005, she held a fashion show at the Nigerian Embassy in New York to raise awareness to children's issues in Nigeria and in 2006, she hosted a charity fashion show at the Lehman College in Bronx New York which displayed the creations of top African fashion designers and introduced her own line, 'Regine fashions.'