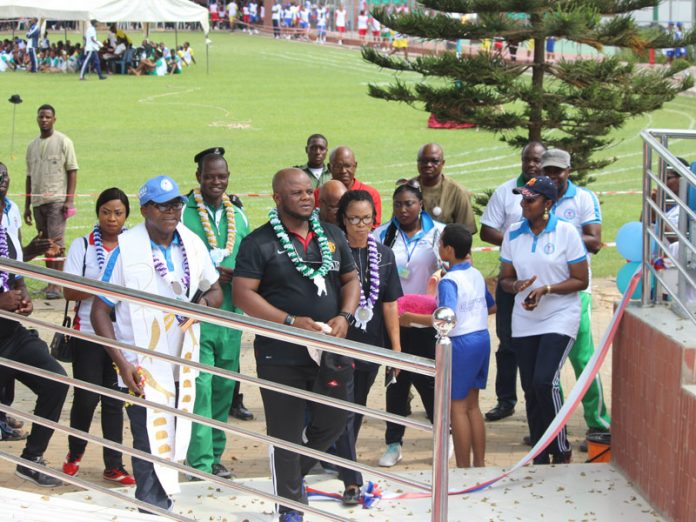 Sunday Ehigiator
For the umpteenth time, Loyola House, proved its worth again by emerging the overall champion for the third consecutive time, in a keenly contested 2018 St. Francis Catholic Secondary Schools inter-house sports competition.
At the event, which was recently held at the school's premises in Idimu-Lagos, the house won a total of 26 Gold, 14 Silver and 16 Bronze medals, Loyola house ousted other rival houses; Cusimano House, Olorunfunmi House, and Assisi House, who emerged second, third, and fourth position respectively with 22 Gold, 13 Gold and six Gold medals apiece.
This year's occasion as chaired by Mr. Bunmi Jacobson was unlike the previous, as it had in attendance the first ever Nigerian Olympic Games Gold Medalist in Atlanta 1996, Chief Chioma Ajunwa-Oparah, whom in the spirit of sportsmanship, cheered all the athletes with her words of encouragement and experience as the games commenced.
In his welcome address, the School administrator, Rev. Fr. Maduabuchi Leo Muoneme said, "2,000 years ago, St. Paul, using an athletic metaphor, proclaimed.
"In 1968, a Tanzanian long distance runner John Stephen Akhwari travelled from East Africa to Mexico to represent his country in the Olympics games. He did not return to Tanzania with a gold medal, but he did his best in the race.
"During the race, he fell, bruised his shoulder, and dislocated his right knee. After receiving some treatment, he strode on, even though he was now behind the runners. He walked, ran, and limped till he came into the Olympic stadium at dusk after many spectators had left.
"As he entered the stadium, there was a thunderous applause from the few remaining spectators. They applauded with the admiration for the courage, commitment, and heroism of Stephen Akwhari.
"When the media asked him why he had to go through such excruciating pain when he knew he would be last, he proclaimed, 'My country did not send me 5000 miles to start the race; they sent me 5000 miles to finish the race'.
"As I welcome everyone to the St. Francis World of Champions, I encourage everyone to finish the race. This is the day we celebrate bravery, courage, tenacity, discipline, motor skills, and coordinated actions. Regardless of whether you win a gold or bronze, finish the race."
Meanwhile, the school's Director of Sports, Mrs. Eucharia Ihedioha, said the day was really a great one for the school and students especially with the presence of Chioma Ajunwa.
She said, "The students are lucky to have such a wonderful sport personality here with them today as she has spoken to them a lot about how to go about their different careers in sports and likewise promised to be available whenever she is called upon to train them on how to use our sport facilities".