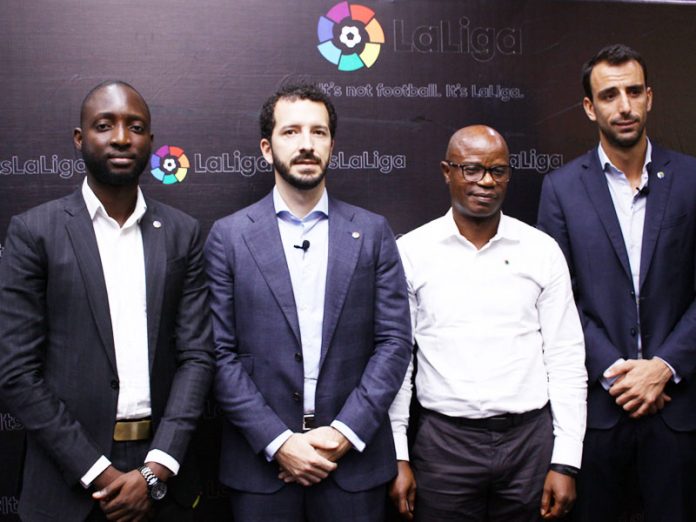 In a bid to promote the development of football, both locally and globally, LaLiga oversees training programmes, value-enhancing initiatives and has signed numerous agreements with international organisations.
Speaking at an interactive session in Lagos thursday, Managing Director LaLiga Nigeria, Javier Del Rio, stressed that these efforts are all part of the institution's quest to ensure that the experience garnered throughout the history of the Spanish league serves to assist the growth of the game and its values across the globe
The LaLiga clubs are also heavily involved in this mission, running various strategic projects and signing international agreements, whilst also opening academies and sporting schools throughout the world. The Barcelona Academy in Lagos with over 300 youth players is one of such," he noted.
For almost three seasons now, LaLiga entered into a partnership with the Nigerian Professional Football League (NPFL) that allows both Nigerian clubs have insight into the management of the successful Spanish club's.
Nigeria's U-15 youth team has also benefited from regular the partnership same as the women's league, the NWFL.
Del Rio also stressed that Spanish football's governing body and its clubs aim to develop the local game internationally, while working to become the second most popular competition in each country, behind the respective domestic leagues.
"This operation is based around the following four lines of action: institutional relations, the training of players and coaches, protecting the integrity of the game and social responsibility.
"In terms of institutional relations, LaLiga has secured over 30 agreements with federations, leagues and other institutions in countries including the United States, Argentina, Portugal, Nigeria, South Africa, Thailand and Japan.
"These partnerships enable the organisation to explore potential cooperation schemes and projects involving the sharing of knowledge and ideas," he emphasised.
One area in which this knowledge sharing is seen is in the second line of action: the training of players and coaches. Through its network of expert coaches, LaLiga has rolled out projects in more than 30 countries, where nearly 10,000 coaches and over 120,000 players have benefited from training on the LaLiga methodology, which combines on-field work at all levels with instruction on respect and the values of fair play.
The aforementioned values are also evident in LaLiga's day-to-day work, with the organisation's foundation leading projects including LaLiga Santander Genuine, Future Fans (Futura Aficion) and the Fair Play Social scheme, all of which seek to repay society for part of all that it has given LaLiga.