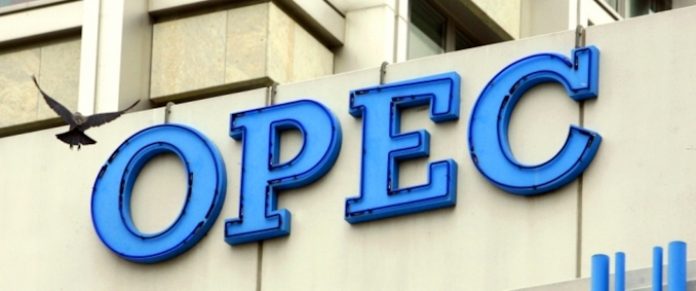 By Chineme Okafor in Abuja
Member countries of the Organisation of Petroleum Exporting Countries (OPEC) and their allies led by Russia may cut their production levels to restore stability in the global oil market prices which have reportedly dropped by about 30 per cent recently.
If this happens at their next meeting in December, the cartel and its allies would have effectively ignored recent calls by the US President Donald Trump for them to bring down oil prices.
Reports indicated that as at the close of business Wednesday, Brent crude benchmark traded at $60.61 per barrel from an average of $76.73 per barrel in October.
But the cartel, according to the Energy Minister of Saudi Arabia Khalid Al-Falih, would do what is necessary to ensure that the growing oil inventories in the market are kept at levels that are comfortable and would not distort the market.
Al-Falih was guest to the Minister of State for Petroleum Resources, Dr. Ibe Kachikwu, in Abuja Wednesday, where they both talked extensively on the need to continue to work together to stabilise the oil market.
Both ministers briefed journalists on their conversations as well as the possibility of Nigeria and Saudi Arabia partnering on the business of petroleum products refining.
He said the cartel had taken note of the growing instability in the market, adding that this had been amplified by geopolitical tensions and speculative activities by financial investors.
According to the Saudi oil minister, when producers gather on December 6 in Vienna, Austria, they will, "do the right thing in stabilising the market and giving producers and consumers comfort" that the oil market will be stable in 2019.
In response to questions on his thoughts about Trump's nudging of the cartel to keep prices of oil low, Al-Falih, said: "I think I speak for the 25 countries altogether. We saw in the action we decided to take in 2016, great benefits for the entire global producers and consumers because oil market stability is very instrumental essentially to everyone in the market, and we do that by focusing on primarily one parameter which is global inventories.
"We try to be as objective and data-focused as possible, looking only to inventories, whether they are building to levels that will destabilise the market, and shutdown investments.
"As we meet in a week's time, our focus will once again be on fundamentals of supplies and demand, and inventories and try to bring that back into a level that will assure the market.
"The decision is going to be made essentially on December 7 on what to do, and as I said in Abu Dhabi, we have to do whatever is necessary. As important as Saudi Arabia is, we cannot do it alone, we will not do it alone."
Whatever decision the cartel and its allies take, he said, it would also be in the interest of American oil producers whom he added were equally worried about the growing instability in the market.
He was however reluctant to state how much oil may be cut by OPEC and its allies, adding: "Everybody is longing for reaching a decision that will bring stability back to the market, and what that will be is premature to say, but I think people know that instability in the market will not help. We will see the numbers from the technical advisers."
Speaking in the same vein, Kachikwu, who aligned with most of Al-Falih's thoughts on what direction the market should go, stated that both countries were committed to seeing the market rebalance to comforting levels.
He also explained that it would be too early for Nigeria to decide on seeking production cut exemptions, but added that the country would commit to whatever decisions the cartel takes.
"There is an absolute resolve from both countries to ensure that as we get to Vienna, whatever action that needs to be taken to stabilise price will be taken. The interest of the whole will guide us in our decision. We are looking forward to Vienna, but not without some trepidation.
"It is too early to determine an exemption, but I will say that Nigeria is very committed to working with OPEC. We've always been committed even when we have production cap exemptions. When we get to OPEC, we will make a decision in supporting OPEC," Kachikwu assured.
Both ministers equally disclosed that they could explore business opportunities in petroleum products refining and downstream operations.
In this regard, Kachikwu explained that Nigeria would like to leverage the expertise of Saudi Arabia in midstream and downstream operations to especially revamp Nigeria's refineries.
He however noted that no concrete agreement has been reached by both countries.
"We are struggling with our refineries and they have a massive refining capacity. We are to collaborate in this area as well. The refineries are very close to my heart. I brought up the experience we have and he shared his own experience. We did discuss that but no formal thing agreed yet. These are usually very strong business decisions," Kachikwu said.