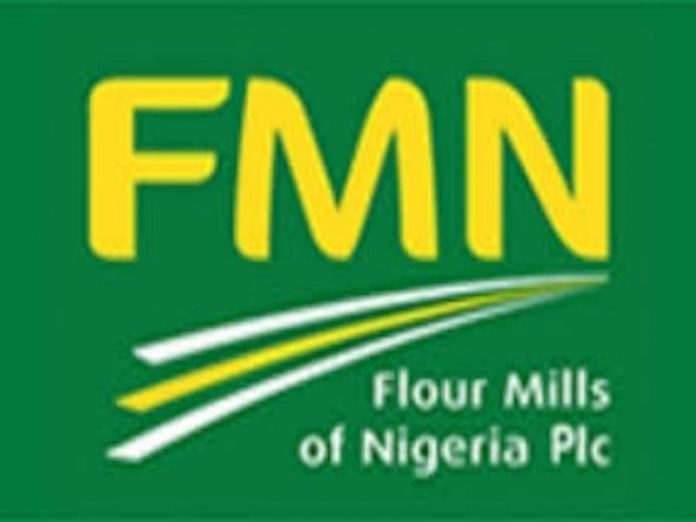 Despite the negative impact of the Apapa gridlock that affected its half-year performance, analysts see huge potential in Flour Mills of Nigeria Plc, writes Goddy Egene
Flour Mills of Nigeria Plc (FMN) is a leading manufacturer of food and agro-allied products. The company has a highly diversified product base with huge potential to deliver good returns on investments. Although the company has been recording positive results over the years, it ended the half year(H1) to September 30, 2018 with lower bottom-line due to the general difficult economic environment, the Apapa traffic and logistics challenges.
The company announced a revenue of N269.737 billion and profit after tax(PAT) of N5.069 billion for the H1 2018. FMN recorded a 49 per cent increase in selling and distribution expenses to N4.13 billion, compared to N2.77 billion of the same period last year, as it increased its marketing spend.
Administrative expenses rose to N9.852 billion, compared with N8.352 billion, while finance cost fell from N16.267 billion to N11.229 billion in 2018.
The reduction in finance cost came as a result of settlement of overdraft facilities and replacement of high interest yielding loan facilities with cheaper loan facilities. Investment income grew by six per cent to N290 million, from N270 million of the same period as last year. The increase was due to short-term investments. However, profit before tax fell to N8.392 billion, from N13.477 billion while PAT stood at N5.069 billion as against N9.355 billion in 2018.
Company explains performance
Commenting on the result, the Group Managing Director of FMN, Paul Gbededo, said: "In the face of persistent economic challenges and a difficult operating terrain, we continue to pursue our growth strategy to gain market share in all key product segments. Operations in Apapa continues to suffer major setbacks in traffic and logistics challenges, impacting in a marginal drop in our volume and top line activities.
With improved marketing and promotional activities for most of the key food businesses, we envisage new gains in the remaining part of the year, as we continue to focus on innovative products that deliver on great consumer experience."
Gbededo had said the company's focus remained on growing and building long-term value for stakeholders, following the successful raising of N39.9 billion through a right issue early this year.
"The Rights Issue is aimed at strengthening our balance sheet and positioning the Company for sustainable growth. We value the strong level of support shown by our shareholders and our focus remains on growing and building long-term value for all stakeholders," he said.
Analysts' Assessment
Looking at the results of the company, analysts at FSDH Research, said the financial performance of FMN Plc suffered from the temporary tough operating environment in H1 2018. They explained that the gridlock in the Apapa area of Lagos,where the company has its main business operations has increased the cost of running the business and increased delivery time. According to them, the weak purchasing power and the weak economic performance in Nigeria have had negative impacts on the operations of the company.
The analysts said the drop in revenue was as a result of the company's strategy to focus on market leadership.
"This means an increase in volume of sales in some product categories at lower selling prices in response to lower input cost. Thus, customers received more value for their money. Our analysis of the company's revenue by business segment shows that food accounted for 64 per cent of the company's total revenue. The company's cost of sales (COS)decreased by 9.63 per cent to N237.62 billion from N262.93 billion in H1 2017. Despite the decline in COS, gross profit decreased by 9.56 per cent to N32.12 billion in H1 2018 from N35.51 billion in H1 2017. Its COS as a percentage of turnover remained flat at 88.09 per cent in 2018 from 88.10 per cent in 2017," FSDH said.
The company said it was mostly as a result of increased marketing activities geared to boost the top line.
"FSDH Research believes the difficulties in moving goods around the country especially in Apapa because of the bad transportation system contributed to this. However, reconstruction work is going on to ease traffic in the area," it said.
The company's Earnings Before Interest and Tax (EBIT) decreased by 34.71 per cent to N19.24 billion from N29.47 billion in 2017 The company recorded a net finance charge of N10.94 billion in 2018, a decrease of 31.60 per cent from N15.99 billion in 2017.
"This was a reflection of debt refinancing through the Rights Issue as well as a drop in interest rate in the market. The PBT fell by 38.4 per cent to N8.30 billion in 2018 from N13.48 billion recorded in 2017. The PAT was N5.07 billion in 2018, from N9.36 billion in 2017, representing a decrease of 45.81 per cent. The gross profit margin increased marginally to 11.91 per cent in 2018 from 11.90 per cent in 2017, while the EBIT margin decreased to 7.11 per cent from 9.88 per cent. Similarly, the PBT margin decreased to 3.08 per cent from 4.52 per cent while the PAT margin decreased to 1.88 per cent in 2018, down from 3.13 per cent.
Balance Sheet
A further analysis of FMN Plc's balance sheet position as 2018 compared with full year (FY) March 2018 showed an improvement in the company's cash position. The company took advantage of the Real Sector Support Facility (RSSF) during the period. This is a strategic move to access low cost long-term funding available in the market to support large corporates that are in critical segments of the economy. The total fixed assets decreased by 0.26 per cent to N217.33 billion in H1 2018 from N217.90 billion in FY 2018. The cash and bank balances increased by 20.09 per cent from N22.25bn in FY 2018 to N26.71 billion in H1 2018.Trade debtors increased in HY1 2018 by 20.7 per cent to N15.94 billion, from N13.21 billion in FY 2018. The company's trade creditors increased by 6.68 per cent in H1 2018 to N49.7 billion from N46.59 billion as at FY 2018. FMN Plc's working capital stood at a negative N5.67 billion in H1 2018 from a negative N25.54 million in FY 2018. The company's net assets for the period increased marginally by 0.63 per cent to stand at N151.57 billion in H1 2018, from N150.62 billion as at FY 2018. The total assets of the company which stood at N408.71bn as at HY1 2018 were financed by a mix of equities and liabilities in the ratio of 37.08 per cent and 62.92 per cent respectively.
Also, an analysis of the liabilities showed that the short-term liabilities stood at N180.48 billion, accounting for 70.19 per cent of the total liabilities. The short-term liabilities constituted mainly of borrowings and trade and other payables, which accounted for 53 per cent and 38 per cent respectively of the total short-term liabilities.
Borrowings decreased by 8.42 per cent to stand at N95.17 billion in H1 2018. The company's long-term liabilities stood at N76.67 billion accounting for 29.81 per cent of the total liabilities. Long-term liabilities constituted mainly of long-term borrowings, which stood at N45.26 billion representing 59 per cent of total long-term liabilities and a 54.08 per cent increase from FY 2018.
Although the company recorded an improvement in the net cash flow, its net cash generated from operating activities dropped significantly to N39.75 billion from N69.75 billion in 2017. The cash used up in financing activities dropped from N65.60 billion in 2017 to N 8.19 billion in 2018.
Strategic Focus
FMN aligns itself to take full advantage of the agriculture agenda of the FGN, which enables it to consolidate its position in the food product and ancillary business. The company invests in backward integration initiatives by reaffirming its commitment towards future profitable growth via recapitalisation of various subsidiaries. The Kaboji Farm, its first agricultural investment has turned out to be a centre for seed and best agricultural practice in maize and soya bean.
The company has also entered into a strategic partnership with Corteva Agriscience, agriculture division of DowDuPont.
According to FSDH, the collaboration is expected to lead to both parties working together on key aspects of the maize value chain in Nigeria, with a focus on promoting modern farming techniques and practices, capacity development and knowledge transfer for the local production and use of improved and quality inputs, including seeds and crop protection.
Forecast
In their forecast, FSDH considered positive factors such as FMN Plc's product diversification, enjoying economies of scale; backward integration into agro-allied and farming activities, numerous investments in high profit margin products; anticipated growth in revenue despite challenging environment; import substitution focus and wide distribution network.
The analysts also looked at negative factors such as the prevailing stiff competition in the industry; the current weak consumers' spending; security challenges in some parts of Nigeria and possible currency devaluation
"Looking at the medium to long-term outlook of the company and the impact of the aforementioned factors, we are of the opinion that the impact of the positive factors would be higher on both the revenue and the profitability of the company than the negative factors. We therefore estimate a turnover of N501.06 billion, N512.75 billion, N570.86 billion, N635.56 billion and N694.87 billion for the periods ending March 2019, 2020, 2021, 2022and 2023. We estimate EBIT of N33.86 billion, N37.21 billion, N41.43 billion, N46.12 billion and N50.43 billion, and EBITDA of N37.13 billion, N41.01 billion, N45.81 billion, N51.15 billion and N56.17 billion for the same period using EBIT margins of 6.76 per cent, 7.26 per cent, 7.26 per cent, 7.26 per cent and 7.26 per cent respectively," they said.
The estimated their PBT forecasts for the periods as follow: N13.57 billion, N21.95 billion, N27.99 billion, N32.65 billion and N40.63 billion. "Adjusting for tax, our PAT forecasts are N10.11 billion, N16.35 billion, N20.85 billion, N24.32 billion and N30.27 billion. PAT margin for the period are 2.02 per cent, 3.19 per cent, 3.65 per cent, 3.83 per cent and 4.36 per cent. Our forecast final dividend for the FY 2019 is N1.04 per share," they said.