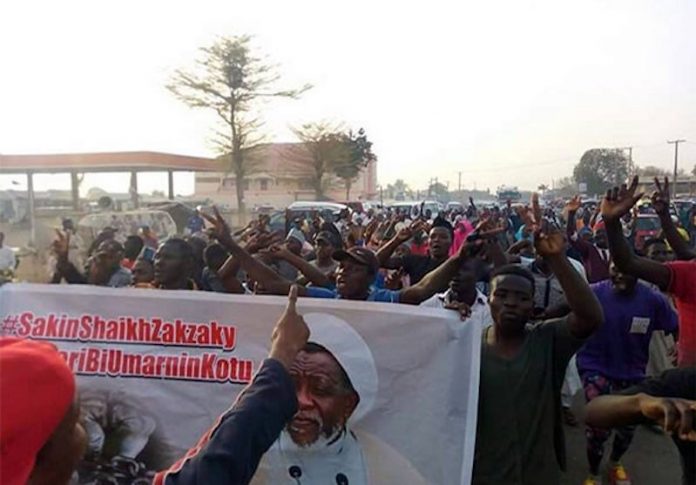 John Shiklam in Kaduna
The Islamic Movement in Nigeria (IMN) also known as Shiites has raised the alarm over alleged plots by security agencies to associate it with violence and terror.
The IMN in a statement issued yesterday by its spokesman, Ibrahim Musa, said the plot was being hatched by the 'hawks' in the security agencies in a desperate move to associate violence and terror to its name.
"According to this devilish plot, some people will be publicly displayed to the media and be accused of teaming up with bandits from Birnin Gwari in Kaduna State to stage terror attack in the name of the Islamic Movement in Nigeria," the statement said.
Musa said it was not surprising that security agencies would desperately go to any length in their attempts at portray the IMN "as a terror group, seeing that they have woefully failed in previous attempts simply because violence is not just in the character of the Islamic Movement."
Musa said a similar attempt at blackmailing the IMN was made recently when "certain faceless groups were contracted to dish out statement in the name of civil rights groups, calling for the declaration of the Islamic Movement as a terror group without basis."
The statement maintained that the leader of the IMN, Sheikh Ibrahim Zakzaky, has never employed the use of violence as a means of reawakening people to their Islamic responsibilities.
Zakzaky has been in detention since December 2015 following clashes between his members and the Nigerian army in Zaria, Kaduna State, despite a court judgement ordering his release.
The statement added that Zakzaky "has unequivocally made it known to all and sundry that the use of weapons is the last resort of those that have no conviction of their cause; that is why in the last four decades, the Movement has never attacked anybody.
"Adherents and supporters of the Movement have always been the victims of some of the most heinous attacks by those who cannot stand our logical reasoning, including state security agents."
The statement called on those "trying to desperately depict us as lawless, violent and unruly to allow our actions to speak for us."
Musa said further that "the fact that we abhor the use of weapons in our activities is sufficient proof to negate the ugly description they are trying to ascribe to us.
"Nonetheless, we will not relent in our efforts to see that the government obeys court judgement that sets our leader free.
"The ploy to use Kaduna State after the trial of Sheikh Zakzaky to change the narrative will not be acceptable to the public.
"The Muhammadu Buhari-led administration must therefore heed to the call of the world by obeying the rule of law and release Zakzaky, his wife and many others still in detention since December 2015."