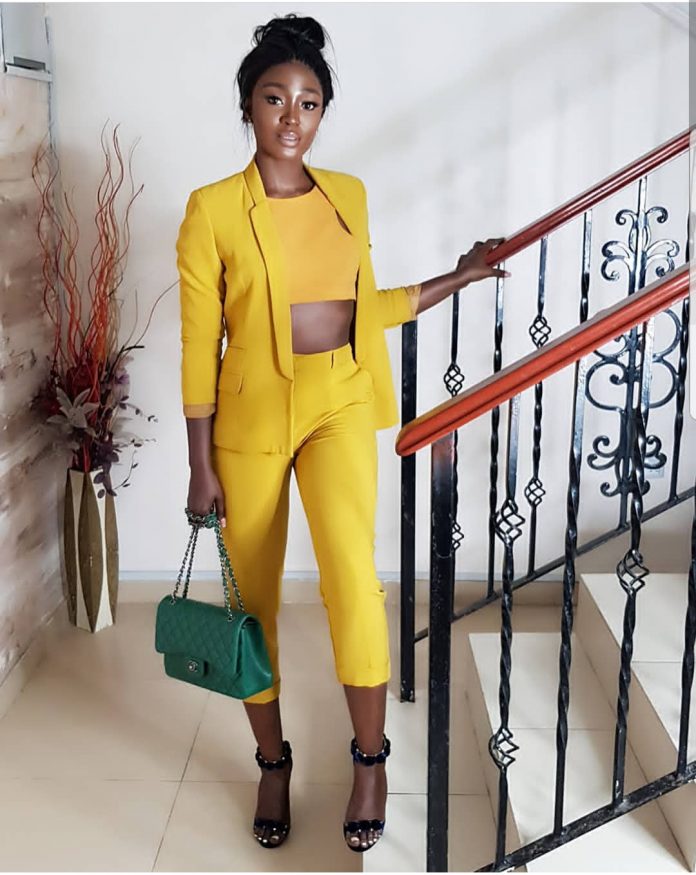 Fashion designer and stylist, Tolu Bally has inscribed her name in gold as one of the best in her generation with her brand, 2207. She has in a lot of ways, redefined how pieces and colours are stiched together through her creativity and love for art. Within the space of two years, the mother of one has not only worked with loads of top celebrities in Nigeria but has also won some awards. Being one of the most sought-after stylists and designer in the country, Tolu has continued to invest in her craft, making everyone who rocks 2207 a fashion piper in its own right. As part of activities marking the 2nd anniversary of 2207, the young entrepreneur speaks to Azuka Ogujiuba about her journey so far, its highs and lows, the celebrities she would like to work with and single parenting
How did fashion designing and styling start for you?
It started after the birth of my son. I used to have a boutique but I wanted to do something that was much more challenging and can showcase my talent because fashion has always been my thing. So, I just had to take to the next level by having my own fashion line. Basically, the birth of my son gave me the courage to go for my vision.
I've always loved fashion and always been into fashion, so I know fashion is something I want to do. It's a legacy I want to leave for my son and for my name. I've always wanted to inspire the way people dress. I love fashion, I love colours, I love things looking beautiful, I love designs. I just love everything about fashion. The birth of my son just generated the urge to start my own brand and go after what I actually wanted.
Who influenced your decision to go into fashion designing?
My dad was a fashion designer when he was alive. I really love the way Kelly Rowland styles herself even though she's not a fashion designer but I like her and I see myself in her every time. A lot of designers influenced me including my sister in law, she's a top notch fashion designer and I love the way she treats her clothes. So, I always said I wanted to be like her. So yeah, she really inspired me. And a lot of Nigerian designers inspired me as well.
So, how has the journey been for two years?
 The journey has been very very very good, its just two years and we haven't even started. I'm just so grateful for where we are and for the people that have been involved with 2207, from friends to celebrities; basically everyone that has been involved with 2207. its been a wonderful journey so far. So, that's why we are celebrating our anniversary to give back to the people, to appreciate them.
What have been the challenges so far?
When it comes to fashion designing in Nigeria, most people will tell you that the tailors and other production people are the main challenges that we face, particularly someone like me. I faced a lot regarding tailors but right now, I've been able to go above that to find solution even though its not a permanent solution but at least we are getting there.
So you never faced financial challenges?
To me, fashion designing does not require a lot of financial backing. I only got like two machines and some fabrics and that was how I started. For me, its not capital intensive so I wont talk about the financial part of it. It's not really an issue, all you need is just the passion to start. But another thing I will talk about is electricity problem, which every major industry is facing in Nigeria because you literally have to turn on the generator back to back to produce our garments.
When and why did you decide to start working with celebrities?
I wouldn't say it was part of the plan. The initial plan was just for me to bring out my brand. I wouldn't say I sat down and thought about it. I think I started basically by styling a particular celebrity, Toyin Abraham, which I did with my fabrics and people liked what I did and then celebrities started coming to meet me, and that was how 2207 started basically. When celebrities see that you are doing a job well and you deliver, they begin to associate themselves with you, that's it. At the initial stage of my career, around the first year, I will practically send messages to celebrities that I have a brand called 2207 and I did a lot of that for the first year but now they come to me to buy. I style them and they believe in me and believe in my brand unlike before when I had to convince them to wear my brand. Now, it doesn't require that much stress. Again, we are like a family now and I appreciate them
How did you come up with the name 2207 By Tbally?
2207 is my son's birthday. It's the 22nd of July and like I said, the inspiration came from his birth, because I realised giving birth to my child, being a single mum, having a boutique kept me in the right state of mind to start something that the next four generations will remember that our great grandmother started the 2207 brand and I want it to be like Zara and the likes. So, that made me to go back to my drawing table and figure out what to do for myself. Fashion is the only thing I know even though I was involved in psychology but fashion is all. I just needed to take it to the next level and bring out the passion burning in me.
Tell us the celebrities you've worked with?
I've worked with quite a number of celebrities, I've worked with Ini Edo, Toyin Abraham, Bolanle Olukanmi, Beverly Naya, Omotola Jolade Ekehinde, Lilian Esoro, Lilian Afe, Stephanie Coker, Linda Osifo. I have worked with a lot, I can't even remember but I'm so grateful for each and everyone that believed in me and my brand.
So how do you get the celebrities to work with you?
Like I said, it's about trusting the brand and making the right cloth for the right body. So, at the initial stage, I had to try and reach out to a lot of people but the thing is when someone is wearing my piece and people ask, 'where did you get it from?' and they say '2207 by Tolu Bally.' So, its basically referrals through them but mind you, I have a lot of clients that are not celebrities. Like 70 per cent of my clients are not celebrities. So, it's not just celebrities.
How has it been working with celebrities, knowing that some might be quite rude?
I haven't worked with any rude celebrity. I have been lucky. It also depends on the kind of person you are, I always try to build good relationships. So, I haven't had any rude encounter with anyone so far. It depends on your personality, the way you are calm and you know what you are doing. We are human beings. I have never had any bad encounter.
How do you feel being one of Nigeria's most celebrated stylist?
The thing is, I don't even see myself as one, I don't put that in my head. I have never even thought of it before. A lot of people tell me but I don't take them seriously. I don't see myself as one but I really appreciate. Maybe because I just see myself as a normal person but I am glad that people contact me but I just don't let that bother me. I am just Tolu Bally that loves fashion that loves what she's doing and that sees herself in a better place in the next couple of years. My vision basically is to reach where I want to in life, I don't think about the fame surrounding the name and the brand. I have never thought about it
So which celebrities would you like to work with?
I will like to work with Tiwa Savage. I'm a huge fan of her. I will like to work with Rita Dominic and Kate Henshaw, she's my celebrity crush. Then intentional, everyone wants to work with the Kardashians definetly then I have blown. So by then you can add me to one of the celebrated celebrities in Nigeria, when I work with the likes of Beyonce.
If you are to define fashion designing in few words, what would it be?
I will call it the art of life, I won't say fashion designing but designing generally is the art of life. Imagine seeing women with different bodies, wearing the same thing that fits their bodies so well. You know we women have different types of bodies so as a fashion designer, you have to be able to cater for those bodies.
What makes 2207byTBally different from other brands?
I think 2207 plays with colours a lot, we love to play with colours and our aesthetics are quite different because we have a mixture of African fusion and contemporary fusion so you really can't place 2207. You can see someone wearing an African fusion which is made by 2207 and you can see someone wearing a jumpsuit which is foreign and its 2207 as well. We love colours
So after the anniversary, what's next for 2207ByTbally?
The next designs are really breath-taking and we plan to take 2207 global. We have everything we need, we have the strategy to take it out. We believe it's time to take it beyond Nigeria, beyond Africa to the world and just go international. Like what I said, I want to be like the likes of Zara, I said Zara because, they have a lot of stores around the world. So I hope and believe 2207 will also have stores around Nigeria and the world at large. As from next year, we will start working on that and also make some designs for people over 40. You all should watch out for 2207 next year.
What advise do you have for upcoming fashion designers?
They shouldn't go for the money. Money will come but it shouldn't be the number one reason for going into fashion designing. It should be the passion for fashion designing, you need to know why you are into fashion designing. Going into fashion designing for money is a wrong step, it should be the passion, don't be shy, if there's anyone you want to approach, approach them but you have to be sure you are giving them the value they paid for and they want. You need to know the product you are selling is the product they want to buy. Imagine me ruining my first opportunity with a celebrity with a bad design or fabric? It will just spoil everything. So, you need to have the right product, get a good marketing strategy and make sure there's a passion. Money will definitely come. It shouldn't be the reason you are in it. This shouldn't be a motivating factor.
Favourite designers?
For Nigerian designers, Style Temple and Deola Sagoe. For my traditional attire and for my international, I'll go for Zara, Dolce Gabbana and Gucci.
Can you tell us about your biggest struggle with being a single mother and how has motherhood influenced your social lifestyle?
At the beginning, this was such a big deal for me because I am not good at making decision and not a good planner. I am more of a last minute person. I struggled with making decisions that had to do with my son during the 1st and 2nd year of his birth. Always thinking of what's best for him and how to go about that. But I guess I am used to it now and I have a great family that helps me when I'm stuck. 
 And when it comes to motherhood. I wasn't prepared for the challenges, especially being a single mum. I didn't know it comes with a lot. I suffered from post-natal depression but glad I am very okay now. But motherhood has molded me into this industrious super woman and fighter that I am now. I go for what I want and I am bolder, more responsible and see life differently now than before. Life threw me lemons and I make lemonade out of it.
What gives you an edge over competitors?
I will say the grace of God. God has been so good to me. Then, secondly, I will say consistency. 2207 has been consistent in its designs and also we have great and loyal clients that always love to wear our brand and proud of it.
Despite being successful and hardworking, why are you still single. What are the things you look out for in a man?
Hmmm I really wish I had an answer to this. The funniest part is I am a hopeless lover. I can't deal with a nonentity. I like smart men. Not a hardworker but a smart worker. A romantic man because I am a real sucker for love. My friends always tell me my type of man is fictional. I tend to seek for perfection, forgetting that I am not perfect myself. And to be honest, maybe because I have a child, I am more particular about being happy and being a great mother to him than anything else now. Marriage will come and with the right person because I don't want to be cajoled with the norms of the society and get married for the wrong reasons
How do you deal with your son's inquisiveness? 
 My son is a very very smart child and yes you're right, he asks a lot of questions that sometimes I am like 'where is that coming?' He once asked if I am a single mum? 
Kids are quite smart these days and parents must be careful to strike a balance between not ignoring them and providing answers to selective questions, which answers are appropriate to their age as well as aiding their development in the right direction. I evaluate the reasons for his curiosity by engaging him and providing answers I deem required.